Why is CO2 Refrigerant the Future of Hot Water?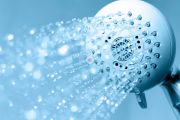 Monday 13th of December 2021
The F-gas Regulation aims to reduce F-gas emissions by two thirds of 2010 levels by 2030, by improving the leak-tightness of equipment, promoting the use of more environmentally friendly alternatives to F-gases and capping sales of HFCs on the EU market through an HFC phase-down. HFC target limits are already in place in Europe which has a dramatic effect on global manufacturers and the phase out of R410A has already started. HFC EU limits for single split air conditioning (<3kg of F-gases) is GWP = 750 by the year 2025.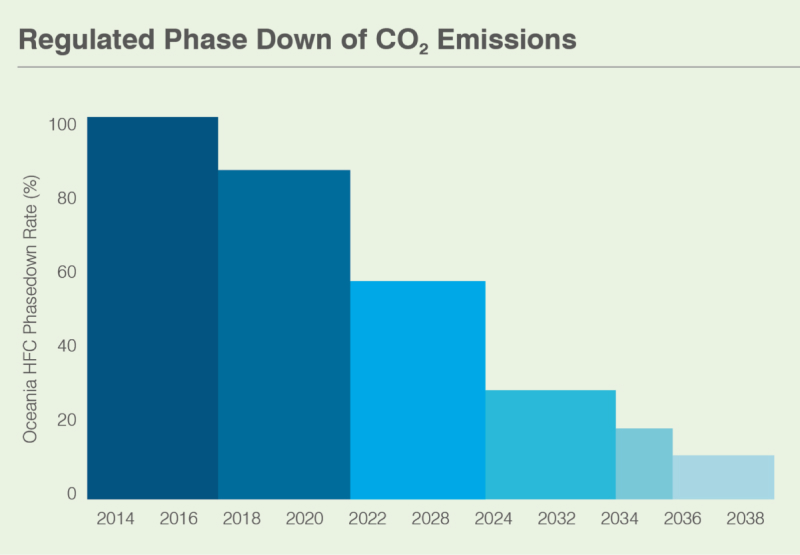 *Based on the Kigali Amendment to the Montreal Protocol ratified in October 2019. Ministry for the Environment. 2017. 7. Wellington: Ministry for the Environment.
The R410A Phasedown
As a result of this phasedown, we are seeing refrigerants with lower GWP (in particular R32) in many air conditioners and hot water heat pumps. It won't stop there, that's just the interim refrigerant before moving to natural gases, including some controversial flammable gases such as Propane.
We do have an option that is here already, CO2 refrigerant. It is a natural gas. It is what we breathe out into the atmosphere and it's what feeds plants to grow. CO2 can also be used as a naturally occurring, non-flammable and stable refrigerant fluid solution for hot water heat pumps.
It is non-toxic (at reasonable concentrations) and with a Global Warming Potential (GWP) of 1, it is also the base refrigerant that all other refrigerants GWP numbers are based on and will future-proof the way homes and businesses heat water.
Mitsubishi Electric CO2 Hot Water Heat Pumps are Leading the Way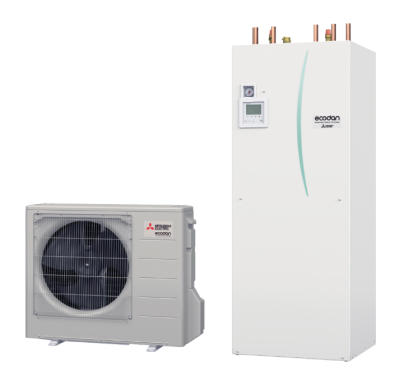 It's a progressive move for most manufacturers to change refrigerant to a lower GWP - Mitsubishi Electric has already begun to take the lead with hot water heat pumps utilising CO2 refrigerant.
Ecodan QUHZ Hot Water Heat Pump for Domestic Potable Hot Water and Space Heating
The QUHZ Ecodan is an advanced hot water heat pump that can provide both domestic hot water as well as supply hydronic space heating through radiators or underfloor heating.
Utilising CO2 as a natural refrigerant, it is the number one environmental choice for domestic hot water heating and an alternative to gas and direct electric systems.
The Ecodan QUHZ Hot Water Heat Pump is revolutionising central heating and domestic hot water technology in New Zealand.
Ideal for New Build Townhouses due to Low Noise Operation
With space often being a premium on new build development sites, Ecodan QUHZ will operate discreetly where dwellings are in close proximity to each other. The QUHZ Outdoor unit provides very quiet operation as low as 43dBA (SPL).*2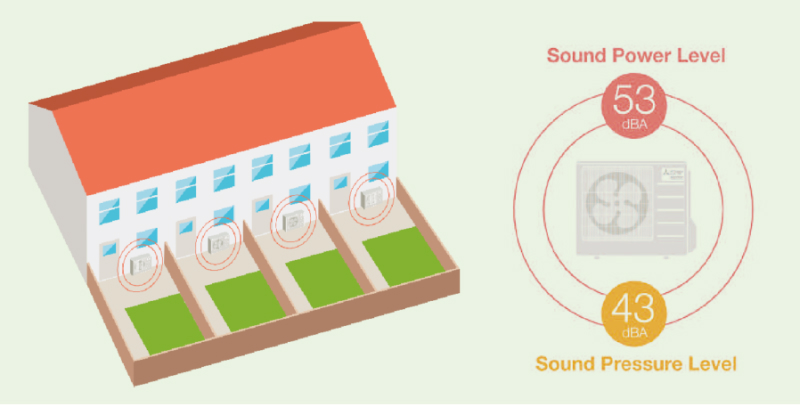 Specific outdoor unit design features enable quiet operation to be maintained in all modes of operation and all ambient conditions as well as allows improved flexibility for the installation locations. The Ecodan QUHZ will help residential areas that are particularly sensitive to outdoor noise to benefit from renewable heating technology.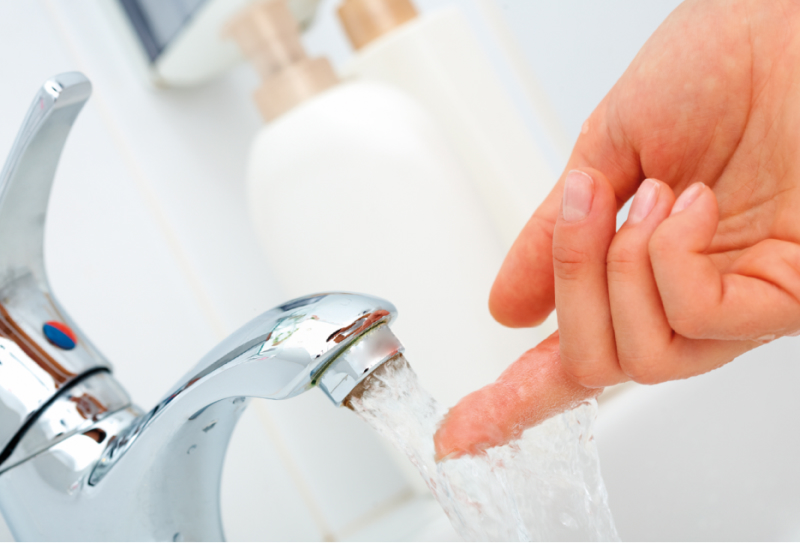 A Smart Move for Developers
Not only is the outdoor unit quiet, the compact indoor cylinder provides the equivalent of 250L of hot water using plate heat exchanger technology drawing heat from the 200L thermal store. Separated from the stored water, instant production of hot water means there is no risk of legionella while achieving up to 70°C domestic hot water.
In addition, the QUHZ can heat the whole home easily with temperatures up to 60°C for radiators or underfloor heating. With combined domestic hot water, the QUHZ is the low carbon footprint option for new homes. By future proofing and adding value to the property, it is the number one choice for developers, architects and builders alike.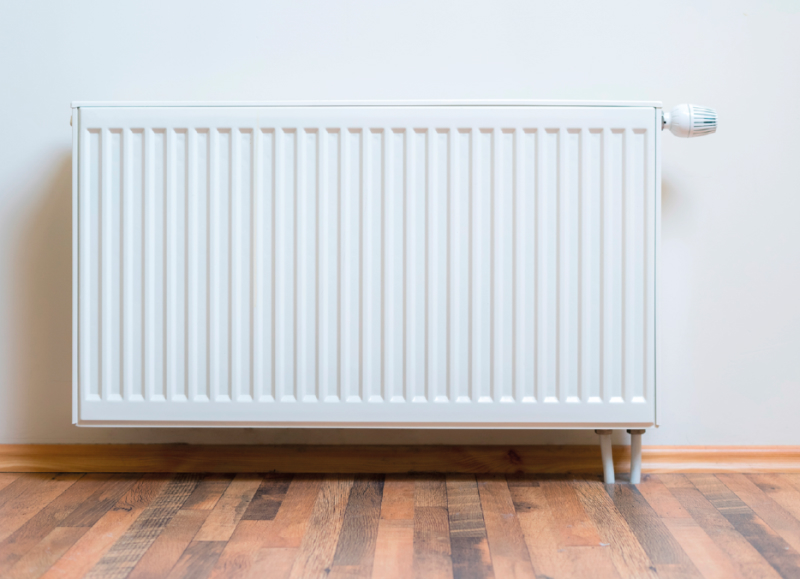 QUHZ Key Features
Rated domestic hot water mode capacity 5kW*1
High efficiency domestic hot water production COP=3.7*1
Class leading low noise operation at 43dBA outdoor unit *2
Energy monitoring as standard
No stored water draw, no risk of legionella
Pre-plumbed and wired for faster installation
No refrigerant pipework into the house, water connections only
QAHV is the Commercial Solution for Generating High Temperature, High Volume Hot Water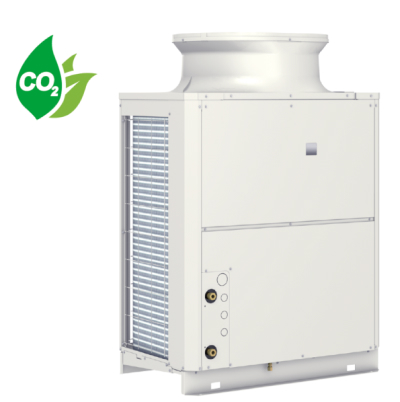 There's usually an argument to say that heat pumps can't produce the higher temperatures that gas boilers can achieve, but with CO2 refrigerant, temperatures up to 90°C can be produced in ambient outdoor temperatures as low as -25°C.
The high discharge temperature from compressing the CO2 gas means we can now achieve high temperatures and achieve high efficiency because the CO2 refrigeration cycle works best with a large temperature difference. For sanitary hot water production this technology is the way forward, to be able to reach high temperatures for wash downs, leisure facilities, potable hot water and for the industry to seriously meet carbon reduction targets. QAHV is certainly the solution.
QAHV Key Features
Rated Heating Capacity of 40kW
High efficiency (Achieved COP 3.88*3 )
Supplies high temperature hot water of up to 90°C
Operable even at low out door temperature of -25°C
Utilises natural CO2 refrigerant which has zero Ozone Depletion Potential (ODP) and has a Global Warming Potential (GWP) of 1
Uses a unique twisted and spiral gas cooler to enhance energy efficiency
Compact dimensions, minimising plant space
16 units can be grouped together to form a bank of 640kW rated heating capacity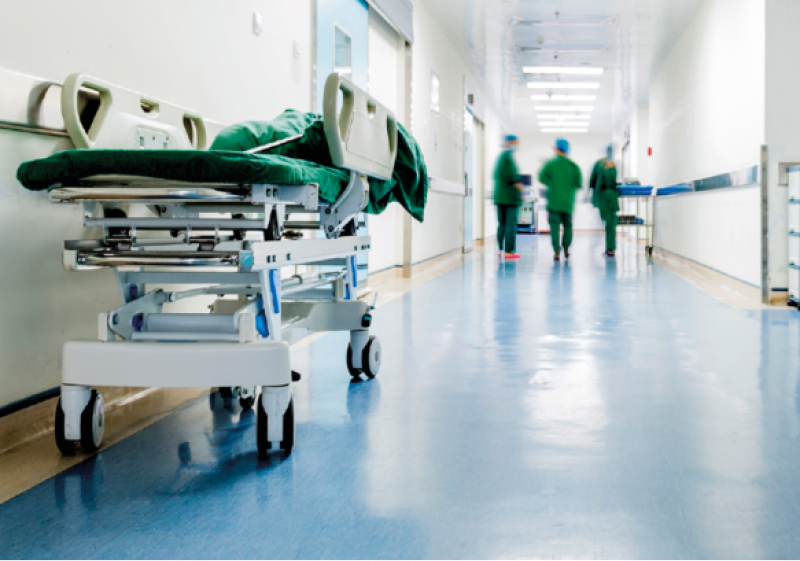 The Shift to CO2 is Happening Now
We will see more CO2 hot water heating products in the future and these products will no doubt become the norm for generating potable hot water and efficiently heating our homes.
Reach out to your local Sales Representative to learn more about the Ecodan Range of CO2 Hot Water Heat Pumps.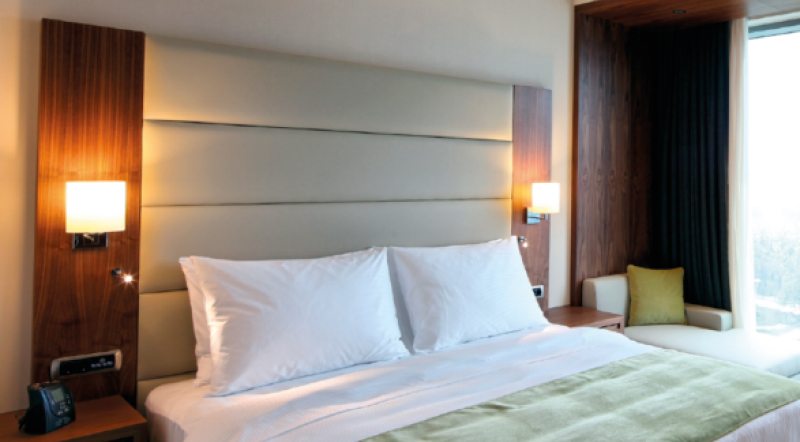 *1 Under heating conditions; outdoor temperature 7ºC, water outlet temperature 65ºC, inlet water temperature 15°C.
*2 Measured at 1m from the outdoor unit.
*3 Under heating conditions; outdoor temperature 16ºC, water outlet temperature 65ºC, water inlet temperature 17°C.
6 Key Ventilation Tips for Homeowners to Consider
Monday 13th of December 2021
Creating a healthy environment is important when renovating or building a new home. Your customers will value your advice and expertise in all aspects of ventilation. Make this your competitive advantage and share the following 6 tips with them, to ensure they invest in the best ventilation solution for their health and home.
1. Talk to a ventilation expert early in a new build planning process
It can be easy for homeowners to jump straight into the design aspect of planning, however this can often be the first mistake made. Too often people consider ventilation once their build is in progress or even complete and find their plans make installation difficult, more costly and often result in a make do application that isn't what they were initially after.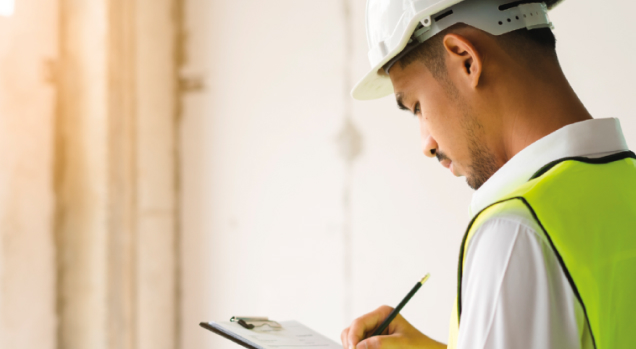 By bringing in a ventilation expert in the early planning stages you can save future headaches. Always ensure a ventilation system is integrated into plans to maximise efficiencies. Ducted air conditioning with combined Lossnay Ventilation is a perfect example of something that is best to bring in an expert early in the process for. Installation, ducting and wiring is far easier to manage before the ceiling is put in place, allows flexibility with outlet placement and Lossnay's heat recovery will add further efficiency to the air conditioner when in operation.
2. Make use of what is free with heat recovery technology
Ventilating our indoor spaces is more important than ever, but they should also be as energy efficient as possible.
Mitsubishi Electric's unique heat recovery technology recovers up to 85% of the heat energy from the outgoing stale air which is then used to pre-warm (or pre-cool) incoming fresh air. Why not take that warm air from the sunniest side of the house to pre-warm the outdoor air being filtered in? Or use the air you have already paid for to heat.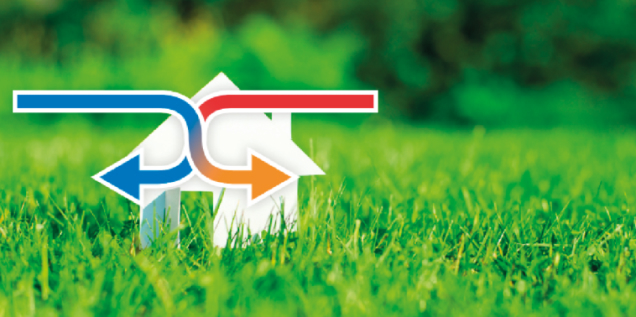 Heat recovery means any heating or cooling appliance does not have to work as hard to reach the desired room temperature – providing savings on energy bills.
3. Place ventilation ducts and grilles to maximise efficiency
Placement of ducts and grilles are almost as important as the system behind it.
Often ventilation systems are not working as efficiently as possible because they are drawing air from the coldest parts of the home and not taking advantage of those areas which are naturally warmer. It goes back to heat recovery, the best thing you can do is make use of that free energy.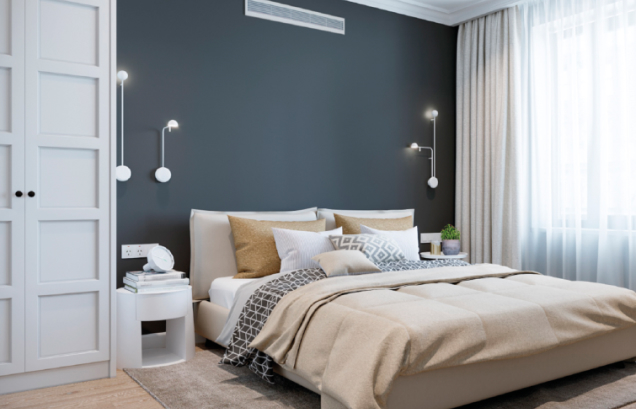 4. Not all air is created equal. Fresh outdoor air rather than air from the roof-space is key to ensuring indoor air quality
To achieve compliance with the Ventilation Standard NZS4303:1990 of the New Zealand Building Code, a building's ventilation system is required to draw fresh air from the outside in order to achieve acceptable indoor air quality.
Not all air is created equal. The absence of significant air movement common in attics means the air is likely to be stale. In addition, build-up of dust, dirt and other contaminants such as mould, insect and rodent droppings makes this air much harder to filter before it is distributed through your home - it's not what you want to be breathing in.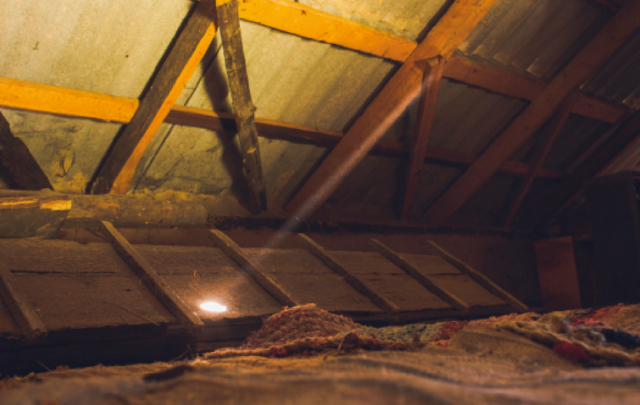 All products in our Lossnay Ventilation Range draw fresh air from outside and filter this to maximise air quality. While systems that draw from the roof are less common since the standard was introduced, these systems can still be found in the market to target those wanting a retrofit solution for an older home.
5. Meet the requirements of the home, not just the Building Code
The New Zealand Building Code often asks for the bare minimum and by using this as a benchmark, the actual ventilation requirements of the property might not be met. Our code in New Zealand asks for 0.35 air changes per hour, however if you are really wanting to maximise your homes air quality this should be higher. When designing a Lossnay system, authorised Mitsubishi Electric installers refer to the higher UK standard of 0.43-0.5 air changes per hour.
Capabilities like this are important as they can easily be overlooked by price, but a low performing system can result in unmet expectations and ultimately a wasted investment.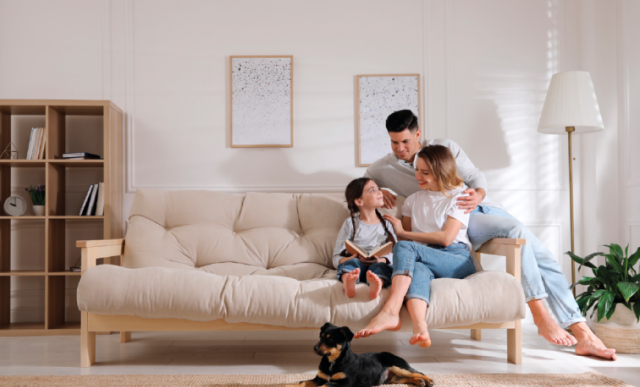 6. Complement your system with a separate exhaust fan for wet areas such as bathrooms and laundries
While many systems including Lossnay can draw from moisture laden air, to get the most energy efficiency out of your heat recovery system, homeowners should install a separate Mitsubishi Electric Ducted Exhaust Ventilation Fan in wet areas such as bathrooms. While a bathroom can be warm during showers, when not in use they are often the coldest rooms in the home - so why combine that cold air to the air you are hoping to recover heat from and reduce the overall temperature you can recover? Exhaust fans do an excellent job at removing steam and moisture quickly and are turned off when not needed, saving energy use.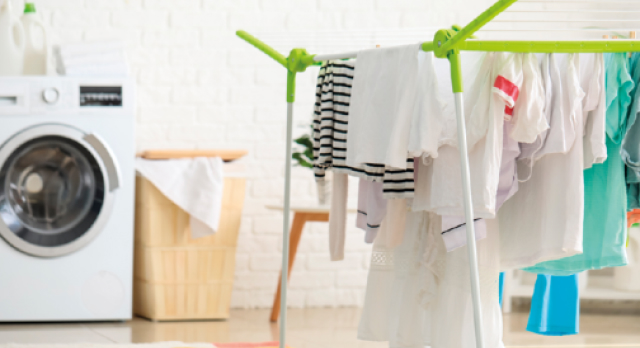 Click here to learn more about our Ventilation product range.

­­­Black Diamond Technologies Limited – Celebrating 40 Years in New Zealand
Tuesday 7th of December 2021
On the 9th of November 2021, Black Diamond Technologies Limited (formally known as MELCO) reached an important milestone – 40 years of providing New Zealanders with the leading edge technologies of Mitsubishi Electric products into New Zealand homes and businesses.

To celebrate, we share our story from the beginning and our thoughts on how we will continue to shape the industry over the next 40 years and beyond.
In the Beginning
Right from the beginning Mitsubishi Electric manufactured world leading products founded on two key principles: quality and technological innovation. Video Recorders, Colour TVs and Audio Systems were examples of categories where Mitsubishi Electric led the way. Yet in the early 80's those products were not represented in New Zealand, in fact the brand was unknown here.
Ron Woodrow Company Founder
The foresight that led to the introduction of Mitsubishi Electric products in New Zealand by MELCO / BDT came from its founder Ron Woodrow.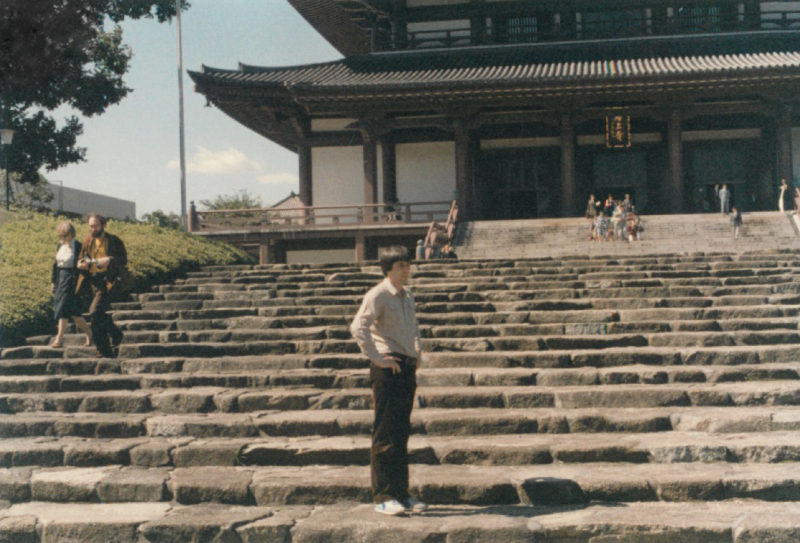 Ron began his career at EMI in Wellington. With a keen interest in consumer electronics his attention was drawn to how video recorder technologies were advancing, particularly by Japanese manufacturers. The potential he could see convinced him to take a bold step. Leaving the security of EMI in 1981, Ron along with Pat Feehan set up a new venture called MELTRON to import Mitsubishi Electric products.
Starting off with video recorders, the product range quickly grew to include TVs, Microwaves and computer products.
Impressed with the success, after 1 year Mitsubishi Electric Japan became a 51% partner in the venture and MELTRON was renamed MELCO (Mitsubishi Electric Company). The business grew quickly, with its head office in Wellington; branches were also opened in Christchurch and Auckland.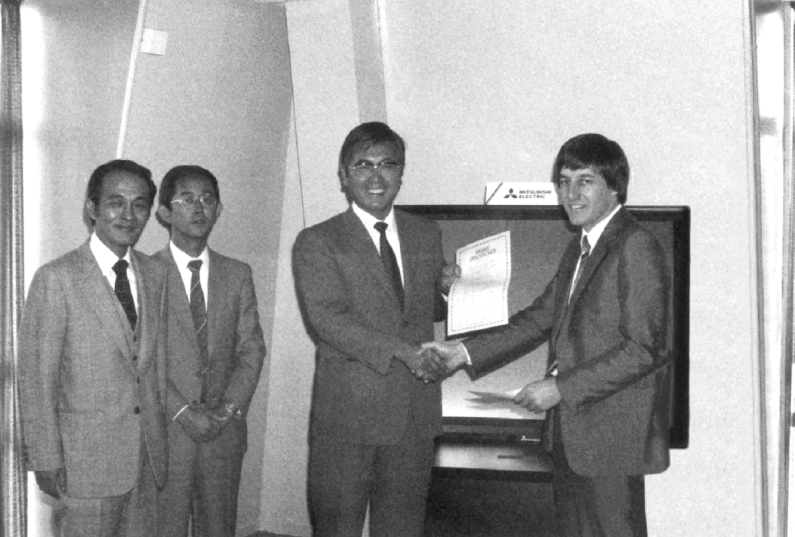 In 1992, with the departure of Pat Feehan, the then Divisional Manager Ken Lilley purchased these shares and became Director.
Key Defining Mitsubishi Electric Products
The Black Diamond Video Recorder
From the first ever Mitsubishi Electric video recorder that was brought into the country in 1981, the HS-330 Model (pictured below), the brand grew from strength to strength.

In 1988, a new range was launched that featured a distinctive black slimline design and was packed with a host of advanced features. No other video recorder had more up-to-date features for the price. This range became known as the Black Diamond Series and was so popular, that from 1988 to 1998 it was New Zealand's best-selling video recorder brand. The advertising created around the Black Diamond name proved so powerful that it became a sub-brand in its own right, and was even used by other Mitsubishi Electric distributors internationally.
Diva Large Screen Television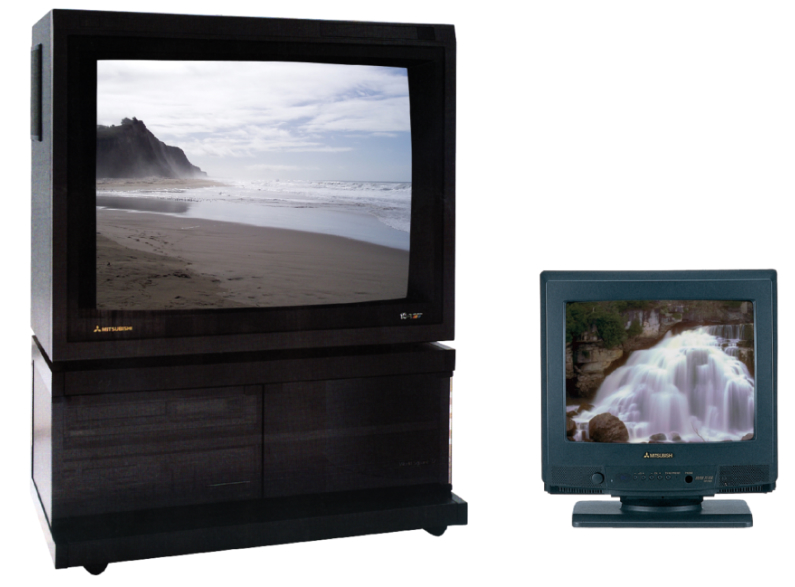 1984 saw the introduction of Mitsubishi Electric Televisions. Just like video recorders, it did not take long for New Zealanders to aspire to also have a Mitsubishi Electric TV take pride of place in their lounge. As a result, from 1993 to 1996, the large screen feature packed Diva Collection became New Zealand's best-selling TV range.
The Cube Microwave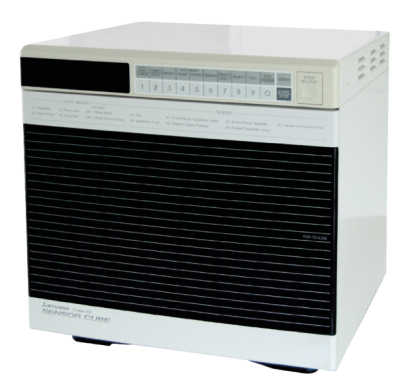 Another key defining Mitsubishi Electric product was the Cube Microwave. Introduced in 1985, its unique shape was a real conversation starter and became so popular; kitchens in the day had cabinetry purpose built to fit "the Cube". As a true mark of Mitsubishi Electric quality, we still receive calls from customers with working Cube Microwaves that require rehoming, 36 years on!
Our Advertising – the "Don't you wish?" Campaign
From a marketing perspective, the philosophy has always been to be the aspirational brand and to have Mitsubishi Electric product seen as the number one choice in every category it contested.
This has involved creating messages that position Mitsubishi Electric products as stylish, advanced and very user friendly. For many years the memorable tag line for virtually all our products was "Don't you wish you had a Mitsubishi?"
The Only Constant is Change
In a business as dynamic as consumer electronics, change is inevitable. Organisations must develop resilience and flexibility to adapt. In 1997 Mitsubishi Electric underwent changes that saw it announce a global move away from TV and video recorder production. These had been important categories for MELCO / BDT however, like its Japanese partner; the New Zealand Company would also have to change. In 1998 the company re-established itself with Mitsubishi Electric, energy efficient, compressor driven products. It did not take long for the brand to firmly establishing itself in the air conditioning, dehumidifier and refrigeration markets, where it is now one of the major and leading players.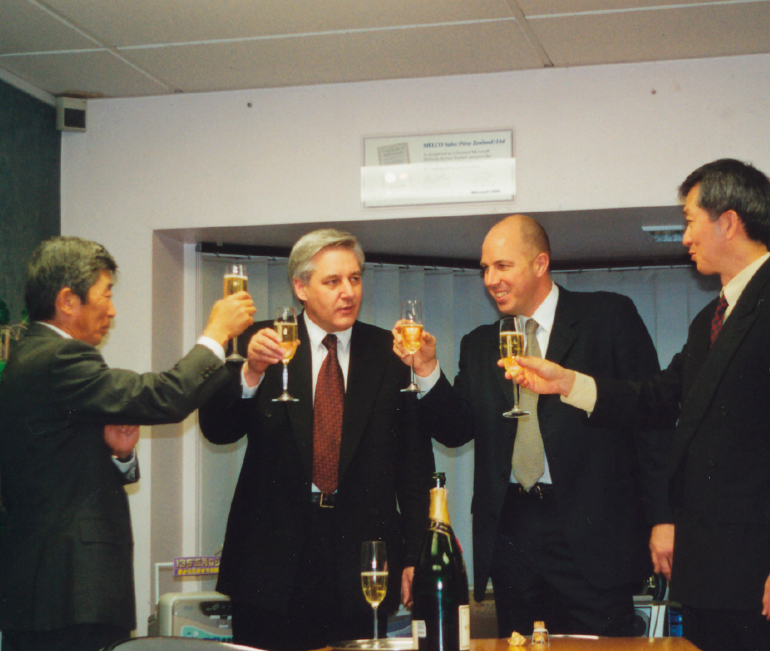 Part of this re-invention was also a change in company structure where Ron Woodrow and Ken Lilley bought out Mitsubishi Electric's 50% stake. With this change to 100% New Zealand ownership, MELCO changed its name to Black Diamond Technologies.
A New Generation of Mitsubishi Electric Products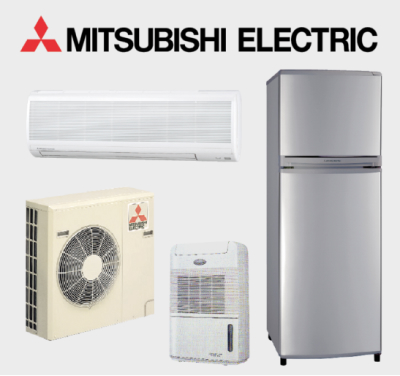 Through the exclusive partnership with Mitsubishi Electric, BDT has enjoyed the advantages of access to category leading technology and energy efficient, environmentally sustainable products with unique features to improve people's lives.
As a result, the company now specialises in the marketing and distribution of Mitsubishi Electric products including Air Conditioning and Heat Pumps, Ventilation, Hot Water Heat Pumps, Dehumidifiers, Refrigeration, as well as a full range of commercial building HVAC (Heating Ventilation Air Conditioning) solutions.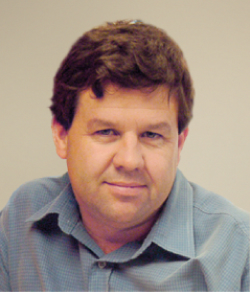 Integral to the successful change in direction was the joining of Darryl Rochester to the Company in 1999. Darryl came with a long history in the New Zealand air conditioning industry and was ready to take on the challenge of establishing Mitsubishi Electric as the leading brand of energy efficient compressor driven products.
Heat Pumps
While the first Mitsubishi Electric Heat Pump System was sold in New Zealand in 1989, real momentum started in 2006. Using the tried and tested marketing philosophy of leading with unique products that take the higher ground, New Zealand's quietest high wall heat pump was launched.
Just like all those years ago, the philosophy of being the aspirational brand and to have Mitsubishi Electric product seen as the number one choice was front and centre for the marketing of Mitsubishi Electric Heat Pumps.
Quietly Superior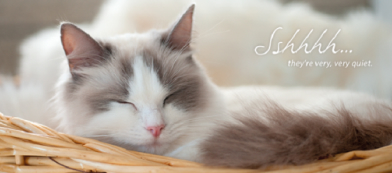 The new "quietly superior" advertising campaign that featured the cat and presenter based format was born. And to this day, Mitsubishi Electric Heat Pumps are now unequivocally synonymous with quietness.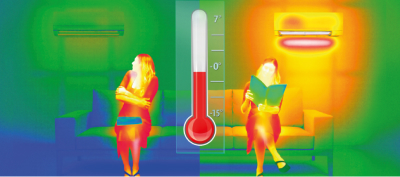 Since then, regular unique product ranges were introduced setting new standards in comfort levels. HyperCore Technology was launched in 2009 that was specifically designed for New Zealand's low temperature conditions. Colour options with the Designer Series was introduced in 2011 giving Kiwis an alternative to just white!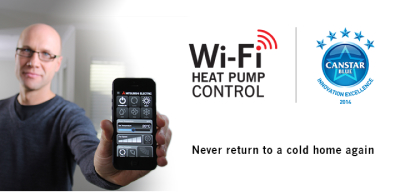 And in 2014 driven by the philosophy of smart technology, BDT took matters in their own hands and developed the Wi-Fi Control app in-house for its range of Mitsubishi Electric Heat Pumps sold in New Zealand. The successful advertising campaign was centred around the premise of "Never return to a cold home again" and absolutely changed the way New Zealanders thought about heat pumps.
So What Does The Future Look Like?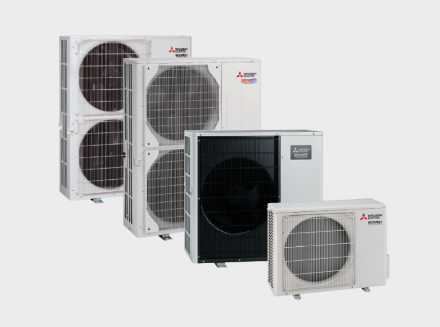 Brought to life in 1998, the Environmental Vision 2021 initiative was established by Mitsubishi Electric with a long term global framework for realising a more sustainable planet. Since then, Mitsubishi Electric has reported annually on its environmental objectives and achievements in Japan and globally, to review the progress of the environmental plans of the group.
A key driver of the Environmental Vision 2021 Mandate is striving for the best and the most environmentally friendly use of energy in buildings by developing zero or low carbon technologies that consume the least amount of energy with minimal environmental impact.
Hot Water Heat Pumps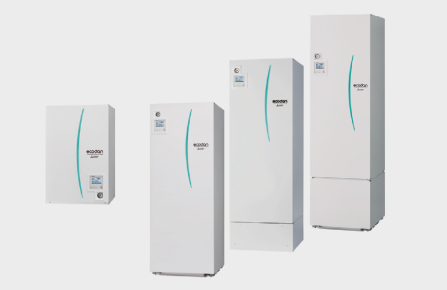 The Mitsubishi Electric Ecodan Hot Water Heat Pump Range launched in 2020 is a good example of a product that already meets this objective. Utilising their expertise and industry leading technology, Mitsubishi Electric has developed a super energy efficient heat pump that combines both hot water heating and room heating through one system.
Just like heat pumps revolutionised space heating in homes in the early 2000's, hot water heat pumps are poised to take the same trajectory. They are set to become the building blocks of tomorrow's environmentally friendly future and BDT is committed to retain Mitsubishi Electric's leading position in the New Zealand market wherever the journey takes us.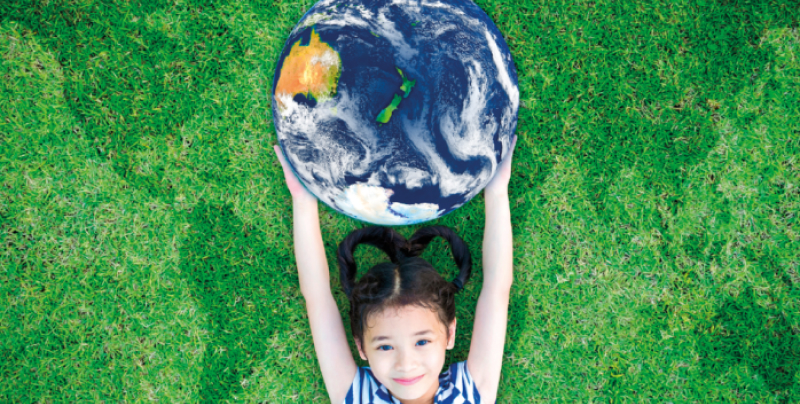 Creating New Zealand's Sustainable Future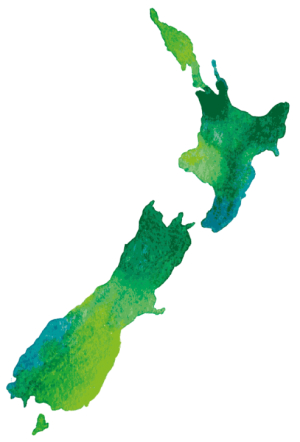 On average, with buildings accounting for over 20%* of energy consumption and carbon emissions in New Zealand, improving the level of efficiency is of paramount importance.
As the exclusive distributor of Mitsubishi Electric products in New Zealand, BDT seeks to use its position to increase awareness, improve energy use and minimise carbon footprint in the built environment in the most energy-efficient, cost-effective and environmentally friendly way possible.
By constantly challenging everyone involved to combat the issues we all face, BDT and Mitsubishi Electric aim to help everyone address both energy use and carbon emissions, to work towards a more environmentally sustainable future overall.
BDT looks forward to regularly reporting back on how both BDT and Mitsubishi Electric are taking definitive action today, to create a greener world for tomorrow.
* 20% is based on the consumption oriented view from The Carbon Footprint of New Zealand's Built Environment Report from the 14th May 2018
Introducing the High Efficiency R32 e-Series Modular Chiller Range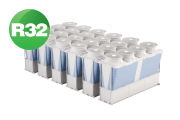 Monday 15th of November 2021
Mitsubishi Electric has extended the e-Series Modular Chiller Range to now include M1500-1800 models that utilise R32 as a low Global Warming Potential (GWP) refrigerant. Comprised of cooling only and heat pump models, the Mitsubishi Electric R32 range of e-Series Modular Chillers allow up to six individual units to be connected together to provide system capacities up to 1,080kW.

A modern update on traditional systems, the R32 e-Series Chiller is Mitsubishi Electric's most efficient chiller system yet.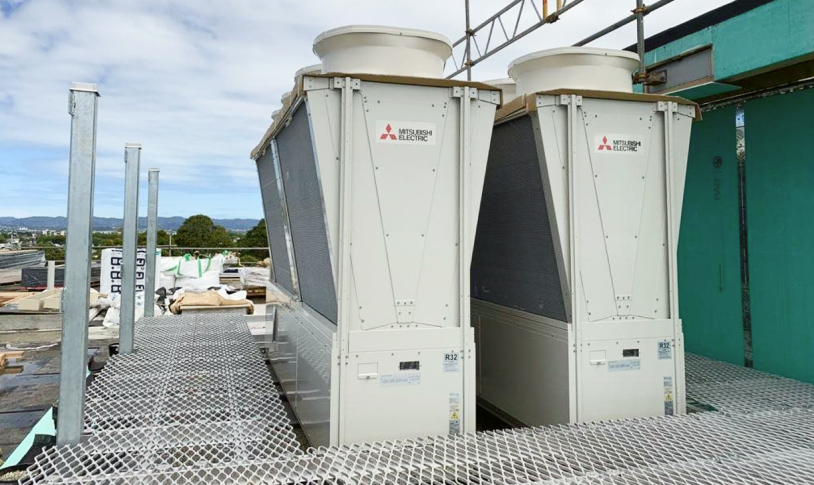 Photo Credit: Airmaster
The Versatile Solution – Stock Available Now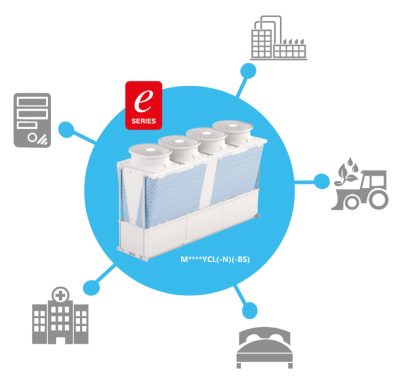 Available as a cooling only or heat pump version, the e-Series is suitable for both comfort and process cooling applications. The modular design is great for new or replacement projects and ideal for projects with future expansion plans – allowing for a reduced initial capital cost.
Mitsubishi Electric e-Series Modular Chillers are currently operating in New Zealand hotels and commercial buildings, as well as experiencing growth in industries such as horticulture, dairy and industrial processing plants due to its superior efficiency and versatility.

*(BS) Coastal Protection and (-N) built-in header type options available.
Reduced Environmental Impact by Using R32 Refrigerant

With the New Zealand Government's ratification of the International Kigali Amendment in 2020 sparking a steep phasedown of HFCs, building owners, facility managers and the construction industry have been looking for HVAC systems that deliver high operational efficiency whilst minimising the GWP of the refrigerants used within these systems.
The new R32 e-Series Modular Chillers offer significant environmental benefits over conventional R410A chillers. The use of R32 compatible compressors and flat tube heat exchangers allows for approximately 68% reduction in refrigeration volume and approximately 89% reduction in CO2 equivalent in the EACV-M1500YC(-N)(-BS).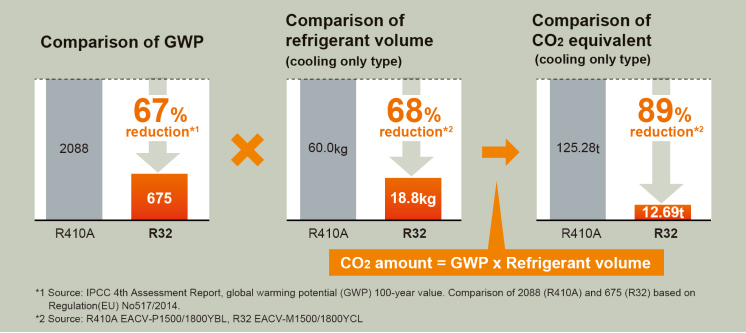 Enhanced Efficiency Through R32-Compatible Inverter Compressor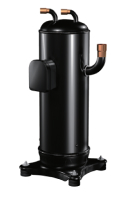 A new compressor with a suction chamber injection mechanism and an inverter control system that automatically controls the operating frequency realise the use of R32 refrigerant and a wide water operating range.
e-Series Modular Chillers offer significantly improved seasonal efficiency when compared to R410A e-Series machines, which means that they cost less to operate over their lifetime.
Improved Annualised Operating Efficiency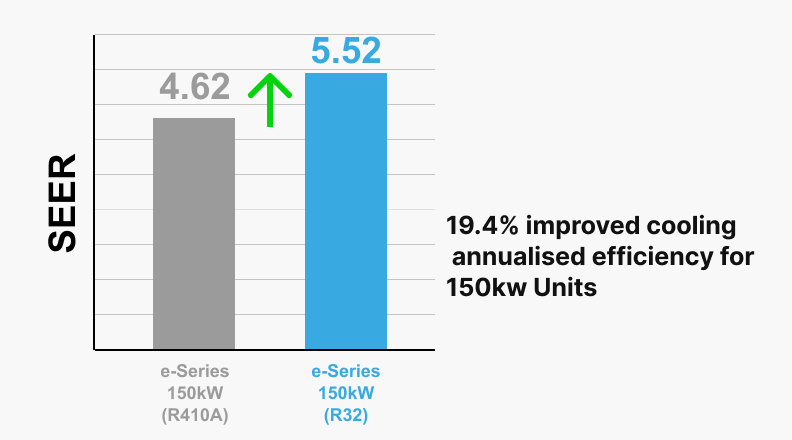 *The values are calculated in accordance with EN14511.
High Performance Flat Tube Heat Exchanger
The use of high performance heat exchangers allows for a greater surface area whilst also keeping the units much narrower than conventional chillers. The inclusion of fins inside the flat tube heat exchanger divides the flow path of refrigerant and improves heat exchange effectiveness. This contributes to greater energy efficiency, reduction in refrigerant volume and a wider operating range.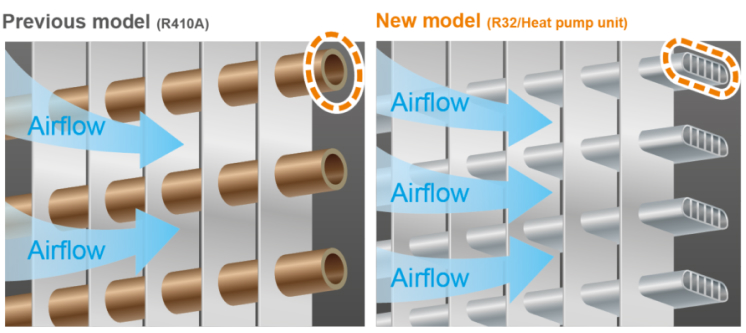 New Water Side Heat Exchanger With Reduced Pressure Drop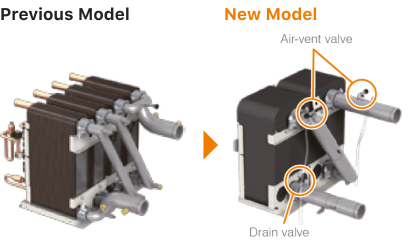 Water Side Pressure Drop is reduced due to the new heat exchanger design. The heat exchanger assembly is complete with drain valve and air vents. These allow for easy air bleeding and draining of the heat exchanger.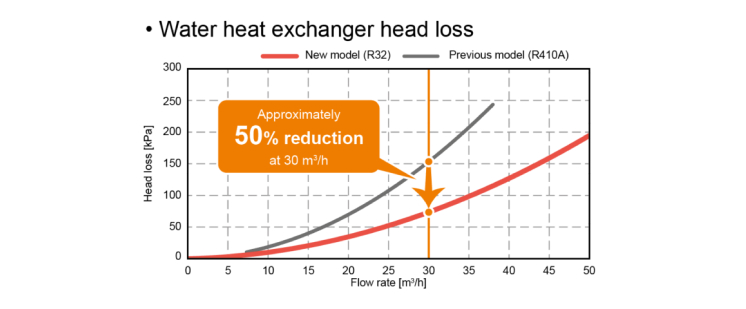 Modular Format Ensures Design Flexibility and Reliable Operation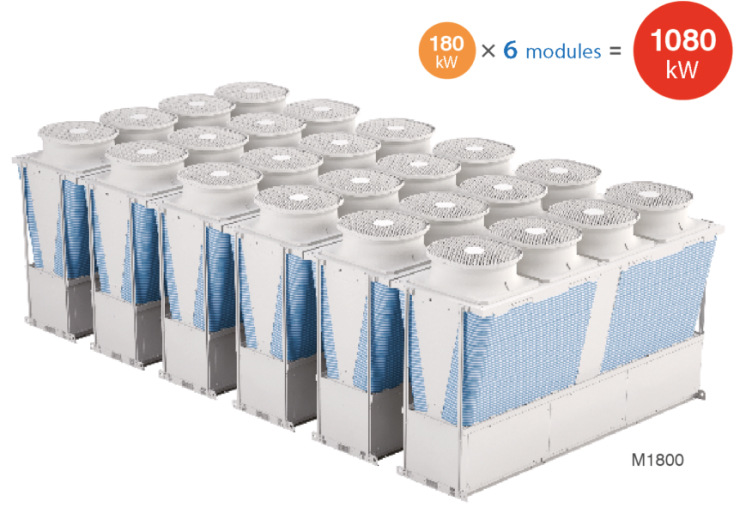 Up to six individual units can be connected together to provide a system capacity from 150-900kW for the M1500 model or 180-1080kW for the M1800 model. Using this modular approach reduces plant space requirements as well as simplifying logistics and installation.
A modular approach also lends itself to a staged installation for future HVAC demands, as modular chillers can be scaled accordingly and are easily replaced.
When installed using the inbuilt headers, individual modules can be isolated from the water circuit thanks to the inbuilt isolation valves. This allows for maintenance to be carried out while the other modules remain in operation.
Advanced Controls for Further Energy Savings
Typical chiller control systems allow units to run at a maximum capacity while other units are in standby during part load. The Mitsubishi Electric e-Series Chiller Range is designed to optimise chiller compressor frequency based on the number of connected units, maintaining the highest part load efficiency possible.
When the Overall System Load is 50%
Typical Chiller Control

e-Series Modular Chiller Ranger with Optimum Frequency Control

With up to six units operating in one bank, this function improves system efficiency when operating at low to medium loads. Furthermore the run time of each unit is equalised by the control system, this prevents uneven wear on the units and extends the lifespan of the system.
Market Leading Low Noise Levels
The e-Series Modular Chillers are by their nature much quieter than conventional chillers. By utilising highly efficient fan and compressor technologies within a uniquely shaped chassis, the e-Series Modular Chiller range offers low noise levels that are ideal for high density areas such as city centres where commercial and residential buildings mix.

e-Series Coastal Protection Models
While the standard e-Series models come with excellent corrosion resistance, the Coastal Protection e-Series models (-BS) go a step further by treating external panels and other key elements to a higher paint specification, providing further protection from aggressive salt environments often needed in New Zealand.
Easy Control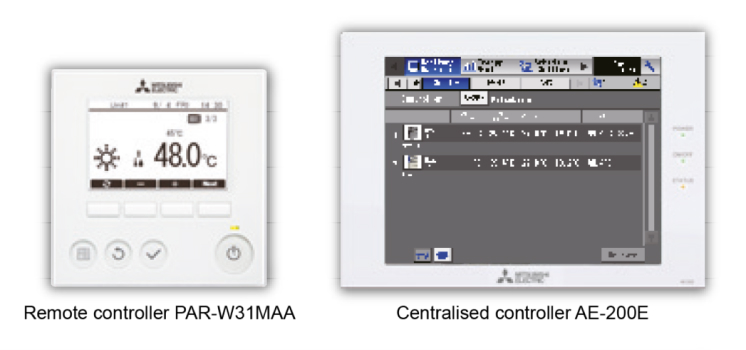 The water temperature in each module can be controlled using local remote controller PAR-W31MAA or by using centralised controller AE-200E. The AE-200E controller can centrally control up to 24 units or 24 systems connected via M-Net. The maximum number of connectable units can be further increased using EW-50E or AE-50E Expansion Controllers.
To learn how the Mitsubishi Electric Range of R32 e-Series Modular Chillers can work for your next project, please contact your Regional Sales Engineer.
NZS5149 – The HVAC Standard You Should Know About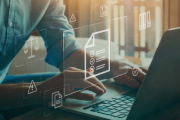 Wednesday 3rd of November 2021
The NZS5149 standard that deals with refrigerant concentration in confined spaces has been around since 2016. It's important as it affects every new or altered DX system installed in NZ – but it is largely overlooked.
If you are designing or installing DX HVAC systems you need to know about NZS5149, as by not meeting the standard the consequence could be maximum penalties of $500,000 or up to 2 years' imprisonment.
Demystifying the Standard
NZS5149 is a safety and environmental standard that primarily deals with refrigerant leakage and more precisely the risk of asphyxiation or fire that can result from any leak. The standard itself is around 200 pages long set out in four sections covering:
Definitions - describing terms, identifying refrigerants, classifying applications, explaining limits and describing mitigation. This is probably where you will spend most of your time trying to understand what is or isn't required for any project.
Design and construction - requirements for piping, components and assembly. For example; pressure testing, tightening torques, inspections methods etc. Needed after you have decided what is required to meet the standard in section 1.
Installation site - specific requirements for applications such as machinery rooms and requirements for mitigation methods such as alarms or ventilation. Hopefully you don't spend too much time in this section, as it means expense.
Operation maintenance and repairs - covers ongoing use of HVAC and mitigation systems to ensure correct performance. Also covers reclaim, disposal handling and storage of various refrigerants.
NZS5149 definitely is a tricky standard, but anyone working with a DX air con or DX industrial plant should be using it regularly.
What Types Of Refrigerants Should I Look Out For?
Many of the old school refrigerants we have been using (like R410A) are class A1 refrigerants. These are non-flammable but somewhat toxic, so under NZS5149 they only have a toxicity limit. However many of the newer refrigerants (think R32, R1234ze, etc.) are A2 class, which means they are both mildly toxic and mildly flammable. These have the double whammy of both a toxicity and a flammability limit - with the stricter of the two being your overall limit. So any flammable refrigerant will likely be harder to make comply with the standard.
However as we're all aware many "old" gasses like R410A have high Global Warming Potential, so are in a heavy phase out period. Going forward you are more likely to have to deal with a "new" gas that has more stringent requirements.
Annexes B1, B2 and B3 in section one of NZS5149 will tell you all the details for the gas you have. These can be applied in to tables A1 and A2 in the same section - which is where you start to see what you are up for and how big the mountain is that you have to climb.

What Types Of Systems And Applications Should I Look Out For?
From a comfort cooling perspective hydronic systems generally have the chiller sited outside in the open air - so even though the volume of refrigerant in them could be large, 99% of the time they won't be a problem for safety under NZS5149.
Most 1:1 split systems usually won't be too much of an issue either, as often the refrigerant charge volumes they have are pretty small. So unless you have a high capacity split serving a small volume space these are unlikely to cause you any issues under NZS5149. The exception is floor console splits as these are mounted close to the ground which causes issues with the flammability calculation. Take care with these.
The real problem child is VRV / VRF systems as these often have a large gas charge with the refrigerant going right into occupied spaces - which can be small. Combine this with the heavy phase down of R410A gas that all large VRV / VRF systems use, and you can see why designers are moving away from these types of systems.
NZS5149 is also why you won't find any large VRV / VRF DX systems being offered in R32. There is simply no way they could comply with the more stringent flammability requirements of R32 - they have enough trouble complying with the lesser toxicity levels of R410A.
Now looking at applications, the standard sets out a sliding scale for requirements based on room occupancy. As you go up the scale the requirements to comply become more and more onerous.
Classifying Applications

Class A - General Occupancy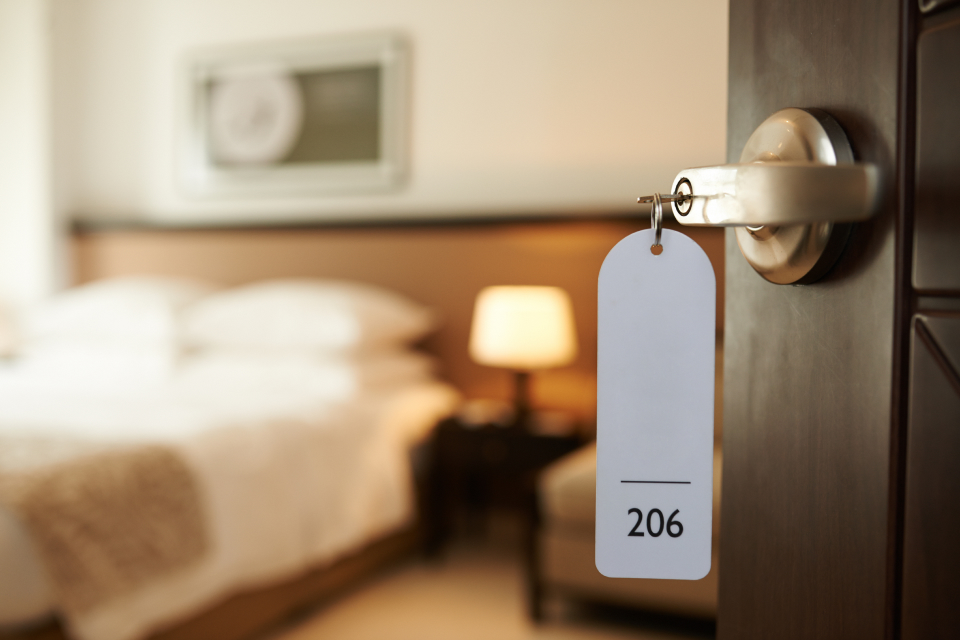 Public access spaces such as schools, restaurants, theatres or supermarkets. Additionally, any place with sleeping facilities such as hotels, houses or retirement facilities
Absolute maximum charge kg for a system applies
If exceeding the concentration limit generally 2x forms of mitigation are required
Class B - Supervised Occupancy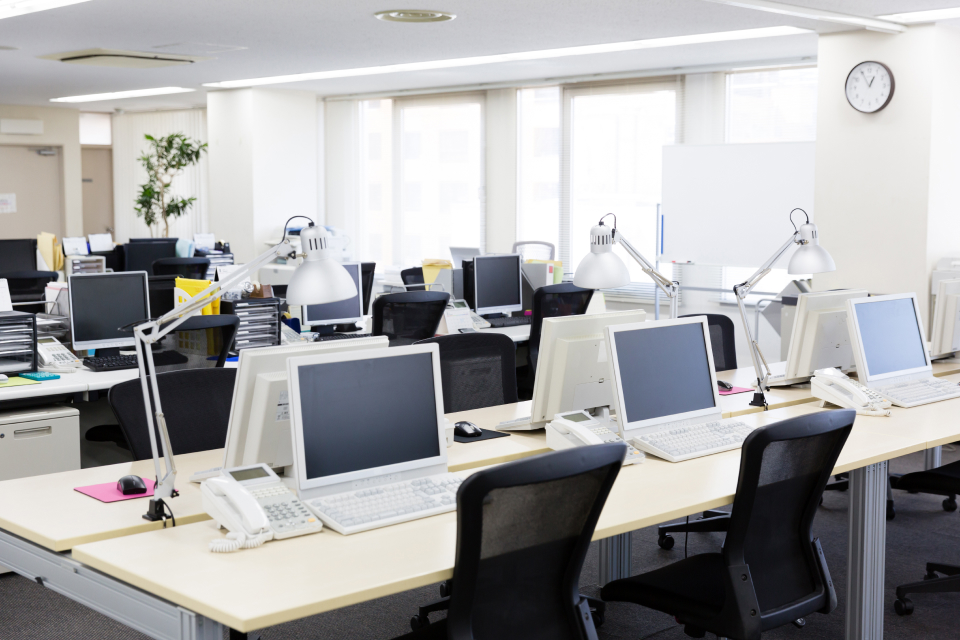 Access somewhat limited, with regular repeat occupants. Most offices and professional spaces will fall in to this category
No max charge kg for a system
However if concentration limit is exceeded (same limit as class A) sensors and alarms are required
Class C - Authorised Occupancy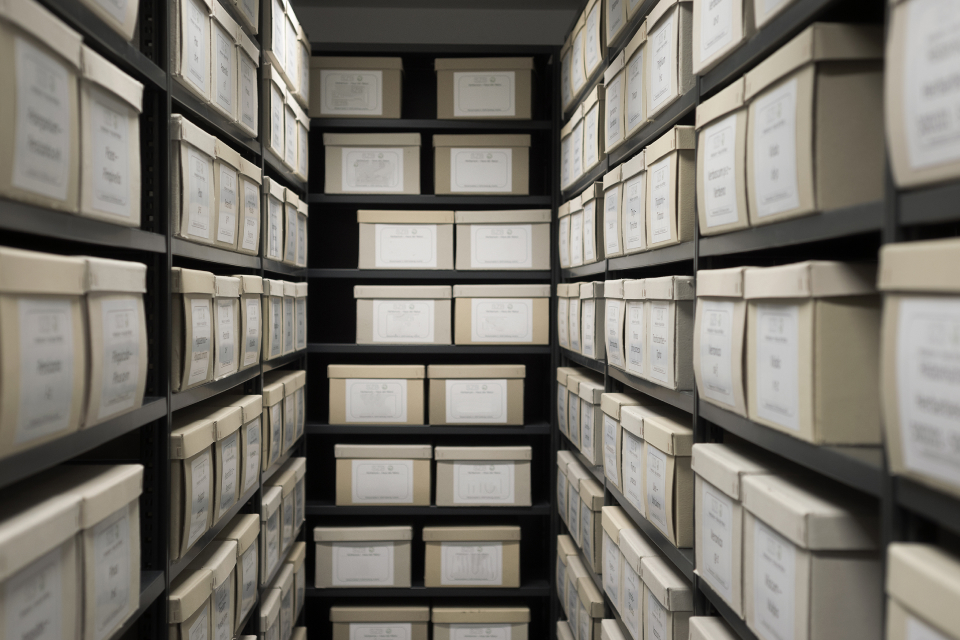 Restricted access to only a selected few people. Often a locked space such as a store room or restricted area in manufacturing
No max charge kg for a system
However if concentration limit is exceeded (same limit as class A) sensors and alarms are required
Determine if There is Likely to be a Problem or Not
In comfort cooling the potentially problematic DX systems are currently all either R410A or R32. So for a standard room the rough maximum concentration levels are:
R410A = approx. 1kg per 1m2 of any room served*
R32 = approx. 1kg per 6m2 of any room served*
*note assumes 2.4m floor to ceiling height. Ceiling void cannot be included in room volume.
My Advice? Avoid Mitigation
In my experience mitigation for excessive refrigerant concentration will be expensive, difficult or both. So the first approach you should look at is changing the design to avoid exceeding the maximum concentration levels by:
Breaking up larger DX systems in to several smaller ones (although take care as this can add significant costs).
Changing to a different type of system. Splits, Hybrid VRF or hydronic systems could all get you out of jail, but of course may require re-work of the design. If doing this be mindful of solving one problem but creating another. For example; splits generally have shorter pipe run maximums which can cause problems for proposed or existing outdoor unit locations.
Not directly treating some spaces with A/C. A no-brainer but if the spaces don't have A/C in them then they can't be a problem.
Changing the size of the problem spaces. This sounds strange, but if you can increase the size of a space you could solve the problem. Removing a physical barrier like a door, or providing a decent door undercut so that the problem space sums with an adjacent larger one could do the job.
If you can't do any of the above then you are up for mitigation, this can be found in section 3 of NZS5149. Some of the possible methods are:
Natural Ventilation
Both high and low level openings in each room that exceeds the limit are required.
Mechanical Ventilation
Both supply and extract vents in each room that exceeds the limit are required. The vents must be positioned "as low as is practicable", so read this as vents in the ceiling are not acceptable.
Safety Shut Off Valves
Operated by sensor and positioned close to the space in question to prevent the maximum concentration level being exceeded in the event of a leak.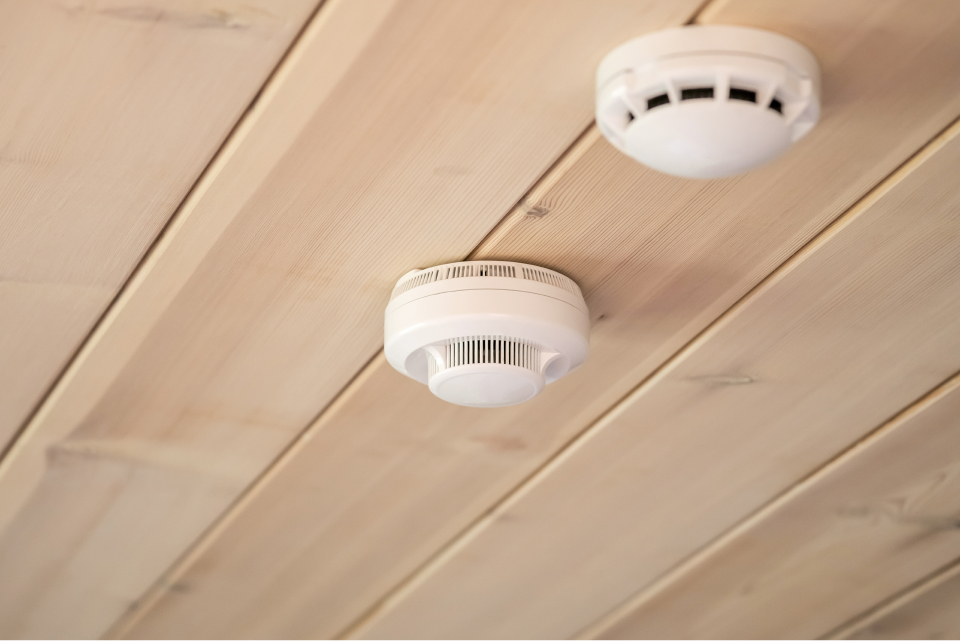 Sensors and Alarm System
Must provide an audible and visual warning and if the application is class A also report to a supervised remote location. Any sensor must be re-calibrated at least annually (some are more frequently). Note: all sensors have a limited service life of between 2 -5 years and so must be regularly replaced.
The Hidden Costs of Mitigation - An Example
A floor in a commercial building that has been separated in to 40x small offices with a VRV system proposed to condition them. Clearly an office is a class B application, so there is no limit on the system charge and no problem right? No, wrong!
In class B, any space that exceeds the maximum concentration limit still needs to have sensors and an alarm system. So if all 40 offices exceed the maximum limit we are up for approximate costs as follows:
Combined 10 Year Life Cost for Alarms = $302,000
As you can see the hidden cost can often be a lot more than changing to a different system type or another design related change.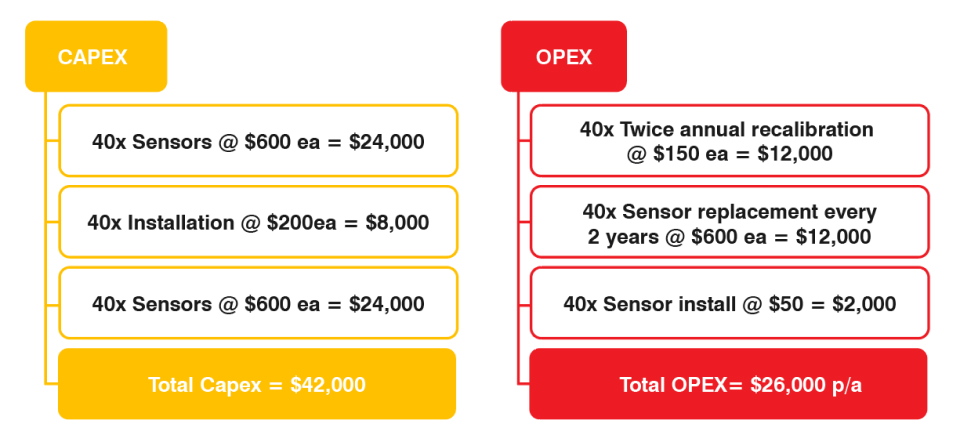 Combined 10 Year Life Cost for Alarms = $302,000
In Summary
Don't Ignore NZS5149 - the penalties are huge!
Non-flammable gasses comply more easily (but are getting rarer)
Know your space. Is it occupied? What class is it?
Large charge (VRV / VRF) are by far the most problematic
Mitigation is horrendously expensive - avoid it any way you can

BDT is a HVAC product supplier not a refrigeration supplier, so all comments are given from this perspective. Everything discussed is BDT's opinion or interpretation. Other opinions may differ. It is recommended you check any designs you do against the NZS5149 standard for yourself or engage a professional to verify your interpretation. Click here to read the full standard.
It's Time to Change our Refrigerant Choices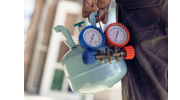 Tuesday 2nd of November 2021
Selecting refrigerant driven HVAC plants based simply on capital cost, is easy. But have you ever considered the potential service delivery risks, or the financial and environmental repercussions of these decisions on the future?

It's time to move away from our reliance on the "safe" relatively benign HFC refrigerants we have all become used to.
Kigali Amendment to the Montreal Protocol HFC phasedown is the Main Driver of Change
The New Zealand Government ratified the International Kigali Amendment in 2020, affecting all HFC's and blends which of course are the work horse of the HVAC and commercial refrigeration industry.
The Kigali Amendment requires Montreal Protocol Parties to gradually phase down HFC production and use. In New Zealand a phasedown to 15% of an agreed base level will happen incrementally until the target is reached in 2036-2037. The refrigerant import volumes are capped based on CO2e (equivalent tonnes) and not on any one particular refrigerant.
This single piece of international legislation will be the main driver for refrigerant change.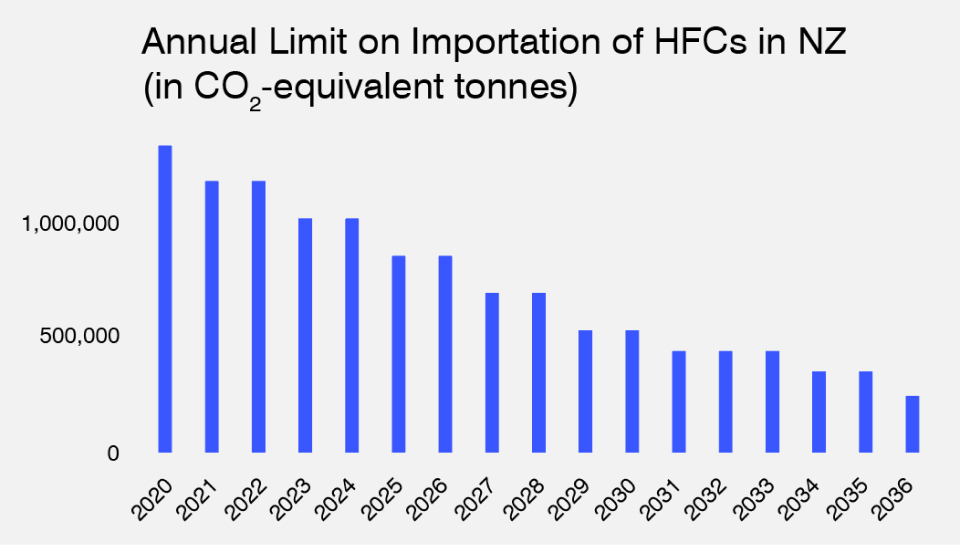 HFO's - Are These Refrigerants the Way Forward?
Moving to HFO pure and compound blends appears to be the way the industry is going. HFO or Hydro Fluoro Olefins are fourth generation halogenated compounds that contain hydrogen fluorine and a double carbon bond.
They are typically low Global Warming Potential (GWP) and zero Ozone Depletion Potential (ODP). Most are A2L class and many are used in blends like R513A along with HFC's and some naturals.
HFO's when released into the upper atmosphere break down in days rather than thousands of years but there are potential issues around production of TFA (Triflouroacetic Acid) or more commonly known as acid rain. The long term environmental effects are not yet known, just like HFC's when they were introduced.
R290 is the Long Term Natural Refrigerant Solution for the Room Air Conditioning Product Category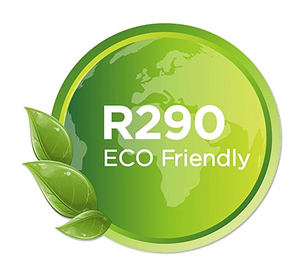 R290 is of course highly refined propane and is already used in India, China and very soon the EU. With zero ODP, virtually zero GWP, and very low charge volume per kW, this will drive R290 as the solution for this massive market segment.
R290 is relatively cheap to produce, highly efficient and environmentally acceptable however the only fish hook is the risk mitigation around its A3 flammability. Our industry must find a way to deal with the safety issues of R290 sooner rather than later.
Adopting lower GWP Alternatives Will Mean Dealing with Flammable, Toxic and Higher Pressure Chemicals
Changing from the staple "safe" A1 HFC's to A2, A2L and even A3 solutions will create issues around safety risk mitigation.
AS/NZS 5149 requires safety systems that must be factored into ongoing cost projections, such as: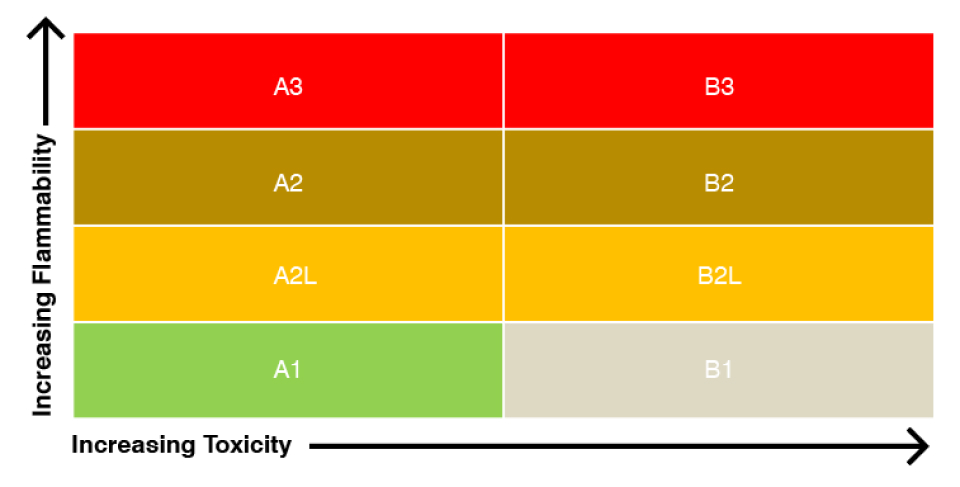 Refrigerant alarms
Automatic plant room ventilation
Integrated service alarming
Additional pressure relief valves
Installing the plant outside (where possible)
Regular maintenance schedules by skilled practitioners
Product Innovation Has Been One of the More Positive Impacts of Refrigerant Change
The first of many by Mitsubishi Electric is the development of the R32 hybrid secondary refrigerant VRF technology.
Back in 2014 when this technology was introduced the industry was very sceptical of the change but through persistence and brave engineering project decisions, Hybrid VRF is now 35% of our VRF projects and rising. There is over 11 megawatts of installed equipment in New Zealand, demonstrating this technology as a clear winner.
By using water as the heat transfer vehicle for the majority of the air conditioning system, Hybrid VRF reduces the overall amount of refrigerant in the system. Furthermore, with only water connecting the branch box to the indoor units, Hybrid VRF minimises the need for expensive leak detection leading to significant reductions in on-going maintenance costs in the controlled space that would be needed to comply with AS/NZS 5149 (1-4) 2016. Gains in sensible heat load capacities, higher air flows and more comfortable air off coil conditions have also been desirable off shoots of this technology.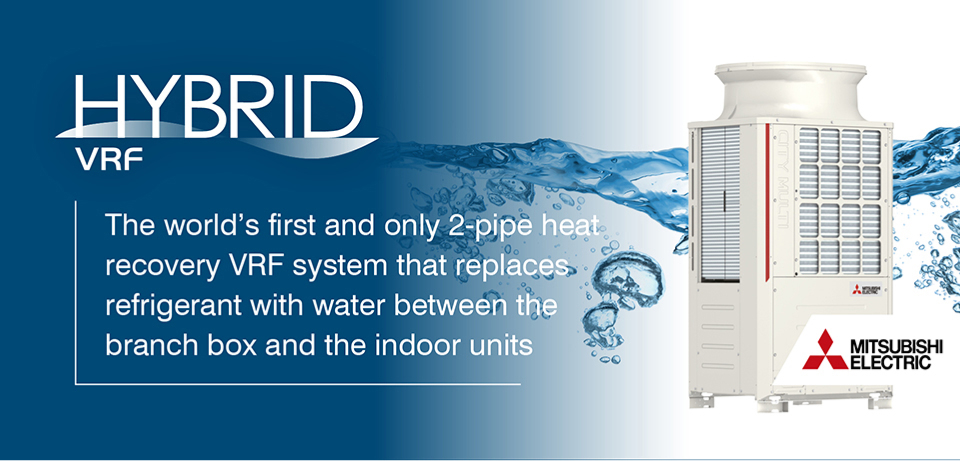 New Refrigerants Are Being Developed Faster Than Legislation Can Adapt
AS/NZS 5149 is well overdue for review however there are no current plans to do so.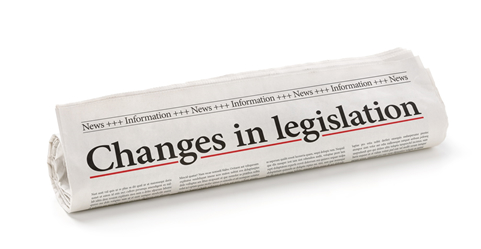 Government has indicated that refrigerant will be declared a registered product under the Waste Minimisation Act 2008. This will mean a mandated product stewardship scheme will be introduced encompassing a cradle to grave program, in the same way car tyres are handled - likely to drive mandatory refrigerant handling qualifications that don't presently exist in New Zealand.
This will require registration and training for about, 7000 technicians over the next 3-4 years. Our system struggles to train 200 apprentices currently.
With higher risk refrigerants, fines for refrigerant accidental release and a shortage of trained technicians, ethical suppliers like BDT are going to have to step up to deliver a high level of technical service, field support and training to ensure security of supply.
Plant design and selection decisions need to be based on sustainable, efficient through life choices not "the cheapest current capital cost", as those times are over.
The practical reality is that many current HVAC plants will have to be replaced before the end of its optimal life due to the unavailability and/or the cost of the refrigerant charge in the case of a catastrophic leak event.
Refrigerant Heat Transfer Gas Choices Will Play a Crucial Role in Limiting Global Warming
The pending global warming catastrophe is driving this phasedown of the refrigerants we have used for the last 40 years.
We are a small country in the world scheme of things but with brave engineering decisions, we can future proof our country's industries, our economy and our building stock to ensure we are leaders not followers in refrigerant roulette that will be the next 10 to 15 years and beyond.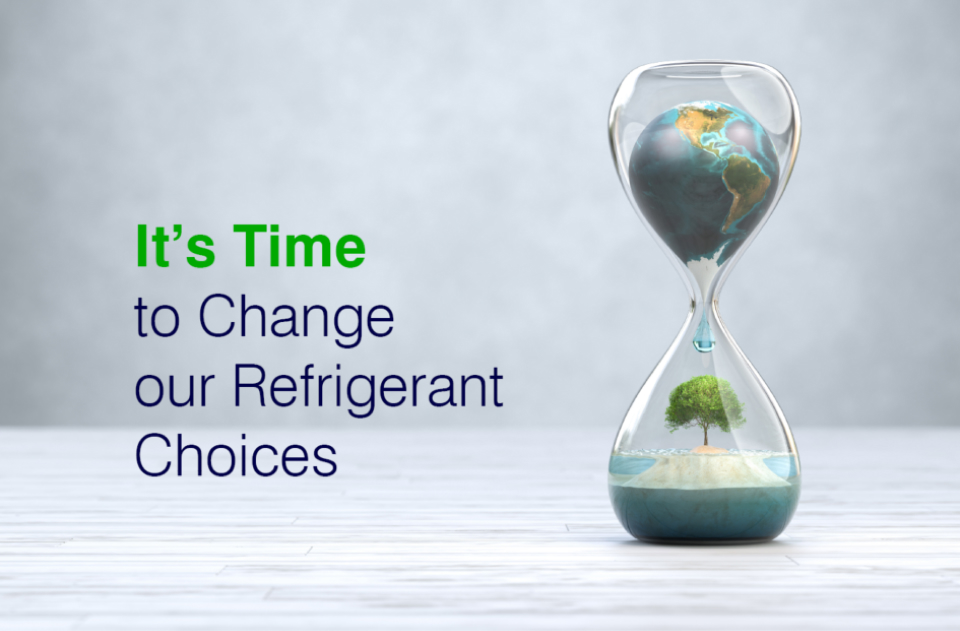 R32 Hybrid VRF – The Future-proof Solution

Tuesday 26th of October 2021
Since the New Zealand Government ratified the International Kigali Amendment in 2020, the HVAC industry has had to rethink our use of traditional R410A VRF systems which we have all been comfortable designing and installing in past years.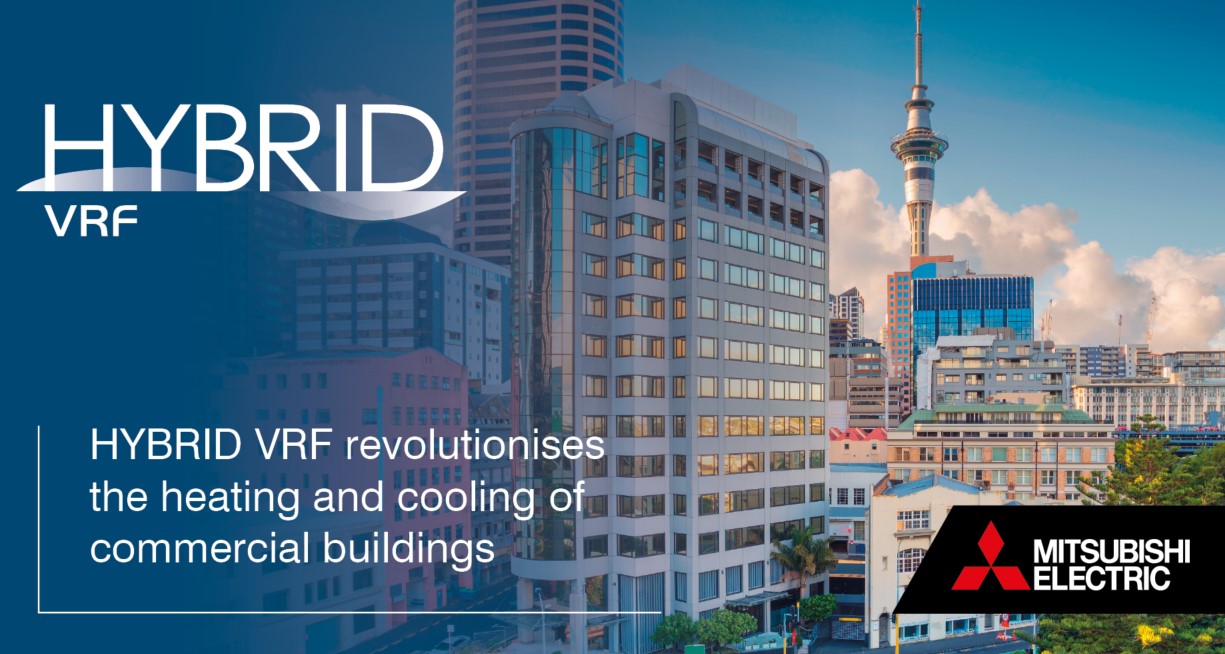 With these legislative, comfort, safety and environmental pressures on the industry, coupled with the expectations of building owners seeking design and technology which will stand the test of time, Hybrid VRF using R32 refrigerant offers a future-proof solution to cater for the changing needs and expectations of our industry to succeed R410A VRF or VRV systems in the New Zealand market.
Why Choose R32 Hybrid VRF?
All the benefits of VRF with significantly lower GWP
The 2-Pipe Hybrid VRF System offers the same comfort levels normally associated with 4-pipe fan coil systems. In addition, consultants and end users will appreciate the same design flexibility, operational efficiency and advanced control that Mitsubishi Electric traditional VRF is renowned for.
The R32 Hybrid VRF Range brings all of the benefits of VRF air conditioning in an R32 format to deliver a system with a significantly lower Global Warming Potential (GWP) than existing solutions – the shift from R410A to R32 refrigerant realises a 66% reduction in Global Warming Potential.
Combat the rising costs of R410A refrigerant with R32
With the phase-down of HFC gasses particularly effecting R410A, the R32 Hybrid VRF Range provides the obvious answer for those customers looking for a future-proof heating and cooling solution that delivers advanced efficiency with improved corporate social responsibility and minimal environmental impact.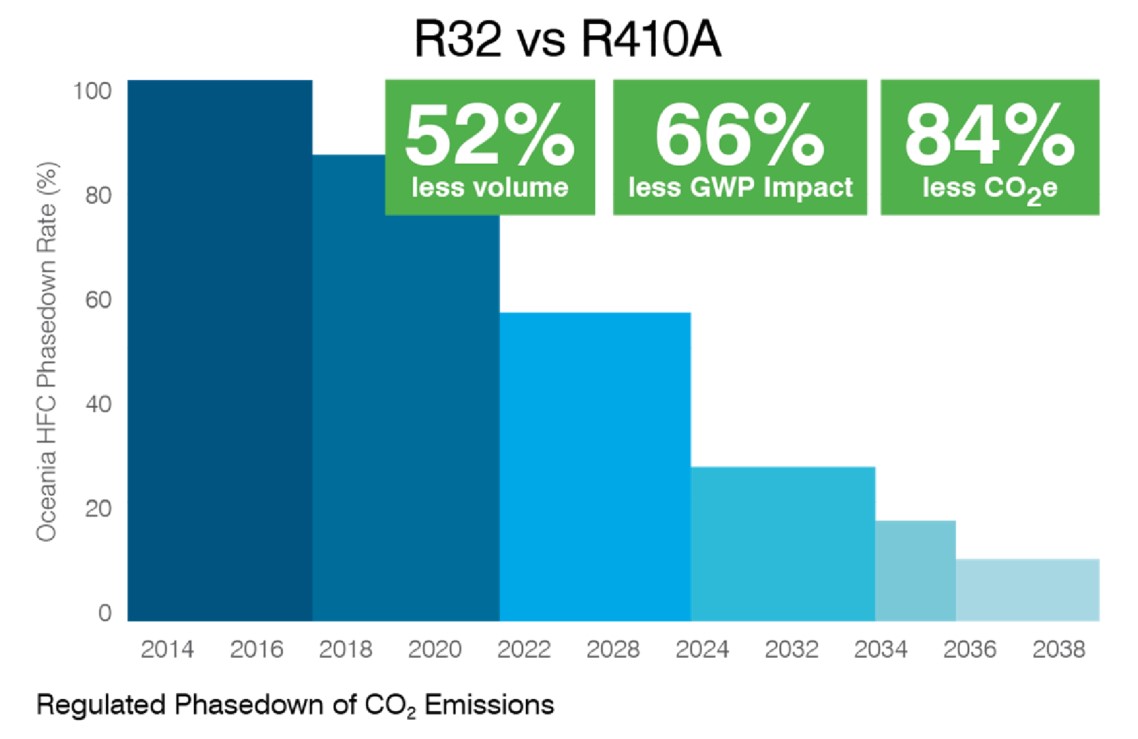 Water instead of refrigerant is at the heart of the indoor units – making it safer for occupants and less expensive to maintain
By using water as the heat medium for the majority of the air conditioning system, Hybrid VRF reduces the overall amount of refrigerant in the system.
Furthermore, with only water between the branch box to the indoor units, Hybrid VRF minimises the need for expensive leak detection leading to significant reductions in on-going maintenance costs in the controlled space that would be needed to comply with AS/NZS 5149 (1-4) 2016.
R32 refrigerant offers low environmental impact without compromising on efficiencies
There is now an expectation that the materials and chemicals used within a building have the least possible impact on the environment and the community.
An R32 Hybrid VRF System can require up to 52% less refrigerant for the same capacity when compared to an equivalent R410A traditional VRF system. R32 Hybrid VRF utilises a single composition refrigerant which has a GWP of only 675 and as a total system it can have an 84% reduction in the carbon dioxide equivalent.
The Synthetic Greenhouse Gas Levy and the Environmental impact with R32 refrigerant is significantly less, meaning that your building is in the best position for being ahead of the curve of change. And if there should be an unexpected leak in the system your costs and impact on the environment involved with re-charging the system will be significantly lower than if you were to install an R410A system. R32 Hybrid VRF is the lowest GWP VRF system in the New Zealand market today.
R32 refrigerant does not just offer a solution to our environmental pressures and phase down targets. From a thermodynamic perspective, R32 offers similar cooling efficiencies as well as improved heating efficiencies when compared to R410A.
Choosing R32 Hybrid VRF is the Smart Investment
Hybrid VRF futureproofs your investment ensuring your air-conditioning plant has the expected longevity, and gives you the assurance that the chemical refrigerant will not be priced out of the market by the means of the government imposed Emissions Trading Scheme on Synthetic Greenhouse Gasses and the International Kigali Amendment agreement.
Hybrid VRF, with its ever expanding product range and world leading technology, is a revolutionary product that is truly disrupting the HVAC industry.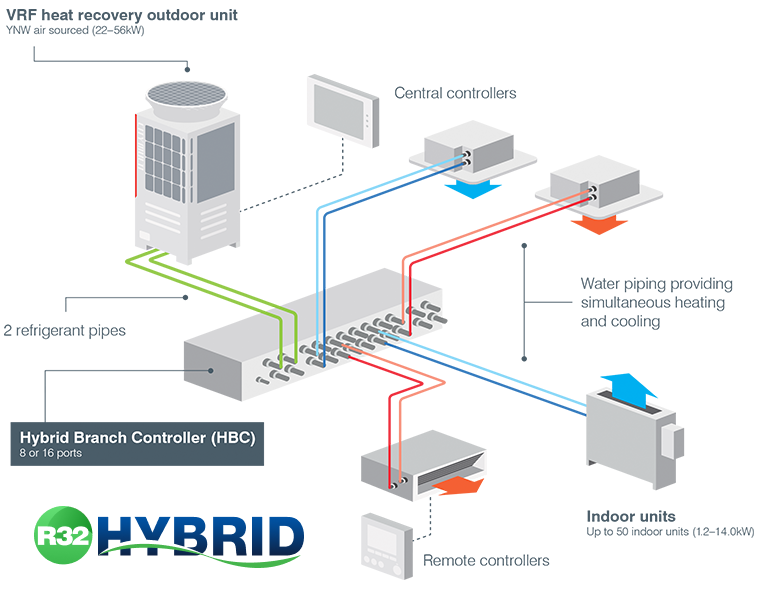 Extended R32 Hybrid VRF Indoor Range
Mitsubishi Electric has made significant strides in research and development of Hybrid VRF technology. In 2014, when Hybrid VRF was first introduced to the New Zealand Market by Black Diamond Technologies there were only 16 indoor units to choose from.
Fast forward to 2021 and there are now 53 indoor models on offer, including the introduction of larger capacity PKFY Wall Mounted Units, a new PEFY Ceiling Concealed High Static Pressure Range and new sizes within both the PLFY 4-Way Airflow and Compact Cassette Ranges.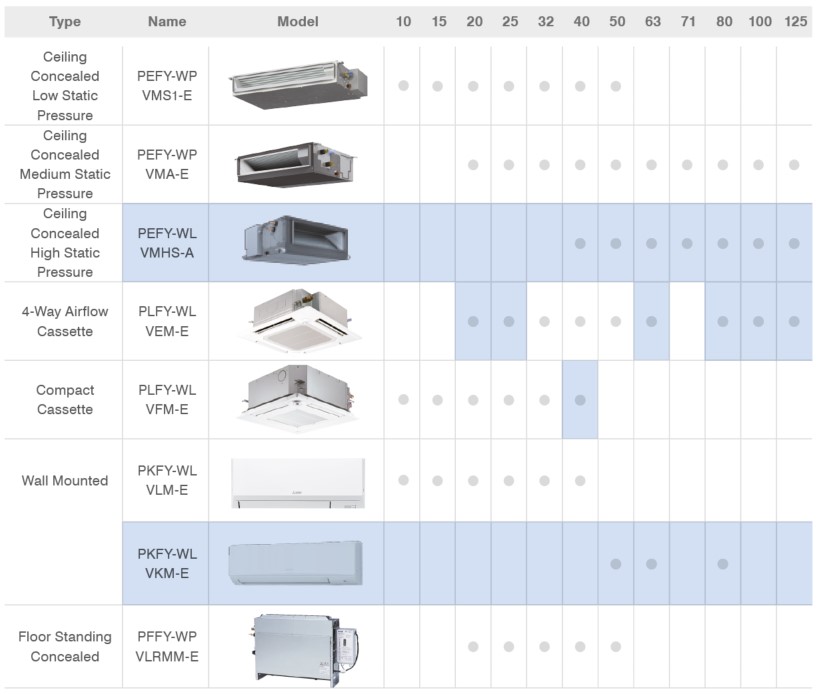 For more information contact your Regional Applied Products Sales Engineer or
click here
.
Introducing the New Plasma Quad Connect Advanced Air Filtration Accessory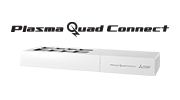 Monday 18th of October 2021
We spend up to 80% of our time inside. As such, good indoor air quality is paramount to our well-being. So how can home owners have the peace of mind they are breathing cleaner, healthier air all year round?
Introducing the Plasma Quad Connect – a new high wall accessory, featuring high-performance two stage plasma technology. The advanced filtration system works to clean away smells, dust, mould and other common household allergens, making it an ideal addition for asthma and allergy sufferers.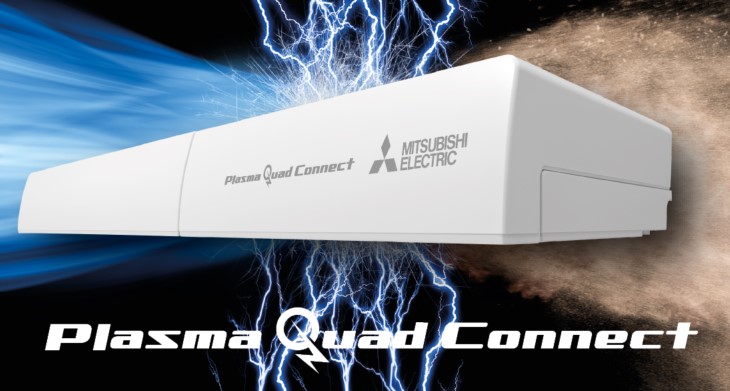 How Polluted is the Air Inside Your Home?
You may be surprised how contaminated indoor air can actually be. You might not be able to see it – but it is there! Every time you open your doors or windows, external pollutants such as pollen, dust and other allergens enter the home. But did you know oil and fat particles from cooking all release microscopic particles into the air too?
Dust and pet dander (dead skin flakes), mould build-up and mildew spores triggered by dampness can further increase concentrations of pollutants. There is substantial evidence to support the claim that breathing Particulate Matter (PM) is harmful to human health, particularly smaller fractions such as PM10 and PM5.
Cleaner, Healthier Air with 2 Stage Plasma Filter
The Plasma Quad Connect is designed to work like an electrical curtain, using an advanced two-stage process which first makes plasma that breaks down air pollutants and then creates an electrical discharge that neutralises even microscopic particles in the air.
In fact, it can even capture particles as small as PM2.5, that's 20 times smaller than the width of a human hair! Unseen to the human eye, these microscopic particles can easily penetrate deep into our lungs and even our bloodstream.
The result? A more healthy and cleaner living environment that can be enjoyed year-round.
Highly Effective Filtration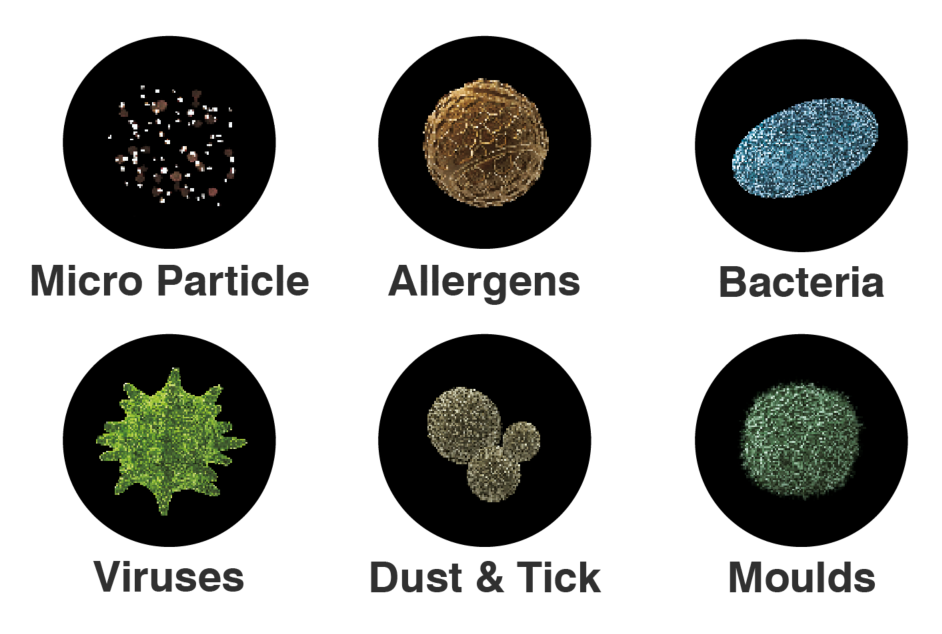 Independent test results confirm that the Plasma Quad Connect Filtration System achieves extremely high reduction results in the removal of allergen, mould, bacteria and virus particles in the room. This provides the ultimate peace of mind and ensures a healthier and cleaner living environment.
Connect to New Installs or as a Retrofit
Designed to be installed directly above high wall units, the Plasma Quad Connect is compatible with the following High Wall Systems.
EcoCore GL Series
EcoCore AP Series, Classic AP Series and AP Mini
Designer EF Series
Large Capacity AS90
Large Capacity PKA-M
GE Series
This slimline, advanced air filtration accessory provides a value-added sales opportunity when paired with compatible high-wall units.
Plasma Quad Filtration is built-in as a standard feature in the Black Diamond LN Series.

Introducing WizardX Heat Recovery Fresh Air AHU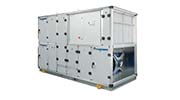 Monday 18th of October 2021
Meet WizardX, the new Mitsubishi Electric Climaveneta Range of Fresh Air, Air Handler Units (AHUs). The most energy efficient Air Handler Unit on the market that draws stale air out and provides an equal amount of fresh air in, with the added benefit of heat recovery.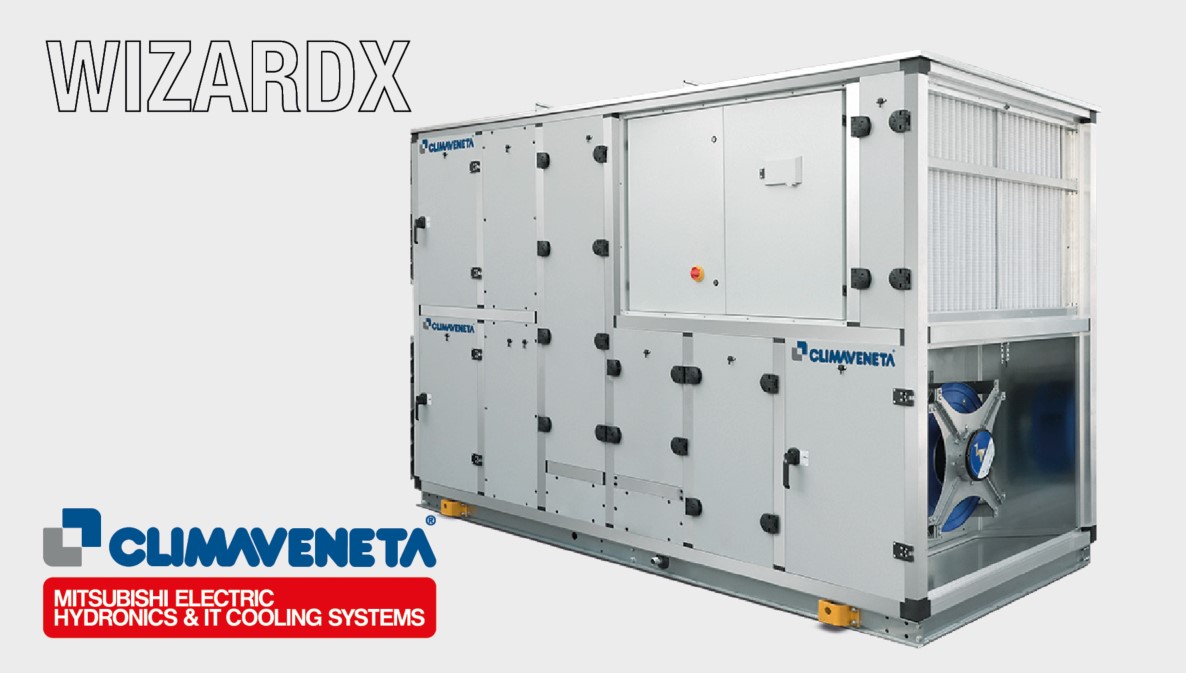 Available in seven compact sizes, the addition of the WizardX allows you to implement a complete Mitsubishi Electric HVAC solution to your commercial project without needing third party AHUs.
Fresh air is essential to occupant health and wellbeing, making the WizardX the ideal solution for commercial applications such as apartments, office buildings, hotels, theatres and schools.
The WizardX Features Enthalpy Rotary Heat Recovery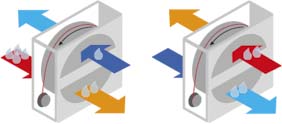 The Enthalpic Heat Recovery of the WizardX represents the most efficient recovery system available on the market with yields from 60% to 90% compared to traditional solutions.
A key component is the Enthalpy Wheel, designed with alternately flat and corrugated aluminium sheets with a hygroscopic treatment to achieve a high exchange surface in relation to the volume.
This solution makes it possible to recover both latent and sensible heat with a noticeable increase in the overall efficiency of the unit.
EC Plug Fans Guarantee Improved Energy Performance

In addition to the use of the Enthalpy Wheel, the WizardX features supply and exhaust centrifugal plug fans with integrated EC motors for a more compact construction and increased ventilation efficiency.
Thanks to the composite material structure and the electronic commutation motor technology, WizardX EC plug fans guarantee improved energy performance and very low energy consumption. As an option it is possible to install HP high pressure fans.
WizardX Can Be Combined With Mr Slim Heat Pumps for a Complete Mitsubishi Electric Solution
WizardX has been designed to work in perfect synergy with Mr Slim outdoor units for supplementary heating or cooling and without the need for any special unit configurations.
Managed by the advanced logic of the PAC-IF 013 card installed inside the electrical panel, WizardX is able to communicate simultaneously with multiple Mr Slim units in both the Mr Slim Standard and Power Inverter versions.
Equipped with an inverter compressor, the direct expansion technology within the Mr Slim outdoor unit further contributes to minimising energy consumption.
High Precision Control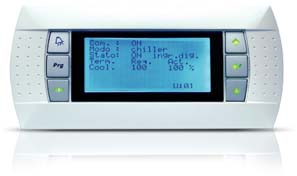 Advanced control logic and technical components with a high regulation capacity, such as the EC plug fans, the Enthalpy Wheel and the direct expansion coil, allows the thermal and air renewal requirements to be achieved perfectly. The continuous and precise modulation ensures maximum comfort in the environment and minimises energy consumption.
Furthermore, BMS interfacing can be achieved using either BACnet or ModBus.
A Ready-to-Use Unit for a Quick and Simple Installation
The WizardX is delivered as a ready-to-use unit. All the control, regulation, and safety components are already installed on-board the unit and tested before despatch from the factory. This means the site installation is quick and simple with no need for third party controls.

WizardX – Summary of Key Features
Available in seven different compact sizes, ranging from 800L/s to 5500L/s
Highly efficient and compact Enthalpic Heat Recovery Rotary Wheel
Full plug and play controls
Super-efficient EC plug fans on both supply and exhaust sides
Supplemental heating/cooling with Mitsubishi Electric Mr Slim outdoor units
Three Versions to Choose From
Select from three WizardX versions, Standard (C-OU), Enhanced (E-OU) or Boosted (B-OU), to best suit the purpose of the application. Each version varies in the number and size of Mr Slim outdoor units that can be connected, the thermoregulation system (Auto Mode or Intelligent Multiple Outdoor Unit Control), level of control and whether the unit has capacity to provide dehumidification.
Range of Optional Accessories
CO2 probe for air quality control
BMS connection with BACnet or ModBus
Steam humidifier section
Dampers for fresh air intake, supply, return and exhaust air flows
Recirculation damper
Aluminium roof for outdoor installations
Pre-heating and re-heating electric or hot water coils
HP high pressure fans available for both the supply and exhaust fans
For more information contact your Regional Applied Products Sales Engineer or click here.
Vertical Lossnay Heat Recovery Ventilation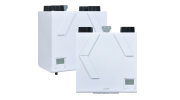 Monday 11th of October 2021
Mitsubishi Electric has launched the next generation of Whole Home Fresh Air Heat Recovery Ventilation.

Not requiring installation in the attic, the new Vertical Lossnay Range resolves the issue of no roof space, offering an alternative installation solution. Now more homes can have a Lossnay Fresh Air Heat Recovery System, regardless of their design and installation challenges.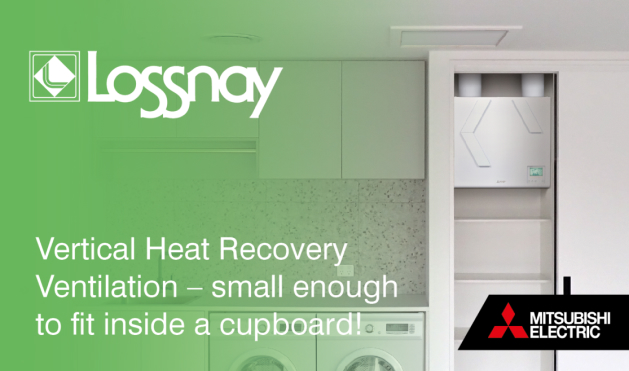 Not requiring installation in the attic, the new Vertical Lossnay Range resolves the issue of no roof space, offering an alternative installation solution. Now more homes can have a Lossnay Fresh Air Heat Recovery System, regardless of their design and installation challenges.
Small Enough to Fit in a Cupboard
The Vertical Lossnay Range is designed specifically for the New Zealand housing market and makes energy efficient, super-quiet ventilation accessible to even more homes.
With a small and vertical upright design, the Lossnay Ventilation System is not limited to an in-roof installation and its compact footprint allows it to be placed in the garage or a cupboard in the kitchen. Now whole home ventilation can be installed and integrated in the overall building design without limitations.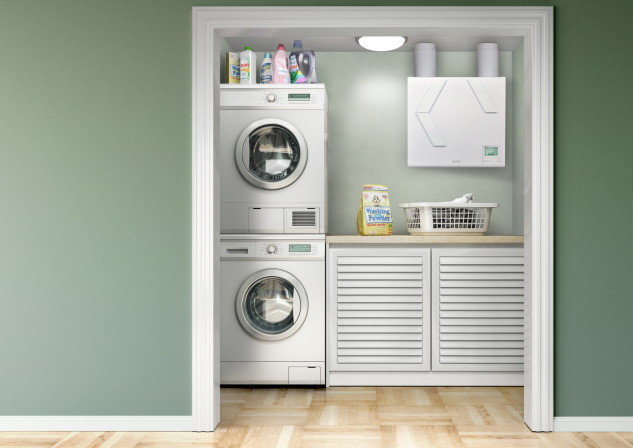 Fresh Filtered Air with Heat Recovery Maximising Efficiencies
Ventilating our indoor spaces is more important than ever, but we also need to be as energy efficient as possible. The new Vertical Lossnay will deliver fresh filtered air whilst recovering energy to minimise waste.
In fact, Lossnay's unique heat recovery technology recovers up to 85% of the heat energy from the outgoing stale air which is then used to pre-warm (or pre-cool) incoming fresh air. This means any heating or cooling appliance does not have to work as hard to reach the desired room temperature – providing savings on your energy bill and maintaining a healthy home environment.
Advanced Filtration for Better Health and Wellbeing
The quality of indoor air is an important factor for health and wellbeing and the new Vertical Lossnay Range ensures there is a constant flow of fresh air into our homes, and that potentially harmful pollutants and chemicals are being removed at the same time.
The new residential range comes with optional NOx (nitrogen oxide) and Particulate Matter Filtration, with a unique third filter pocket which can be used for additional filtration of NOx emissions.
This means that homes in even the most polluted environments can be supplied with clean, healthy air.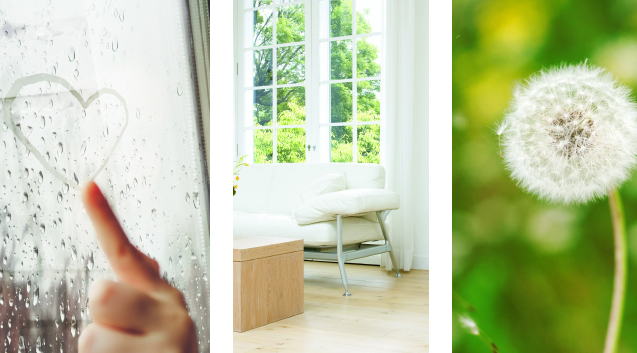 Automatic Summer Bypass
A built-in Automatic Summer Bypass also allows the units to bring in fresh air from outside without transferring heat, in order to reduce the risk of overheating.
This provides the ideal solution for cooling down a dwelling that may have overheated during the day once the outside temperature has dropped in the evening.
Using onboard temperature sensors, the unit can automatically enter Bypass Mode when it detects the space is hotter than desired and the outside air is cool enough.
Easy to Use Control
A built-in LCD controller allows for easy control and commissioning of the unit, and offers a clear display showing normal, boost, and purge modes. Up to four speed settings can be commissioned digitally to ensure constant and accurate settings.
Vertical Lossnay Key Features & Benefits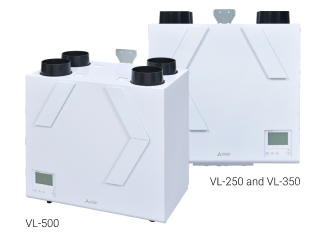 Avoids in-roof installation
Slimline to fit in a cupboard, laundry or garage
Advanced filtration for better health and wellbeing
Energy efficient heat recovery operation
Automatic Summer Bypass
Easy to use control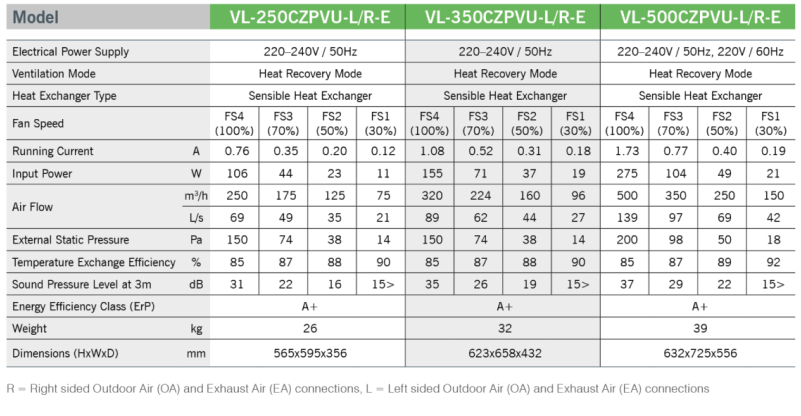 Mitsubishi Electric Climaveneta i-BX-N Hot Water Heat Pump Systems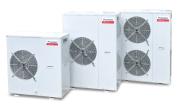 Tuesday 5th of October 2021
Mitsubishi Electric Climaveneta has used the latest advancements in hot water heat pump technology to offer the
i-BX-N Packaged Hydronic Hot Water Heat Pump.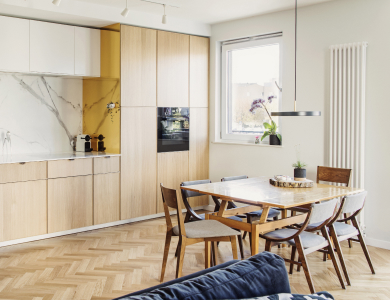 This high quality, high efficiency, low noise system fits seamlessly into both domestic and light commercial environments offering both hot water and space heating or cooling.
The i-BX-N Range is low maintenance, easy to install and a real space saver, making it the ideal solution to replace traditional gas and direct electric hot water systems.
Did you know that on average, hot water and home heating needs combined account for over 67%* of the overall energy bill in New Zealand homes?
It therefore makes sense to invest in the most energy efficient way to heat both your home as well as your potable water.
A Mitsubishi Electric Climaveneta i-BX-N Packaged Hydronic Hot Water Heat Pump System enables significant savings to be made compared to gas and direct electric systems. It's the next generation in hot water heating that utilises trusted Mitsubishi Electric Heat Pump Technology.
*Based on data sourced from EECA New Zealand.
Packaged Hot Water Heat Pump System
The Mitsubishi Electric Climaveneta i-BX-N System is a packaged external unit with an electronic expansion valve and incorporates a complete integrated hydronic module as standard.
This super-efficient inverter heat pump system is suitable for heating, cooling and indirect domestic hot water production; furthermore it is designed to effectively operate in cold climate conditions for year-round comfort.
An i-BX-N unit is supplied as standard with an onboard hydronic kit comprising:
EC Pump
Expansion tank
600KPa pressure relief valve
Air vent
Anti-freeze electric heater
Flow switch
Water filter (supplied loose)
Add Radiators, Underfloor, or Fan Coil Units
A Mitsubishi Electric Climaveneta i-BX-N Hot Water Heat Pump System can do more than just efficiently heat hot water.
Flexible by design, the i-BX-N Range pairs well with super energy efficient, European designed room heating terminals. A Mitsubishi Electric Climaveneta Hot Water Heat Pump System can also be integrated with a radiator or underfloor heating system.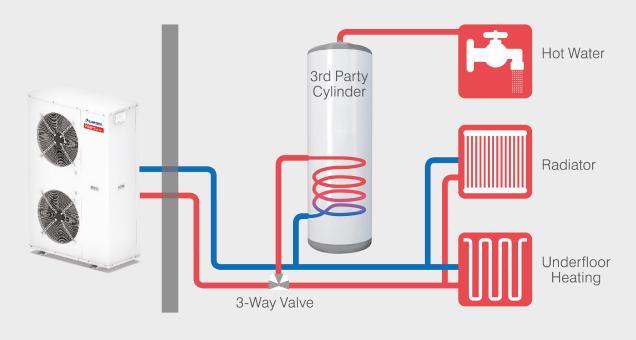 Ideal for Retrofit Applications due to its Space Saving Design
Now more than ever, homeowners are looking for potable hot water and space heating solutions that are significantly more energy efficient and have a lower impact on the environment. However, when it comes to replacing a hot water system, space constraints can often make finding a solution difficult.
The i-BX-N Hot Water Heat Pump System is designed with household space limitations in mind, meaning that the all-in-one unit can operate externally to the house and save on precious floor space.
Easy Installation

All hydronic components are contained within the i-BX-N unit, meaning that the only external connection made is the hydronic flow and return from the heating loop.
Reduced Energy Consumption
The i-BX-N adapts to the most diverse load conditions due to its accurate temperature control combined with the use of inverter technology, ensuring a high level of energy efficiency both at full and part loads.
The dynamic control of the water supply temperature according to the outdoor air temperature greatly increases the comfort and energy efficiency of the system.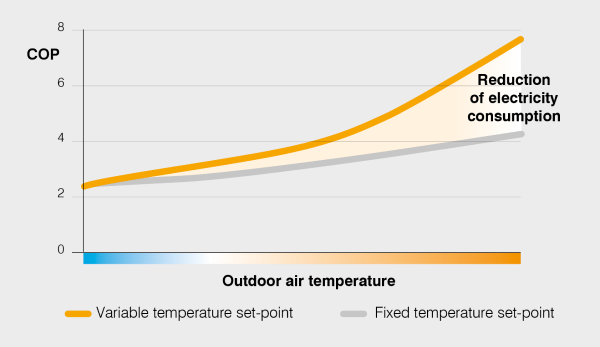 Suitable for Residential or Light Commercial Applications
Exceptionally quiet, Night Mode ensures optimal comfort. Noise levels are also decreased by modulating the fan speed and frequency of the compressor.
In addition, the compressor is installed on rubber anti-vibration mounts and is soundproofed by special sound-absorbing material.
i-BX-N Summary of Key Features
Packaged hot water heat pump system with a compact footprint
Unit supplied as standard with onboard hydronic kit
Easy hydronic installation
Exceptionally quiet operation – equipped "Night Mode"
Full home system – capable of producing hot water for domestic hot water and 2 zones of space heating/cooling
Cascade option available – link up to 4 units of same capacity together
Both heating and cooling modes for all year round comfort
Nadisystem onboard controller – allows for customisable control
| Model | Capacity |
| --- | --- |
| i-BX-N 004M | 4.6kW |
| i-BX-N 006M | 6.3kW |
| i-BX-N 008M | 8.5kW |
| i-BX-N 010M | 11kW |
| i-BX-N 010T | 11kW |
| i-BX-N 013M | 14.7kW |
| i-BX-N 013T | 14.3kW |
| i-BX-N 015T | 17.2kW |
| i-BX-N 020T | 21.7kW |
| i-BX-N 025T | 26.1kW |
| i-BX-N 030T | 32.2kW |
| i-BX-N 035T | 38.0kW |
i-BX-N***M (single phase) – i-BX-N***T (3-phase)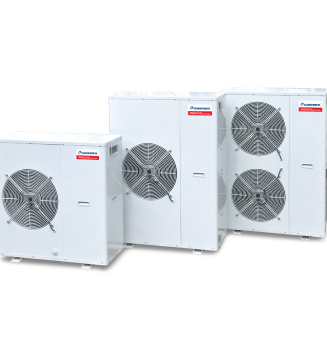 QAHV – The Future of Hot Water Heating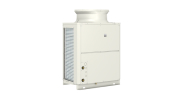 Tuesday 3rd of August 2021
When selecting hot water systems for commercial and industrial applications, having a reliable system that will meet today's needs now and those of the future is important. Mitsubishi Electric have developed QAHV; the latest innovation in a comprehensive line-up of Hot Water Heat Pump products. Specifically designed to produce high temperature potable hot water up to 90°C, the QAHV is suitable for commercial and industrial projects.
Using natural CO2 as the refrigerant, the QAHV provides one of the lowest environmental impacts when generating potable hot water. It is engineered to perform well in harsh conditions and climates, and of course being an inverter heat pump it does so extremely efficiently. By adopting Mitsubishi Electric's unique technology, the QAHV ensures highly reliable performance as well as high heating capacity even at low outdoor temperatures.
Why Invest in Environmentally-Friendly Hot Water Solutions?
The industry is shifting. The Government has banned new coal boilers from the end of 2021 and businesses will need to phase out existing ones by 2037. Simultaneously the Government is providing $70M to support and incentivise businesses to switch away from boilers to cleaner, greener options for hot water production. While many may turn to natural gas, the Climate Change Commission is proposing no new gas connections to buildings from 2025 and a steep phase out of existing gas boilers from 2035 onwards.
Currently gas is used to produce hot water in the majority of commercial buildings in New Zealand, and while gas is an attractive option due to its compact footprint, it is a very high carbon emitter and isn't particularly efficient, even if the building is using a modern condenser boiler – not to mention the potential risk to occupants if a leak occurs.
With the future of traditional forms of hot water heating uncertain, it is clear that those within the industry, engineers, designers, installers or owners, must move to new solutions for water heating in commercial buildings – and the move needs to start now.
CO2 Refrigerant is the Key to Future-Proofing Hot Water
The growing emphasis on global warming mitigation has stimulated interest in a new generation of low-GWP refrigerants, many of the new refrigerants being created feature GWP's around 500 to 600 or even less. But nothing can compete with CO2 and its GWP of 1 – it provides the reference point for environmental impact that all other refrigerants are measured against.
The QAHV series utilises CO2 as it is an environmentally-friendly, safe and natural refrigerant with zero Ozone Depletion Potential (ODP) and a Global Warming Potential (GWP) of 1.
There is no greener alternative currently available in New Zealand.
Patented Mitsubishi Electric Technology increases Energy Savings
The Mitsubishi Electric QAHV System utilises a twisted and spiral gas cooler. This patented technology enhances energy efficiency while delivering high temperature hot water.
Using twisted pipes as water pipes and running the refrigerant pipes along their grooves helps to increase the heat-conductive area. The continuous spiral groove design accelerates the turbulence effect of water and helps to reduce pressure loss within the heat exchanger, enhancing efficiency.
Equipped with the latest inverter scroll compressor, QAHV offers unparalleled efficiency when compared to fixed speed systems - boasting an impressive COP of 3.88*.

*Under normal heating conditions at outdoor temp: 16°CDB / 12°CWB, inlet water temp 17°C, outlet water temp 65°C.
Superior Heating Performance even at Low Temperatures
As ambient temperatures drop, so too does the capacity of heat pumps. However, the QAHV is able to provide its full heating capacity of 40kW even at ambient temperatures as low as -3°C. Furthermore, the unit operates to supply 90°C hot water in ambient temperatures as low as -25°C. This superior level of performance is achieved using Mitsubishi Electric's industry-first Flash Injection Circuit which provides the optimum amount of refrigerant to the system via a compressor through a specially designed injection port. This ensures a highly stable operation that at the same time, meets the guidelines for Legionella.
Better Security of Hot Water Supply and More Lettable Space
As a single pass high temperature lift machine, QAHV works best with a high water temperature difference and delivers 10l/min or more of full temperature usable hot water in real time. This directly reduces the amount of storage required to meet the peak demands, and gives quicker recovery. Ideal for commercial uses where hot water demand is high, such as gyms, hotels, motels, aged care facilities and hospitals.
Optional Mitsubishi Electric "BS" Salt Corrosion Protection System Available
To help extend the life of the QAHV outdoor unit when located within highly corrosive environments, the optional Mitsubishi Electric "BS" Salt Corrosion Protection System can be applied during the outdoor units manufacturing process to ensure all components are 100% protected before the outdoor unit is assembled.
QAHV-N560YA-HPB Key Features: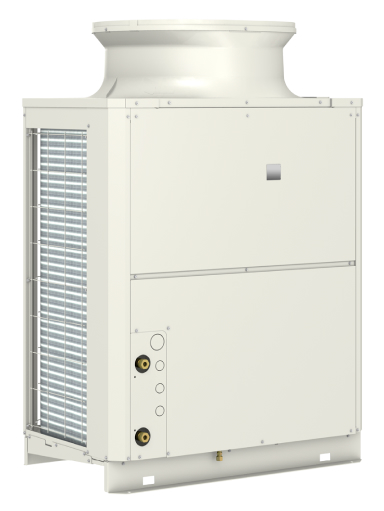 Rated Heating Capacity of 40kW
High efficiency (Achieved COP 3.88*)
Supplies high temperature hot water of up to 90°C
Operable even at low outdoor temperature of -25°C
Utilises natural CO2 refrigerant which has zero Ozone Depletion Potential (ODP) and has a Global Warming Potential (GWP) of 1
Uses a unique twisted and spiral gas cooler to enhance energy efficiency
Compact dimensions, minimising plant space
* Under normal heating conditions at outdoor temp:16°CDB/12°CWB, inlet water temp 17°C, outlet water temp 65°C
While its environmental-friendliness is QAHV's leading strength and the key to future-proofing from climate change and subsequent government legislation and regulation, its superior performance is what really makes QAHV a smart investment. For more information about our range of QAHV Hot Water Heat Pumps, click here.
New Lossnay Sensible Heat Recovery Ventilation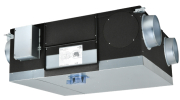 Monday 2nd of August 2021
Mitsubishi Electric has extended the Lossnay LGH Energy Recovery Ventilation Range to now include Sensible Heat Recovery Only models. The new range features a new non-permeable Lossnay Core that is specifically designed to recover sensible heat and remove moisture at the same time.
The newest addition to the Lossnay Range introduces fresh filtered air and thanks to the new core can now draw stale air out from areas with high humidity such as bathrooms, kitchens and laundries as well as commercial applications such as gyms, healthcare centres, schools and offices.
Furthermore, the range features easier installation, quiet operation, high energy efficiency and optimised control.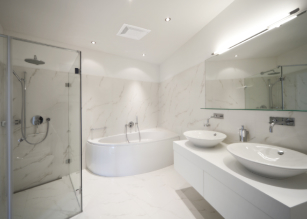 Highly Efficient Sensible Heat Recovery
This system is designed to transfer sensible heat only (the heat you can feel as temperature changes) and maximises heat recovery from the stale outgoing air. In addition, due to the non-permeable core it also removes moisture in high humidity areas at the same time.
The available energy is transferred and re-used to pre-warm or pre-cool the incoming fresh air, maximising energy efficiencies. In doing so, moisture build-up is minimised while healthy humidity levels are maintained and managed for occupants throughout the entire building.
It is important to note that it does not recover latent heat, which is the additional heat contained in the airborne moisture in the air. The Sensible Lossnay System uses a non-permeable core so moisture cannot be absorbed by the core. For this reason, the system has a drain connection that is piped to waste.
Whole Building Ventilation Even From Humid Areas
Now you can bring fresh filtered air in and draw stale air out, even from high moisture areas - with the added benefit of Sensible Heat Recovery maximising energy efficiencies. The non-permeable Lossnay Core enables the system to ventilate all areas, including those with high humidity such as bathrooms, kitchens, gyms and health care centres.
Maintenance is made easier with the fully removable and washable core. The Sensible Lossnay design also includes a full drain pan which avoids mould and odour inside the unit by ensuring moisture is drained throughout all seasons.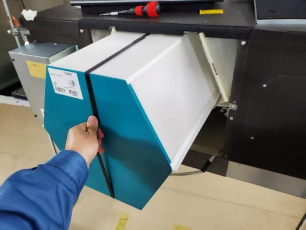 Easy, Flexible and Lightweight Installation
The unit features one drain pipe terminal allowing for quicker and lower cost installation. Trap piping is not required as the new Sensible Lossnay unit features backflow prevention and an internal inclined drain pan, which not only helps with installation, but also reduces the risk of mould and odour.
Flexible ductwork and a swivel drain pipe mean installation can be incorporated into building designs with the ability to avoid obstructions and be set out of the way against walls.
Furthermore, the chassis of the Sensible Lossnay Range is lightweight, making installation easy and safe.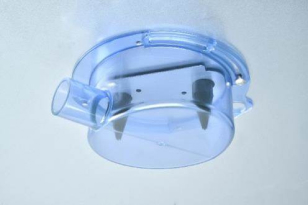 Low Noise Operation
With models starting from 18dBA*, the Sensible Lossnay System includes a unique, specifically designed fan that optimises the balance between airflow and static pressure to minimise noise levels.
The new range also has an optional Silencer Duct that can reduce noise further when a quiet solution is paramount.
*on the lowest fan setting SPL @ 1.5m
Optimised Control with Optional CO2 Sensor
Optimise airflow for each application with the new remote controller, PZ-62DR-E. Now featuring optional CO2 level indication, improved variable airflow control and a new fan speed timer.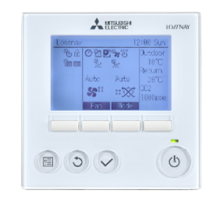 Sensible Lossnay Range LGH-50/80/100RVS-E Key Features:
Available in three sizes 500m3/h, 800m3/h and 1000m3/h
Non-permeable Plastic Counter-flow Lossnay Core – suitable for extracting from moisture laden areas
Sensible heat exchange only
Lightweight chassis
Multidirectional single drain connection
Energy efficient fans with low SFP (Specific Fan power)
Supply and exhaust fans speed set individually
Quiet operation
Heat exchange bypass function
Variable airflow control
Easy maintenance with washable core
BMS connectable
Selectable in new MELVEST Selection Software
Optional Accessories
G3, M6 and F8 filtration
CO2 Sensor
Duct silencer
Signal output terminal
For more information about the new Sensible Lossnay Heat Recovery Ventilation Range, contact your Applied Products Sales Engineer.
Ecodan Hot Water Monobloc Range is Now Available with R32 Refrigerant
Thursday 25th of March 2021
Mitsubishi Electric has launched its latest addition to the already market-leading Ecodan Hot Water Heat Pump Range.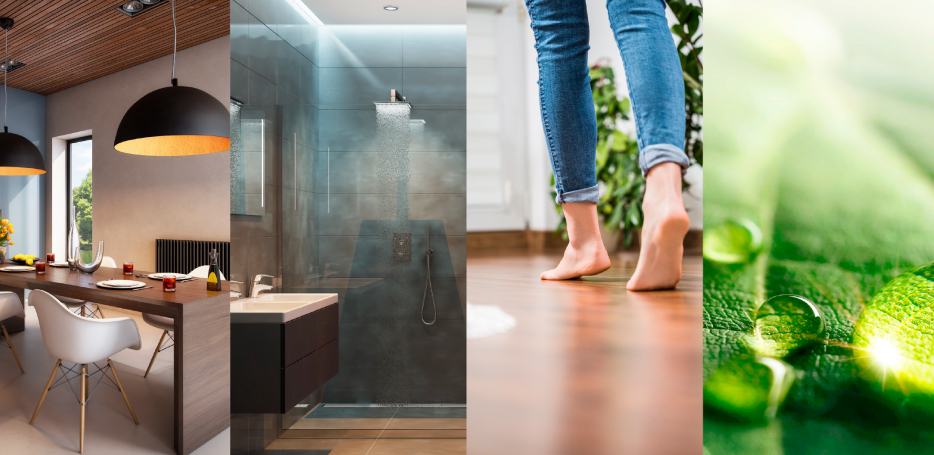 The ultra-quiet Ecodan Monobloc Outdoor Series has been expanded to include models that now utilise R32 refrigerant. As a more environmentally-friendly product with high operational efficiency, R32 has a low global warming potential (GWP) of 675 – less than one-third of the traditional R410A refrigerant.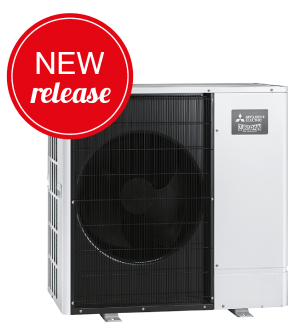 Going forward, it will play a huge role in helping to reduce the environmental impact of compressor-driven appliances. What's more, it's also easier to reuse and recycle as it's a single component refrigerant.
As a result, we'll likely see R32 refrigerant swiftly become the standard for hot water heat pump systems going forward.
The monobloc range will be available from July 2021.
New R32 Ecodan Monobloc Range
R32 model and capacity lineup
PUZ-WM50VHA-BS    5.0kW
PUZ-WM60VAA-BS    6.0kW
PUZ-WM85VAA-BS    8.5kW
PUZ-WM112VAA-BS    11.2kW
PUZ-HWM140VHA-BS    14.0kW Zubadan single phase power
PUZ-HWM140YHA-BS    14.0kW Zubadan three phase power
Quiet outdoor operation
With higher density housing becoming more common in New Zealand, the quiet outdoor operation is essential if you want to keep your neighbours happy. Designed specifically for residential applications, the new Ecodan outdoor units are extremely quiet - as low as 45dBA!*

Specific design features enable the quiet outdoor operation to be maintained at all times. This ultra-quiet operation means homeowners can now choose the most convenient location for their Ecodan without disturbing their neighbours.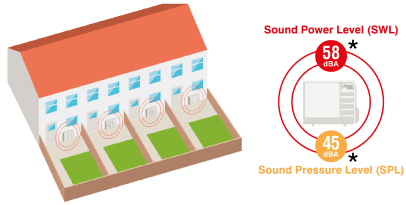 Mitsubishi Electric has always been at the forefront of improving technology, including sound levels, to meet the ever-changing requirements of consumers. So it should come as no surprise that with the urban landscape rapidly changing to more high-density housing, Mitsubishi Electric has specifically tackled outdoor sound levels across the R32 Ecodan Range.
*PUZ-WM60/85VHA-BS
New next-generation Ecodan Hydrobox and Packaged Cylinders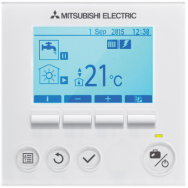 Pre-plumbed and wired for faster installation
Energy monitoring as standard
Quiet outdoor operation
Scale trap technology
Simple graphical control
Optional 2-Zone Space Heating Control
Compatible with home automation
As part of the Ecodan outdoor range expansion, a new D-Generation of hydrobox and packaged cylinders has been released to specifically match the R32 outdoor units.
New packaged cylinders compatible with R32 range

Ecodan provides continuous hot water via a dedicated "all-in-one" Ecodan Hot Water Storage System. These D-Generation storage systems are specifically designed to integrate with the R32 Ecodan outdoor range.
In addition to a 200L capacity, a smaller 170L*3 and a larger 300L packaged cylinder have been added as part of the D-Generation lineup.
The cylinders are completely pre-plumbed and wired for ease of installation.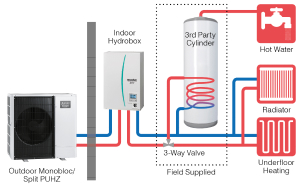 New hydrobox models compatible with R32 range
A highly adaptable solution for retrofit and new builds. For systems where a 3rd party cylinder with a heat exchanger coil is required, this can be easily catered for by the addition of a 3-way diverter valve to the system and connecting it to the FTC5 Controller.
Key improvements to the D-Generation
While identical in look and footprint compared to the previous generation, the D-Generation now features:
A new generation of pumps
Additional tank temperature sensor for quicker heat up times
A new improved 3-way valve for the packaged cylinder
A new air purge point for the hydrobox
Installation improvements have been made to the pipe position and longer adjuster bolts are at the base of the cylinder.
Hot water heat pumps are better for the environment
Did you know traditional electric hot water heaters produce up to three times the amount of greenhouse gas compared to a low emission alternative such as a hot water heat pump?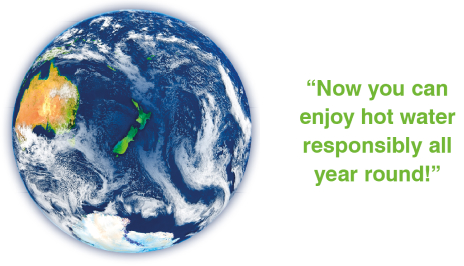 Instant gas hot water systems contribute to even greater greenhouse gas emissions. By producing a staggering seven times more emissions compared to hot water heat pump technology.*1, this makes water heating one of the largest single sources of greenhouse gas emissions from the average Kiwi home. This is evident to such an extent that EECA (Energy Efficiency & Conservation Authority) has identified heat pumps as playing a key role in significantly reducing costs and greenhouse emissions from energy use.
An estimated 67% of New Zealand homes use a traditional electric hot water system*2. Substituting existing, less efficient technologies with their more efficient counterparts, such as a hot water heat pump, can contribute to a significant reduction in overall greenhouse emissions.
If you are looking for a super energy-efficient water heating solution that is also kind to the environment, Mitsubishi Electric Ecodan Hot Water Heat Pumps are the natural solution.
*1 Based on electrical and gas emission factor for New Zealand.
*2 Based on E3 Policy Framework data for New Zealand.
*3 170L models are indent-ordered only from the supplier.
For more information about the new R32 Ecodan Hot Water Heat Pump Range, please contact your local sales office.
New large capacity AS90 High Wall Heat Pump – ideal for larger open-plan workspaces
Wednesday 24th of March 2021
We are pleased to announce the launch of the new R32 AS90 Large Capacity High Wall Heat Pump. Combining powerful performance in an elegant and compact case, this latest addition to our light commercial high wall lineup is perfect for applications such as schools, halls, and open-plan shared spaces.
Boasting a capacity of 9.0kW in cooling (10.3kW in heating), this model features next-generation R32 high-efficiency compressor technology developed and engineered to use less power than ever before. The Wide and Long Airflow Mode, in addition to Powerful Mode, ensures far-reaching coverage making the AS90 ideal for larger, open working spaces.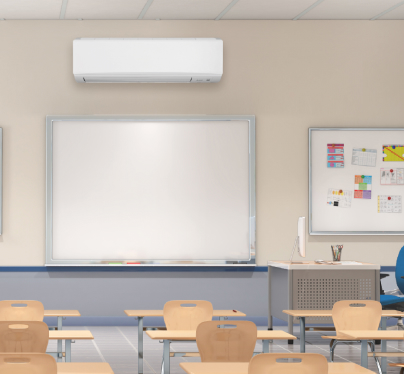 AS90 High Wall Key Features
Next Generation R32 Inverter Technology

Superior energy efficiency is achieved by incorporating a high-density heat exchanger, an advanced high-efficiency fan motor and a next-generation compressor using the latest super-efficient and more environmentally-friendly R32 refrigerant.
Wide and Long Airflow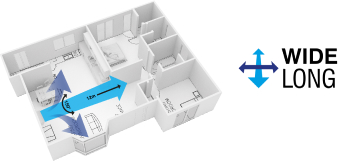 This mode enables airflow direction to be adjusted from left to right, great for open plan environments – ensuring every corner of the room is just as you like it.
The Long Airflow Mode extends airflow by up to 12m to reach even the furthest point of an open plan or larger living space. These modes are simply activated at the touch of a button on your remote controller.
Two-Stage Advanced Filtration for Cleaner, Healthier Air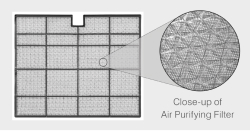 The washable air cleaning filter traps harmful particles such as dust, pollen and other airborne contaminants that can cause allergic reactions. Furthermore, the filter itself is infused with an artificial Enzyme Catalyst that helps break down harmful microbes such as bacteria, mould and dust mites.
Powerful Mode

The one-touch Powerful Mode automatically adjusts the fan speed and temperature, guaranteeing full power operation within 15 minutes for faster heating or cooling. After 15 minutes the unit automatically returns to its previous operation settings.
Econo-Cool Function
This intelligent temperature control feature adjusts the airflow distributed in the room depending on the air outlet temperature. Temperature settings can be raised by 2°C without any loss of in-room comfort. That's equal to a gain of up to 20% in energy efficiency.
i-Save Mode
This mode saves your temperature and fan speed combinations, including a set-back temperature of 10°C in Heating Mode, when the room is unoccupied. When the room is later reoccupied, the system will then use less energy to reach its desired temperature.
Night Mode
Night Mode will automatically dim the operation indicator light, disabling any beeping from the indoor unit. Furthermore, the outdoor operating noise level is reduced by 3dBA ensuring quiet nights for both you and your neighbours.
Blue Fin Coating
Built to withstand the elements, the heat exchanger of the outdoor unit has been treated with a Blue Fin Anti-corrosion Treatment, slowing the corrosion process caused by salt and sulphur in the air especially in coastal and high sulphur areas.
7-Day Programmable Controller
You can easily and quickly program up to four time and temperature settings for each day of the week. The 7-Day Programmable Controller is the perfect way to maximise energy efficiency without compromising on comfort.
Optional Wi-Fi Control

Never return to a cold room again. With Optional Wi-Fi Control you can pre-heat or cool a room no matter where you are. Running late, arriving early, or even when you're in a different country, with Wi-Fi Control you'll always arrive to total comfort. Wi-Fi Control is Amazon Alexa and Google Home enabled* so you can take your comfort to the next level and enjoy hands-free heat pump control.
*For voice control you will need a smart speaker/display/assistant/phone compatible with Amazon Alexa or Google Assistant.

EER = Energy Efficiency Ratio
COP = Coefficient of Performance
AEER = Annual Energy Efficiency Ratio
ACOP = Annual Coefficient of Performance
SPL = Sound Pressure Level
PWL = Sound Power Level
Q - SHi = Quiet–Low–Medium–High–Super High
Rating Conditions (AS / NZS 3823).
Cooling: Indoor: 27°C DB, 19°C WB. Outdoor: 35°C DB
Heating: Indoor: 20°C DB Outdoor: 7°C DB, 6°C WB.
*1 Indoor Sound Levels rated at lowest fan speed
*2 SPL/PWL measured under rated operating frequency
*3 Maximum length is inclusive of height differential i.e. (30/15) means the pipe can be 15m high and 15m across for a total length of 30m.
† Star Rating is based on Seasonal Energy Efficiency Rating Standard for New Zealand - cold zone (GEMS2019)
For more information about the new AS90 High Wall Heat Pump, contact your Air Conditioning Territory Manager.
Mitsubishi Electric Celebrates Centennial with a Revised Vision for the Future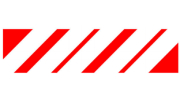 Monday 22nd of March 2021
This year, Mitsubishi Electric proudly celebrates a milestone of supplying consumers with their technological needs for 100 years. This celebration not only marks a long history of technological advancements in electrical and electronic equipment but also marks a new way forward with the release of the Group's new corporate philosophy system setting the company up for success through the next 100 years.
Mitsubishi Electric was established in 1921 as a spinoff of the Mitsubishi Shipbuilding Company's electric factory. For the past 100 years, the Mitsubishi Electric Group has contributed to a vibrant and sustainable society across the world by providing a wide range of reliable, high-quality products and services infused with high technology and creativity in fields ranging from homes to outer space.
It is with much anticipation that the release of the Group's new corporate philosophy system, 'Changes for the Better', will better align with their ideologies moving forward. The revised purpose will update the Group's reason for existence as well as their core values and attitude that all employees already embrace and cherish in serving their customers and society as a whole.
Changes for the Better
'Changes for the Better', represents Mitsubishi Electric Group's attitude to "always strive to achieve something better," as the Group continues to change and grow.
The team at Mitsubishi Electric share a strong will and passion to continuously aim for change, reinforcing our commitment to creating "an even better tomorrow."
With this mindset and way of being at the forefront, the revised organisational purpose was born:
"We, the Mitsubishi Electric Group will contribute to the realisation of a vibrant and sustainable society through continuous technological innovation and ceaseless creativity."
Values to Guide the Revised Purpose
In order to successfully achieve the new company purpose, a strong set of values needed to be established. Mitsubishi Electric Group is excited to announce the following seven values that the team will live by to successfully achieve continuous technological innovation and ceaseless creativity into the next 100 years:
Trust
We develop relationships based on strong mutual trust with all stakeholders including society, customers, shareholders, suppliers, and employees working together.
Quality
We ensure the satisfaction of society and customers by providing products and services of the best quality.
Technology
We provide society with new value by enhancing technology and onsite capabilities.
Ethics and Compliance
We act with high ethical standards and comply with laws and social norms.
Humanity
We prioritise health and safety, promote diversity, and respect personalities and human rights.
Environment
We strive to protect and improve the global environment, doing so in harmony with nature.
Society
We contribute to the development of a better society as a corporate citizen.
Mitsubishi Electric's Centennial Logo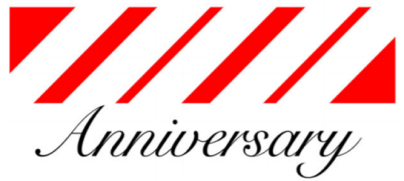 To round out this centennial celebration, Mitsubishi Electric has also launched a brand-new logo that expresses the idea of transformation over the next 100 years.
At a glance, the logo appears to be a simple pattern of slanted red and white lines, but by adjusting one's gaze the number "100" can be seen, even when the logo is turned upside down. By encouraging people to look at things from different perspectives, the logo expresses the Mitsubishi Electric Group's strong will to create new value and transform itself over the next 100 years, aiming to provide integrated solutions to address diversifying social challenges uniting all the capabilities inside and outside of the Group.
Moving Forward into the Next 100 Years
Mitsubishi Electric, which is profoundly grateful to many stakeholders who have supported the Group over the decades, including employees as well as customers and business partners, is determined to become a group company that responds to the demands of the new.
Based on the new corporate philosophy system, the Group aims to contribute to the realisation of a vibrant and sustainable society by addressing diversifying social challenges through continuous innovation over the next 100 years.
What's the secret behind the Lossnay VL-220 Whole Home Energy Recovery Ventilation System?
Monday 22nd of February 2021
Lossnay, which originates from the Japanese word "Loss-Nai" meaning "no loss", is an advanced fresh air heat recovery ventilation system from Mitsubishi Electric. Lossnay captures and filters fresh outdoor air (as opposed to attic air) to replace indoor stale air. As a result, an all-round healthier, drier and warmer home is created.

Unlike other more basic positive pressure ventilation systems, Lossnay uses balanced pressure to effectively move air into the room at the same rate as the outgoing stale air. Furthermore, super-efficient heat recovery is possible thanks to the patented Diamond Core Heat Exchanger that is at the heart of the VL-220 system.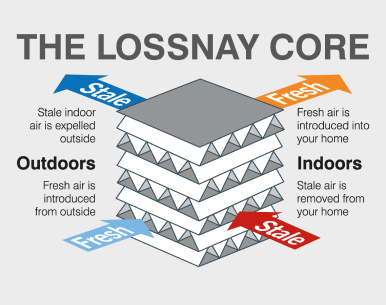 Achieve maximum heat recovery from outgoing stale air and from high moisture areas
The patented highly efficient Diamond Core in the VL-220 is designed to maximise heat recovery from the stale outgoing air with temperature exchange efficiency of up to 86%.
This recovered energy is then used to pre-warm or pre-cool the incoming filtered fresh air. This means that your existing heating system is not required to work as hard to bring a room up to the desired temperature, saving energy costs.
In addition, the VL-220 Diamond Core is designed with a unique and specially treated non-permeable resin membrane which allows the system to also effectively extract air from high humidity areas such as bathrooms, toilets and kitchens. As these rooms tend to be higher in temperature, the ability to recover more heat is enhanced to maximise overall efficiencies.
Comfort and healthy home living
With Lossnay's advanced patented technology, your house is ventilated with fresher, filtered and cleaner pre-warmed (or cooled) air at the same time. By drawing in fresh outdoor air, indoor air quality levels are improved as high levels of CO2, odours and other pollutants are removed from your home.
This filtered fresh air improves the air quality to create comfortable, healthy living for occupants all year-round. As such, Lossnay is ideal for allergy and asthma sufferers.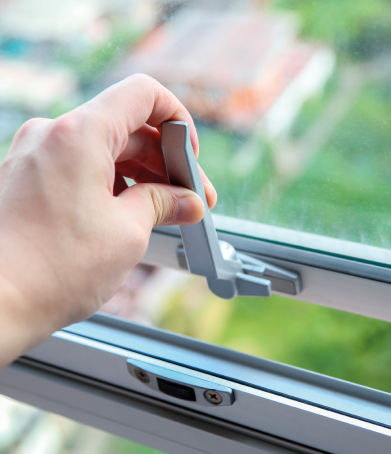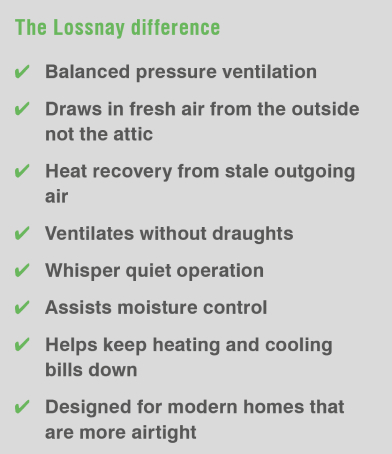 Effective home ventilation is more important than ever
Recently, there has been greater consumer awareness surrounding the importance of indoor air quality. With more airtight homes being built to meet higher insulation standards, the need for adequate ventilation has become a priority for many households.
A quality ventilation system introduces fresh, filtered air which also helps to reduce moisture by directly removing stale air that causes condensation via the Lossnay Core.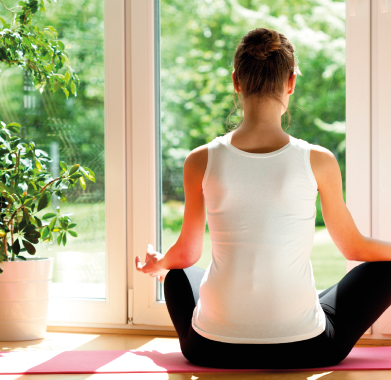 Lossnay's standard washable filters ensure the system works at its best for longer
The Mitsubishi Electric Lossnay VL-220 Whole Home Energy Recovery Ventilation System is supplied with two standard G3 Filters (one supply and one exhaust) that can be washed up to four times.
This not only keeps the unit in optimal working condition but creates a more comfortable environment for the occupants.
For more information, contact your local Mitsubishi Electric dealer here.
Applied Product Controls Interfacing and Connectivity
Friday 12th of February 2021
With an expanding product range and ever-increasing requirements for interconnectivity of building services and smart appliances, an update on a range of the commonly used interface adapter seems timely.
Mitsubishi Electric's range of adapters include high-level interfaces supporting standard commercial building automation protocols such as BACnet and Modbus, through to low-level interfaces providing flexible connectivity options.
For domestic products, there are solutions for Wi-Fi Control and interfaces allowing connection of smart thermostats.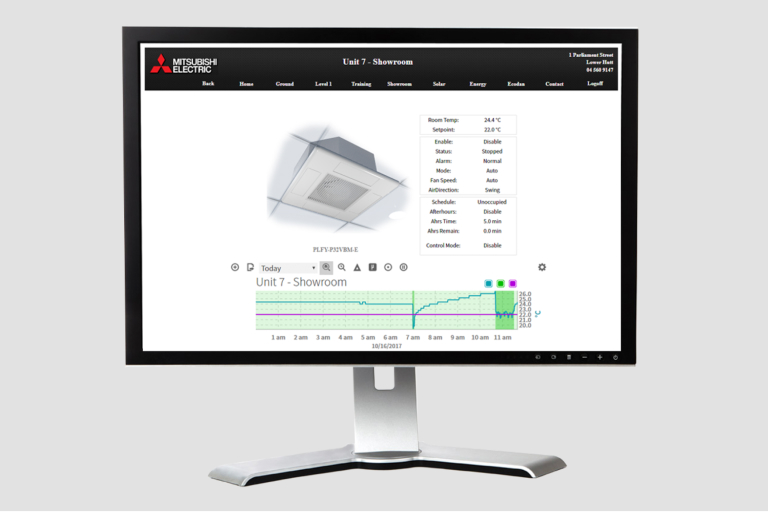 MelcoBEMS Mini for commercial and domestic heating and cooling systems

A high-level, compact and cost-effective interface option
This adapter provides a high-level interface option for a wide range of Mitsubishi Electric products, ranging from heat pump split units right through to our e-Series Chillers and domestic or commercial hot water heat pumps.
These adapters offer a cost efficient, compact alternative which can easily be accommodated across all compatible products.
Integration of standalone units that do not have centralised connectivity to a Mitsubishi Electric Control System
Communication is over an RS-485 network using either BACnet MS/TP or Modbus RTU.
Products such as e-Series Chillers, QAHV and CAHV Commercial Hot Water Heat Pumps can be integrated with Mitsubishi Electric or third party building management systems via Modbus.
Ideal for monitoring and control of IT room cooling systems
The MelcoBEMS Mini is commonly used when P-Series Air Conditioning units are used for IT room cooling applications and no central M-Net controller is provided.
These units can be interfaced to the site BMS via either BACnet or Modbus to allow the BMS to monitor and control the operation of the cooling system.
Compatible with Air-to-Air and Air-to-Water products
Air-to-Air products support Modbus and BACnet.
Air-to-water products and Lossnay support Modbus only.
MAC-334IF-E Interface for M, S and P-Series Heat Pumps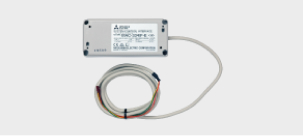 A low-level interface with control and monitoring functionality
This adapter provides a low-level interface; allowing remote start and stop control, heating and cooling changeover and prohibits functionality depending on configuration settings.
Unit run status and fault status outputs are also provided and these require an external 12V DC power supply.
This adapter also provides an interface to connect M, S and P-Series units on to a Mitsubishi Electric M-Net System.
Provides an M-Net interface
The MAC-334IF-E adapter provides the flexibility to interface M, S and P-Series units to a site BMS via BACnet through either an AE-200 or BAC-HD150-E Central Controller.
A wired controller alternative to handheld infrared remote controller
This adapter can also provide a local wired controller connection for domestic M-Series units allowing an alternative to the standard handheld infrared remote controller.
Mitsubishi Electric MAC-568 Wi-Fi Control Interface for M, S and P-Series Heat Pumps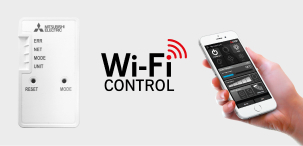 Convenient Wi-Fi remote control and monitoring via web interface or phone app
It allows remote control and monitoring of compatible units through either a web interface or app available for Android and Apple. Functions include time scheduling, group control, operation adjustment and monitoring.
Ideal for schools and residential homes
The MAC-568 Wi-Fi adapter is commonly used in residential and school applications.
Voice control capabilities
Support is provided for Amazon Alexa and Google Assistant providing voice control capabilities.
Built in Wi-Fi available
Built-in Wi-Fi is available with the Black Diamond LN Series, EcoCore AP Series and new EcoCore Designer Series Heat Pumps.
PAC-US444CN-1 Adapter for smart thermostat interfaces

Enables third party control for Mitsubishi Electric Indoor units via a number of terminal inputs
Functionality includes fan speed control, heating and cooling operation.
It is compatible with smart thermostats including Nest®, Ecobee® and Lyric®.
Ideal for smart home applications
The PAC-US444CN-1 thermostat adapter is commonly used in smart home applications.
Demand Response Enabling Device (DRED) Interface
Comes standard with various Mitsubishi Electric products
This interface allows connection of a Demand Response Enabling Device and is included as a standard item on a range of Mitsubishi Electric products.
Provides an interface to implement control in commercial and residential applications
DRED provides a method to implement load reduction during peak network demand or high pricing periods.
Often controlled by an external automation system to limit electricity consumption and avoid peak consumption charges.
DRED can also be enabled by electricity providers and network operators to limit electricity consumption during periods of network constraint.
Climaveneta Chillers and Heat Pumps
A range of adapters are available to interface products with building management systems
Climaveneta Chillers and Heat Pumps support a range of high-level interface adapters including Modbus RTU, BACnet MS/TP, BACnet IP and LonWorks.
These high-level interface adapters are commonly used for interfacing commercial chiller and hot water products with Mitsubishi Electric and third-party Building Management Systems.
Climaveneta Fan Coil Units
Support a range of wall controllers and interface adapters including Modbus RTU
The Modbus adapter is available as an optional extra for a range of units.
Modbus adapter interfaces with commercial and residential automation systems
The Modbus adapters are commonly used for interfacing Fan Coil units with commercial building management systems and residential home automation systems.
For all controls interfacing and connectivity enquiries, please contact us here.
The new Classic MXZ Multi Room outdoor lineup now features more environmentally-friendly R32 refrigerant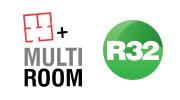 Monday 1st of February 2021
We are pleased to announce our Classic Multi Room Heat Pump Range is now available in a full range of R32 outdoor models. The move to R32 refrigerant signals our commitment to minimising the impact on the environment whilst maximising energy efficiencies.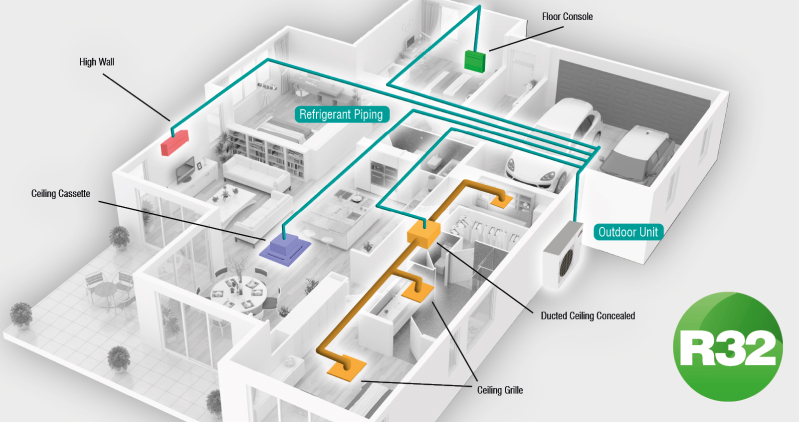 Extended pipe lengths
In addition to incorporating more environmentally-friendly R32 refrigerant, the Classic Multi Series also features extended pipe lengths of up to 25m per indoor unit with no more than 15m in height (additional refrigerant may be required). The total pipe length may extend up to 80m.
Whole home heating or cooling
Over the years, the lounge was the most common place to find a heat pump in the home, but times have changed. Today, as households enjoy the year-round comfort of heating and cooling in their living room, more homeowners are installing heat pumps in other rooms such as bedrooms, home offices and hallways.
The futureproof solution – add indoor units when your family grows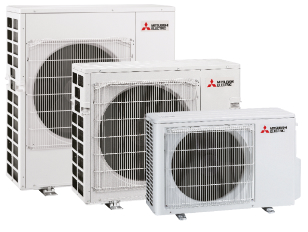 Changes like working from home and welcoming a new addition to the family are all key drivers where heating or cooling just in the lounge is not going to be enough to keep the whole family comfortable all year round.
Thinking ahead and installing a Multi Room System, however, is an investment that you won't regret. The ability to connect one or two indoor units initially and add more later, gives you the flexibility to expand in the future.
One outdoor unit keeps the exterior clutter-free
While a standard heat pump system requires a separate outdoor unit for every indoor unit inside the home, a Multi Room Heat Pump System only requires one outdoor unit. As such it reduces exterior clutter to not only enhance your home's exterior but makes them ideal for areas where space is at a premium. With properties getting smaller and high density living more and more prevalent, having just one outdoor is going to be a real selling point in the future.
Style for each and every room
With a Multi Room Heat Pump System, you have the flexibility to choose the perfect indoor heat pump for each room. Whether it's a small capacity whisper quiet high wall for the bedroom, a compact floor console for the office or a discreet ducted model for the lounge, there is a style and capacity to fit any room – no matter the size or interior aesthetic.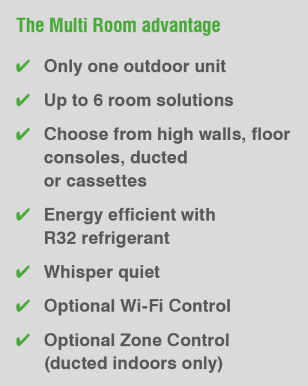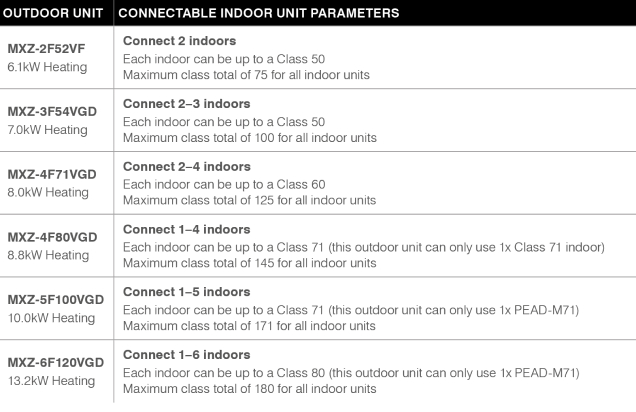 For more information contact your local Mitsubishi Electric Dealer here.
Now you can combine a Multi Room Air Conditioning System with hot water heating!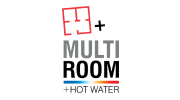 Thursday 21st of January 2021
The next-generation in hot water heating and whole home comfort is here. We are pleased to announce that the Ecodan Range has been expanded to enable seamless integration with a Multi Room Air Conditioning System. This means you can now experience total home comfort including energy efficient cooling in summer and hot water heating all year-round using a single outdoor unit.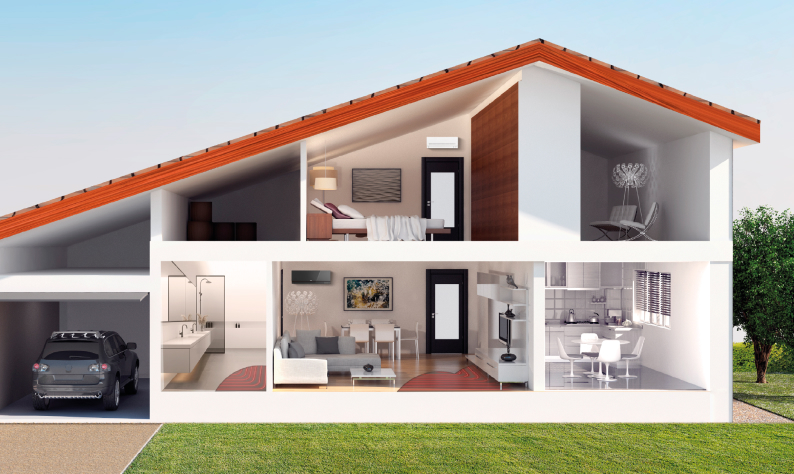 Three outdoor capacities to choose from
The range is available in three sizes including a 14kW, 16kW and 18kW model. This much-anticipated product uses the Twin-Fan PUMY-P outdoor unit with a specially designed branch box. This connects to all our indoor units from our existing Multi Room Range.
Uses only one outdoor unit to minimise external clutter
Because the Ecodan System is able to join to that same branch box, domestic hot water, underfloor heating and radiators or a combination of all can be part of the same Multi Room System.
As a result, outdoor space is maximised as there are no additional big bulky outdoor units to worry about.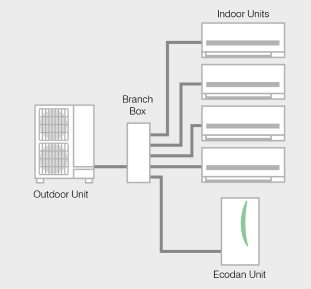 What are the key components?
The outdoor unit
The system uses our existing Twin-Fan PUMY-P outdoor unit.
The branch box
The PUMY-P outdoor unit is connected up with a specially designed branch box, with 5-port and 3-port branch boxes available which can be combined to allow connection of up to eight indoor units. Up to two branch boxes can be connected to the PUMY-P outdoor, enabling a wide range of configurations.
The indoor air conditioning units
Just like a traditional Multi Room System, any indoor unit from the Multi Room Range can be connected to the PUMY-P outdoor. This includes high walls, floor consoles, ceiling mounted and even ducted concealed units. This means the PUMY-P System is able to provide energy efficient air conditioning or heating of multiple rooms.
Furthermore, all units are run in either Heating Mode or Cooling Mode, with individual temperature control for each room.
The Ecodan Hot Water System
Either an Ecodan Hydrobox or Ecodan Packaged Water Cylinder System can be connected to the branch box. Designed with flexibility in mind, the system allows for various combinations to suit different applications including adding underfloor heating and radiators.

The illustration to the right shows a combined Mitsubishi Electric Multi Room with Hot Water System that features underfloor heating in the winter season and air-to-air cooling for the summer, whilst producing domestic hot water all year round.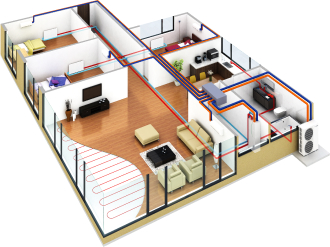 How does it cool in summer and provide hot water?
To ensure the whole system is working as efficiently as possible, hot water demand is always prioritised. This means when the air conditioning indoor units are turned on in cooling and there is a hot water demand, hot water supply will override the cooling function of the air conditioners.
Prioritising hot water will continue until set temperature is reached. To mitigate this, it is important to set the time scheduler accordingly so water heating happens when cooling is not required at the same time.
For example, you can simply set the heat up time for when you are out at work or early hours of morning via the remote controller which can be located anywhere in the home.
Summer 2-in1 operation
In summer, air-to-air (ATA) cooling and domestic hot water (DHW) are utilised. Keep your room comfortable with ATA cooling during high temperature daytime. Heat pump operates to heat up water stored in DHW cylinder when ATA is not operated. The hot water can be utilised for shower and washing dishes during daytime.

The evolution in total home comfort is here
The ability to now combine a Multi Room Air Conditioning System with hot water heating is the ultimate in year-round, total whole home comfort.
For more information contact your local Mitsubishi Electric Dealer which can be found here.
The new R32 RapidHeat KW Floor Console Range expands to include an additional 4.2kW capacity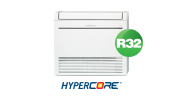 Thursday 21st of January 2021
With the increase in ETS Levies and the drive to move towards more sustainable refrigerants that have a lower global warming potential, we are pleased to announce the release of the new R32 RapidHeat KW Floor Console Series.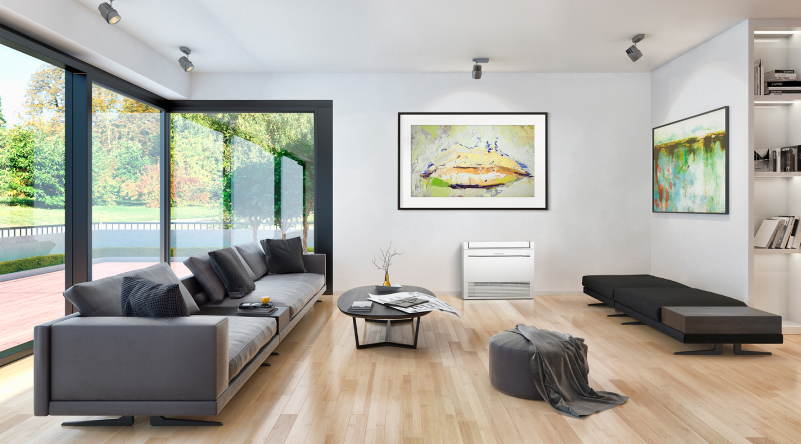 In addition to utilising more environmentally-friendly and efficient R32 refrigerant, the range now also includes a new 4.2kW capacity model.
Furthermore, in the pursuit of world-leading quietness, our engineers have also managed to reduce the decibel rating to just 18dBA*. This makes New Zealand's quietest floor console even quieter!
New RapidHeat KW Floor Console
EcoCore Technology increases efficiency with lower global warming potential. Superior energy efficiency is achieved by incorporating a large, high-density heat exchanger, an advanced high-efficiency fan motor and a next-generation compressor using the latest in super-efficient R32 refrigerant.
Safe R32 refrigerant leak detection sensor for peace of mind
As a safety feature, the MFZ-KW Floor Consoles are equipped with a refrigerant leak detection sensor contained within the indoor unit. In the unlikely event of a refrigerant leak fault, the unit will cease operation and continue to operate the indoor fan to avoid refrigerant pooling.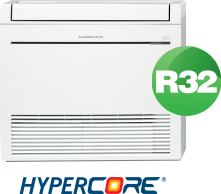 New Zealand's quietest floor console is now even quieter
Now starting from a whisper-quiet 18dBA* the new RapidHeat KW Series is ideal for lounges and bedrooms where quiet comfort is valued most.
Blue Fin Coating prevents deterioration of the outdoor unit's key components
The heat exchanger of the outdoor unit has been treated with Blue Fin Anti-Corrosion Treatment, slowing the corrosion process caused by salt and sulphur in the air especially in coastal and high sulphur areas.

For more information click here or contact your local Mitsubishi Electric Dealer which can be found here.
Older Articles