MEHIT Offers Lower GWP Refrigerants on Chillers and Heat Pumps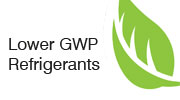 Wednesday 4th of September 2019
Mitsubishi Electric Hydronics & IT Cooling Systems S.p.A (MEHIT) introduces the use of lower GWP refrigerants R513A and R454B on its chillers and heat pumps.
MEHIT, which was formed in 2015 from the merger of the former Climaveneta and DeLclima businesses, has selected Opteon XP10 (R513A) for its screw and centrifugal oil-free chiller platform, and Opteon XL41 (R454B) for its multi-scroll platform, produced in Europe.
This is seen as part of an environmental initiative to provide efficient, sustainable, and long-term solutions to the chiller market ahead of the next 2021 European F-Gas Cap phase down and will be implemented from this year onwards.
R513A is a non-toxic, non-flammable A1 refrigerant with a GWP of 631, composed of a blend of 44% R134a and 56% R1234yf.
R454B is a "mildly flammable" A2L refrigerant blend of 68.9% R32 and 31.1% 1234yf. It has a GWP of 466 and offers improved energy efficiency, similar capacity, and excellent design compatibility.
This shift will help the chiller and heat pump industry move towards more environmentally sustainable refrigerant solutions while meeting long-term regulatory requirements and delivering consistent performance.
MEHIT has a long track record in eco-friendly solutions and was among the very first to promote, to the most eco-conscious customers, screw and centrifugal chillers based on HFOs; namely R1234ze with near-to-zero GWP, while also combining superior efficiencies.
MEHIT used its state-of-the-art research and development centres and its cooperation with Mitsubishi Electric Group laboratories to conduct in-depth evaluations of different refrigerant and components alternatives.
Currently, MEHIT screw chillers are available in R513A and R1234ze versions, and all its screw heat pumps and simultaneous heating and cooling units in R513A. MEHIT selected R454B for multi-scroll chillers and heat pumps. It was seen as the best solution to minimise environmental impact and energy use, while also improving performance. Some units utilising Mitsubishi Electric Inverter Compressors will be made available with R32.
As a R410A replacement for the multi-scroll chiller and heat pump ranges, MEHIT decided to also lead the change to lower GWP refrigerants. Therefore, the product line for the R454B version of the multi-scroll chillers is scheduled for release in the first quarter of 2020.
No other company is offering such a wide choice to the market. We are making this big effort, recognising customers at this point in time have different needs and constraints.
For more information, contact:
Jim Baxter
National Sales Manager – HVAC Chillers
021 853 737
jimb@bdt.co.nz