The Food Show – Fridge Competition Winner Announced
Monday 7th of August 2017

This year at The Auckland Food Show, visitors experienced delicious treats from around New Zealand, culinary equipment to up their cooking game, and the chance to win a brand new Mitsubishi Electric Designer Series Refrigerator.
To be in to win, visitors guessed how many apples were in the Vitalight Humidity Drawer of the CX370 Designer Series on the Mitsubishi Electric stand.
Out of hundreds of entries, 18 people guessed the correct number of apples (92), and our winner was randomly selected from these correct guesses.
Congratulations to our winner Fiona Mitchell, who chose the Stainless Steel colour option for her new CX370!
Thank you to everyone who entered.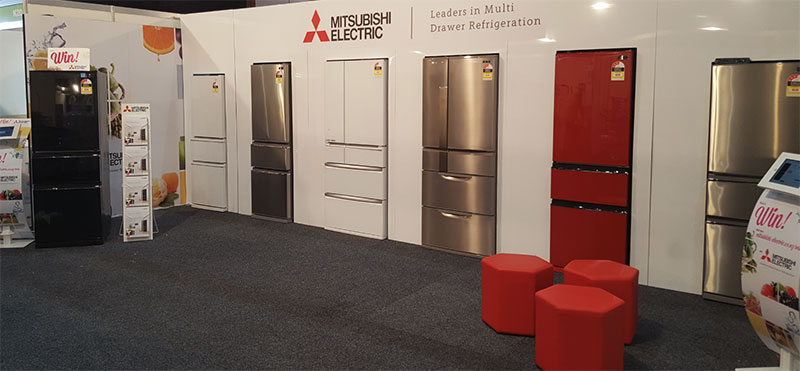 Thursday 8th of December 2016

Each year, Wares Magazine, the voice for the Retail Appliance and Electronics industry in New Zealand, recognises outstanding industry suppliers of products to the appliances and consumer electronics retail sectors.
As the exclusive distributor of Mitsubishi Electric products in New Zealand for over 37 years, BDT's aim has always been to provide New Zealanders with world leading, technologically advanced products of the highest quality and reliability, underpinned by exceptional local customer service and support.
The team at Black Diamond Technologies Limited are proud to have been awarded the Wares Heating and Cooling Supplier of the Year Award for 2016.
We would like to take this opportunity to thank all of our retail partners for their loyalty over the years, and understand that we could not have achieved this accolade without your support.
This award is a testament to our joint achievements in the heating and cooling industry, and we look forward to building on this accomplishment with you in 2017 and beyond.
Thank you for your support!

Friday 4th of November 2016
Spring is a great catalyst for home improvements and renovations. It's the time of year we start to look and think about how we can improve on issues that may have bothered us all winter long and get these fixed once and for all.
Adding or updating your heating system as part of your home renovation plan is worth considering during this time, especially if you are contemplating installing a heat pump. Not only do heat pumps provide energy efficient heating during winter, but also cooling comfort throughout summer, ensuring your home investment is a worthwhile one.
One of the most rewarding aspects of a renovation is transforming spaces by injecting your own personality into the home. Colour selection, accessorising and furnishing layouts all add to the overall design aesthetic, but successfully integrating large heating appliances into this carefully coordinated interior can often been a real challenge for home owners.
The new Designer Series High Wall Heat Pump Range from Mitsubishi Electric has changed this. Available in a range of contemporary colours including Glossy White, Matte Silver and Rich Diamond Black, now you can truly reflect your design style; whether you want a bold statement or a sleek unassuming look.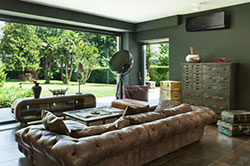 If you are looking to make a bold statement, Rich Diamond Black will feel right at home on feature walls in soft blacks, dark grey and charcoal shades.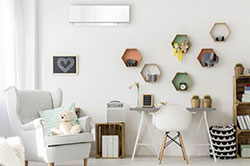 The Glossy White colour option lends itself well to interiors based around timeless neutral hues where an understated seamless look is desired.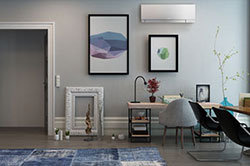 The Matte Silver colour choice highlights the sharp edges of the slimline heat pump profile. Its versatile finish works well with the emerging colour trends for 2017 inspired by metals, stars and the cosmos.
But the Designer Series Heat Pump Range by Mitsubishi Electric is not just a pretty face. Underneath the award-winning slimline casing, a host of advanced features make this range cutting-edge with exceptional energy efficient heating and cooling comfort.
2 models have been awarded the Energy Star® Mark, making them some of the most energy efficient heat pumps available in New Zealand. With whisper quiet operation starting from a low 21 dBA (in Quiet Mode), the range is ideal for bedrooms and living rooms. Advanced filtration improves air quality, reducing airborne bacteria and allergens; ensuring the air in your home is not only comfortable, but clean.
The 7-Day Controller that comes as a standard maximises energy efficient comfort and convenience, with the ability to program up to four time and temperature settings for each day of the week. The additional option of Wi-Fi Control means you'll never have to return to a cold home again – no matter where you are.
There is no longer a need to compromise when it comes to home heating. With superior energy efficient performance and looks to match, a heat pump doesn't have to be an intrusive appliance on your home walls, but a statement in design, comfort and quality.
To learn more about how the Designer Series Heat Pump Range by Mitsubishi Electric can transform your next home renovation visit our website.
Thursday 29th of September 2016
Take a look at this contemporary new-build home, featuring Designer Series Heat Pumps and the WX Multi Drawer Refrigerator from Mitsubishi Electric. This beautifully minimalistic home won the Gold Award in the Regional Wellington/Wairarapa 'Future Proof Building New Home $500,000 - $650,000' category at the 2016 Registered Master Builders House of the Year Awards.
The prestigious competition aims to recognise the incredible talent and craftsmanship within the New Zealand building industry, with categories that span from cost-effective builds through to luxury homes over $2 Million.
With a clever combination of interior finishes, a seamless indoor-outdoor flow and a bold, asymmetrical design, judges felt that with its perfect positioning overlooking the hills of Titahi Bay, this Aotea abode was a winning home both inside and out.
The stunning design takes advantage of its size to showcase a strong interplay between contrasting colours. A bold statement is made in the master bedroom with a black-on-black geometric print accent wall, whilst sleek metallic lines stand out on black woodland print wallpaper in the informal lounge. Both feature walls effectively contrast the lighter warm grey colour palette reflected throughout the home.
Picking up the striking silver trims of the windows, fittings and finishes, the slim-line Matte Silver Designer Series Heat Pump is a cohesive feature in both the informal lounge and master bedroom, maintaining a stylish yet sophisticated aesthetic.
Centre stage to the open-plan home is the spacious kitchen, which features a glossy white finish that seamlessly transitions through to the bright sun-drenched deck. A subtle textured splashback, contrasting black granite island bench and contemporary flat-panel cabinetry make this kitchen the perfect fit for the WX Multi Drawer Refrigerator in White Diamond. Adding some warmth to the minimalism of this chic kitchen, the wooden flooring, copper light fittings and wooden-topped bar stools tie the space together in style.
The owners have successfully combined design and functionality without compromise. It's no wonder this family home on the hills of Wellington was considered among the best of new builds in New Zealand in this year's Registered Master Builders House of the Year Awards.
To learn more about this award winning design, visit the House of the Year website.
Wednesday 14th of September 2016
The brand new CX Designer Series Inverter Multi Drawer Range is ready to make a statement in your kitchen, with a sleek new look and advanced features specifically designed to keep food fresher for longer.
The celebrated Humidity Drawer is now smarter than ever, with integrated Vitalight Technology, keeping fruit and vegetables fresher for longer. A higher level of humidity maintains the crispness of produce, whilst amber LED lights mimic photosynthesis, increasing Vitamin C levels for fresher, tastier food.
Advanced Inverter Technology makes the CX Multi Drawer Range 30% more energy efficient than our G Series, saving on overall power costs. The secret is Neuro Fuzzy Logic Technology that intuitively learns and memorises your family's usage patterns, adapting airflow and varying compressor speed for even more power savings. As a result, the range has achieved an impressive 3.5 Energy Star rating and has been awarded the coveted Energy Star mark.
Whether you're cooking a family dinner or entertaining friends, the CX Multi Drawer Range makes a statement in design, not sound. Whisper quiet at 17 dBA, it is the quietest in its class, with a tenfold reduction in sound intensity compared to our G Series.
The Non-Plumbed Ice Maker ensures fresh ice is always available. With no separate plumbing connection required, the fridge can be placed anywhere in the kitchen. Simply fill the removable water tank and the Ice Maker is ready to go!
Organisation is easy, with adjustable tempered glass shelves; built to withstand up to 100 kilograms of weight, they are practical and quick to clean. Conveniently store deli items such as meats, dips and dairy products in the Sliding Chilled Case, for longer lasting freshness set at the ideal temperature of 0 °C.
The all new flat panel design works well in kitchens that are big on style but small on space. Available in a range of colours including Onyx Black, Red, White and Stainless Steel, and in two capacities of 370L and 402L, the range will suit both subtle interiors and striking decors.
The CX Designer Series Multi Drawer Range with Inverter Technology has truly set a new standard in both refrigeration technology and design.
To learn more about the Multi Drawer difference, and how the CX can fit into your lifestyle and kitchen, click here.
Monday 7th of December 2015
At Mitsubishi Electric we understand that there are many factors to consider when choosing a refrigerator – elements such as design, features, and functionality all come in to play. Choosing the model that will take centre stage in your kitchen for your to come can be a big decision, this is why we have developed a new section on our website called 'Our Technology'. This section will walk you through the different refrigerators we offer and the benefits of each in order to help you choose the model that will best suit your lifestyle. With a mix of images, videos, and informative text we hope this section will help you on your way towards your next refrigerator.
Tuesday 1st of December 2015
Available for a limited time only, this summer Mitsubishi Electric have introduced two new pedestal fan models exclusive to Harvey Norman – the LV16 and R30A.

The LV16 is available in Striking Red and Classic Grey. With an attractive, slim design and superior performance these fans can be relied on when you need them most – on a hot summer's day. The smaller R30A model, available in black, offers powerful cooling for the summer months. With straight and long airflow, this fan may be small in size but no compromise has been made in effectiveness.

For comfortable cooling this summer choose Mitsubishi Electric pedestal fans.
Friday 23rd of October 2015
Mitsubishi Electric is pleased to present the latest addition to the L4 Grande Refrigeration Range, now available in both 710 Litre and 650 Litre capacities. The new 650L, available in pearl white, diamond black, and stainless steel, will cater to any family home.

The large, brightly lit French door Refrigeration compartment allows you to store foods of all types of shapes and sizes with ease, while the pull out cases in the double door freezer provide superior organisation. Combined, this layout makes the L4 Grande Range the ultimate storage solution for large families and those that love to entertain.

The L4 Grande range is designed for both larger and more efficient living. With a 3 star energy rating and low annual running costs, this is a refrigerator that has your family's future in mind. Not only that, but the inverter compressor results in a super quiet dBA rating of 26 – a must have for open plan living spaces.
Friday 23rd of October 2015
This was the design brief that inspired our engineers to go beyond the conventional, to push the boundaries and to challenge the status quo. The result, a refrigerator that is as individual as you are. Able to adapt to the lifestyle you lead, the foods you love and the way you like to cook and entertain. The Mitsubishi Electric WX is a flagship Multi Drawer Refrigerator that will take centre stage in your kitchen for years to come.
At the heart of our WX range is our unique Multi Drawer Refrigeration concept. Different foods require different temperatures for ultimate freshness and longevity. Dedicated drawers provide separate temperature controlled zones that are specifically designed so you can accommodate all types of foods at their ideal temperature, so they will stay fresher for longer. Boasting a large capacity of 743L, VIP technology - a thinner, more efficient insulation that allows the WX743 to offer such large capacity while achieving thinner exterior dimensions overall - the WX743 unique multi drawer, multi compartment layout has been specifically designed to maximise space.
Precise temperature management is achieved through a clever union of advanced inverter driven multi fan technology and 9 temperature zone sensors that are constantly monitored by intuitive control logic. Usage patterns are established over time and the Neuro Inverter Technology adjusts power levels for unparalleled energy efficiency. Inverter technology means not only has the WX been awarded the Energy Star Mark with an energy star rating of 3.5, but is also one of the quietest refrigerators in its size class at only 15 dBa.
The striking glass flat panel exterior reveals a combination of French doors at the top followed by 4 speciality drawers. This layout specifically minimizes temperature fluctuations that are the norm with conventional single door refrigerators. The refrigeration compartment boasts tempered glass shelving, flexible storage options such as adjustable door pockets, and the latest innovation from Mitsubishi Electric, the Supercool Chilling Case, set between 3 and -3 degrees. In Supercool Chilling Mode, this speciality drawer is ideal for prolonging the life of premium cuts of meat meats and fresh fish without freezing it.
The separate Versa Freezer Drawer enables food quality to be preserved for longer, without compromising on texture or original taste. With three modes, Supercool Freezing, Soft Freezing, and Hot Freezing, the Versa drawer is a helper for the everyday chef. Put your hot curry sauce straight into the freezer without damage using Hot Freeze, easily cut through frozen meat to make carpaccio with the Soft Freeze function, or maintain the texture of a high quality steak with Supercool Freezing.
Standard freezing is also available, both in the Versa drawer and in the specific Freezer Drawer. Set between -22 and -16 degrees, the freezer drawer features a sliding tray ideal for frequently accessed or flat pack items. The sliding tray can be pushed back to reveal the freezer drawer which is ideal for bulky items such as ice cream tubs and frozen vegetables.
The WX has a separate ice drawer for easy access to crystal clear, clean ice. It also boasts a Rapid Ice feature which is an added bonus for the entertainer. If guests unexpectedly pop in for cocktail hour you can speed up the ice making time for a single batch of ice, for cool drinks in no time.
Mitsubishi Electric's industry leading humidity drawer is now even more advanced with Vitalight Technology. An amber LED light installed at the back of the humidity drawer mimics the photosynthesis process, allowing fruit and vegetables to absorb energy from the light, maintaining vitamin C levels and keeping food fresher for longer.
The sophisticated features offered by the WX743 are all accessible via an intuitive LED touch panel, which allows you to activate each function with ease.
The WX743 is available now from selected retailers with an RRP of $5,499.
There is no longer a need to compromise.
Design, performance and functionality have seamlessly come together in the new range of Multi Drawer Refrigerators from Mitsubishi Electric.
Thursday 3rd of September 2015
With so many different heat pump types available that also offer a range of different features, we realise it can be overwhelming to decide which heat pump is right for your home. To help you through this process, we have developed a series of informative videos to help you understand our superior technologies and show you why you should invest in the best.

These short, easy to understand clips explain the key features and technologies specific to our brand new models - the RapidHeat Floor Console range and the HyperCore FH High Wall Series. We have also included a specific video explaining how HyperCore Technology works and why upgrading to a HyperCore Heat Pump is so important in areas that experience low temperature conditions.

By being fully informed about the latest heat pump technology, choosing the right heat pump for your home should be easy!