We know Dealers choosing Mitsubishi Electric City Multi Variable Refrigerant Flow (VRF) Systems for projects comes down to more than just being the best quality and value. Dealers promoting the use of Mitsubishi Electric for projects need to provide clients with peace of mind for their HVAC investment.
That is why BDT developed a local, nationwide Technical Services Team who provides industry-leading support to Dealers. This is also why our warranty includes labour, because we understand how this can affect a business if their time is not accounted for when rectifying warranty claims.
This mutual trust and commitment between us and our Dealers has lead BDT to go one step further with an Extended Full Parts and Labour Warranty Programme on the EP, PUMY and HVRF Ranges. Offering warranties that go beyond one year is about providing our Dealers further assurance when selecting Mitsubishi Electric City Multi VRF Systems for their clients.
The extended warranty period applies to all new orders placed from 15th August 2018 onwards for the following product ranges:
Hybrid VRF (HVRF)
PURY / PQRY (air and water source) HVRF Systems including indoor units
Now 3 Year Full Parts and Labour Warranty*
HVRF is a 2-pipe heat recovery VRF with water between the Hybrid Branch Circuit (HBC) Controller and indoor units. You can install and design it as VRF whilst enjoying the features of a chiller system. This provides a complete modern solution for office buildings, hotels, medical centres, schools, high-rise buildings, shopping centres and other commercial premises.
---
R2 and Y High Efficiency Series
PURY-EP / PUHY-EP Systems including indoor units
Now 3 Year Full Parts and Labour Warranty*
EP models have increased heat exchange efficiencies of up to 30% as they are manufactured with a high quality aluminium flat tube heat exchanger, increasing surface contact area yet maintaining the same footprint as standard heat exchangers. This significantly improves energy saving performance.
---
S Series
PUMY-P-V(Y)KM VRF Systems including indoor units
Now 5 Year Full Parts and Labour Warranty
The City Multi S Series is ideal for small commercial applications and makes use of a two-pipe refrigerant system, which allows for system changeover from cooling to heating. It is the all-in-one air conditioning solution for large residences or offices with multiple rooms (nominal 12.5 - 15.5kW cooling / 14.0 - 18kW heating).
---
For further conditions please contact your local City Multi Sales Engineer.
*As a condition to this Extended Full Parts and Labour Warranty Programme, Dealers will need to ensure quarterly maintenance checks are made on these product installations with the Maintenance Check Sheet, which is attached.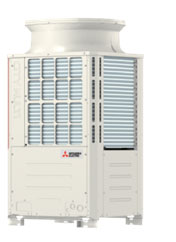 Launched at the City Multi Conference last year the VRF YNW Range offers further energy efficiencies with EP Models which retain the unique flat tube aluminium micro-channel heat exchanger, a pivotal step in providing more effective and efficient heat transfer.
YNW Range alleviates some of the legislative concerns (AS/NZS 5149:2106) regarding the critical concentration limit of refrigerant in occupied spaces, due to the significantly reduced refrigerant charge needed to produce the same rated output compared with previous models.
Advanced Heat Exchanger for Energy Efficiencies
The YNW Range uses a newly designed four-sided heat exchanger mounted on the upper-part of the module which decreases energy usage and increases the heat exchanger's efficiency. The multiplier effect created by increasing the number of coil faces from three to four surfaces greatly improves the operational efficiency.
Superior Energy Efficiencies with EP Models
The YNW Range offers advanced heat exchangers on their standard models, incorporating copper tube aluminium fins; while high efficiency EP models incorporate the flat-tube aluminium heat exchanger, increasing the surface area of the coil for even higher efficiencies. The inside of the flat tube is divided into thin compartments which increase the area of contact between refrigerant and air, leading to a significant improvement in energy-saving performance.

Footprint Reduced by up to 29%!

YNW Range maximises the space available for plant by reducing the area required for outdoor units. Up to 51kW of cooling capacity can be delivered per square metre of plant thanks to the advanced wrap around the heat exchanger.
Greater flexibility for location of outdoor units is possible thanks to multiple external static pressure settings. Extending up to 80Pa will help with long or narrow ducting requirements.
Enhanced Inverter Scroll Compressor
Exclusive to the City Multi VRF YNW Range, the improved compressor with centrifugal force cancelling mechanism enables the speed to increase to 140 revolutions per second – speeding up start-up operation and offering improved part load performance.
These characteristics offer the most intelligent and reliable inverter scroll compressors on the market.
Advanced Compressor Programming
The YNW Range features adjustable logic settings such as Low Noise modes and compressor saturated suction temperatures including a variable floating SST.
The options offered by City Multi VRF systems allow fixed evaporation set points ranging from -6 all the way to 14 degree Celsius. By floating the saturated suction temperature, the condensing unit can lift the evaporation temperature as the fan coil units reach their temperature set point. The result, increased occupant comfort levels and further improvement on the overall efficiency of the units when looking at seasonal performance data.
Larger Capacity Range
The YNW Range not only offers a larger range of single module condensers, but also an increased number of twinned condenser options.
YNW Range is the largest range of condensers available in today's market, allowing combinations up to 140kW for heat recovery systems and up to 168kW for the heat pump range in both the standard and high efficiency options.
CITY MULTI Newsletter - Issue 11
Friday 10th of November 2017
BDT welcome back the re-introduced City multi online newsletter. This newsletter will be emailed out on a regular basis updating you on new product ranges, functions and features specific to City multi and Applied Products and offer you a first-hand glimpse into some of the recently completed projects in the New Zealand Market.
Over the past 18 Months the BDT City Multi and Applied Products team have seen some significant changes. With the introduction of additional Sales Engineers and the changes to the team members roles and positions this is a good opportunity to re-introduce the City Multi and Applied Products team.
Matthew Hansen - National Sales Manager
John Greaves - Northern Sales Engineer
Penelope Tait - Northern Sales Engineer
Vince Anthony - Central Sales Engineer
Simon Jane - Southern Sales Engineer
Jon Leyland - Technical Product Manager - Applied Products
Karl Drew - Assistant Product Manager VRF
Shaun Wallace - HVAC Estimator
Jordan Hurley - HVAC Estimator
Best Regards,

Matthew Hansen
National Sales Manager
City Multi and Applied Products
Auckland University of Technology: NorthMed
Thursday 9th of November 2017
The NorthMed Clinic is a new building situated at Auckland University of Technology's (AUT) North Shore Campus. This innovative facility which opened in July 2017, comprises of modern medical offices and teaching space for Physiotherapy, Psychotherapy, Podiatry, Oral Health, and Student Health Services.
HYBRID VRF - Industry First Patented Technology
Thursday 9th of November 2017
It is clear that designing building systems brings challenges. As we move to the future, inevitably there will be more regulations and legislation to adhere to, particularly around environment and occupant safety. BDT are no strangers to these challenges and we pride ourselves on providing solutions for the building market to comply, meet targets and provide outstanding quality systems for the end user.
BDT's latest solution to the commercial building market is Hybrid VRF, the next generation of heat recovery systems for commercial buildings.
HVRF is a 2-pipe heat recovery system, the difference is refrigerant is replaced with water from the BC Controller to the indoor units. You can install and design it as VRF whilst enjoying the features of a chiller system.
Why is this a great solution?
The SGG levy in New Zealand has put extra cost on purchasing synthetic greenhouse gases and this cost is set to increase, pushing up the price of refrigerants such as R410A. HVRF reduces this burden as it has less refrigerant in the total system.
HVRF is ideal for applications where the limitation of refrigerant in occupied spaces is required, in particular where occupant safety is paramount. With no refrigerant in the occupied room space, this removes the need for expensive leak detection systems with ongoing maintenance costs.
HVRF is simple and flexible to design and install using the same control and network as VRF systems. Furthermore, the de-centralised system means phased installation is possible with the same high levels of seasonal efficiency expected with VRF. With water at the indoor units, HVRF provides comfortable and stable air temperature control enhancing occupant comfort.
Modular, small footprint and low weight outdoors makes for manageable phased installation. HVRF is a fully packaged solution; valves, pumps and heat exchangers are all contained within the HBC Controller with minor third party items required, making commissioning simpler.
Ideal Applications:
Hotel
Office
Hospitals
Mixed-use buildings
Education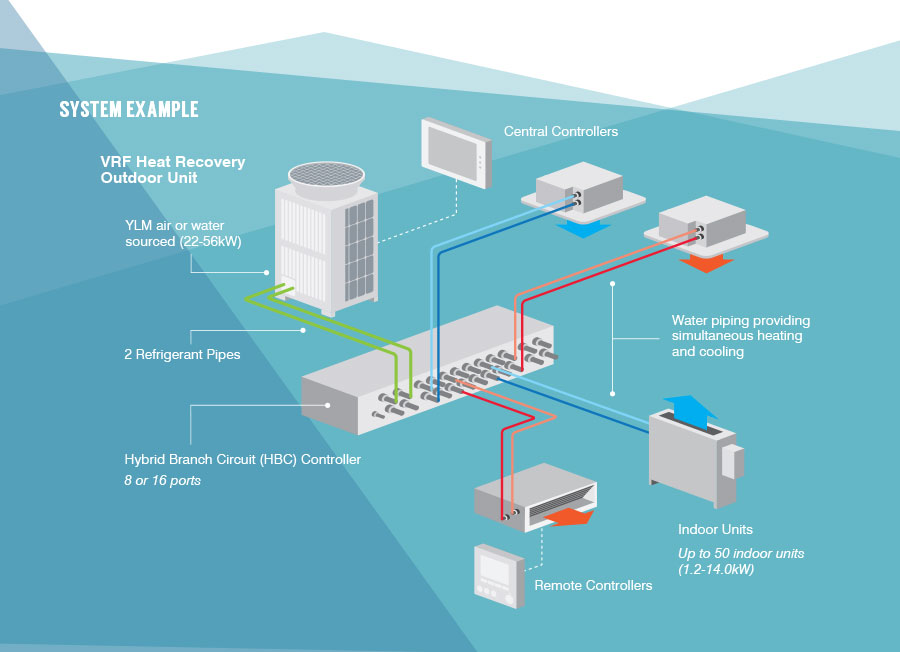 CITY MULTI Newsletter - Issue 10
Tuesday 1st of December 2015
Last month we introduced the extended Hybrid City Multi range now available in New Zealand, and discussed our first Hybrid VRF being installed into Rototuna Primary School in Hamilton. Enquiry rate is incredibly high for this product to the point that BDT has decided to stock a small quantity of Hybrid Branch Controllers, mid static ducted units, and cassettes. Outdoors are already being held as we utilise a common outdoor for both the VRF and HVRF products.
This month we will showcase our latest developments surrounding our commercial Lossnay products including superior efficiency and our new modern look Lossnay wall controller.
We will also be reviewing Downer Auckland as this editions case study, which is a 2 stage project nearing completion. The installation is immaculate, so we also investigate this further in our quality install section.
We hope you find the information published informative, and please remember to send us your quality install photos so we can show the industry your workmanship.
Regards
Christopher Green
Divisional Manager
City Multi and Applied Products
Quality Installation - Downer Building
Tuesday 1st of December 2015
The Downer Head Office building is a two stage project nearing completion, and has challenged the Consultant to come up with an air conditioning solution for a variety of different spaces throughout the building.
Downer Stage II
Main Mechanical Contractor - Heatwave Mechanical Services
Sub-Contractor - Carson Electrical
The second stage of Downer's head office building will soon be completed and will double the office space available to Downer staff in Wiri, Auckland.
The contractor has demonstrated a high level of expertise in this quality installation, carrying on our theme of showcasing the very best workmanship on VRF projects nationwide. Cleary the refrigerant piping route has been carefully thought out and the use of "Saddle-Up Pipe Insulation Saddles" from Refspecs makes for a tidy and practical bracketing option. Not only do these saddles look sharp but there is no need to cut and glue insulation on either side of the traditional pipe brackets meaning reduced labour costs.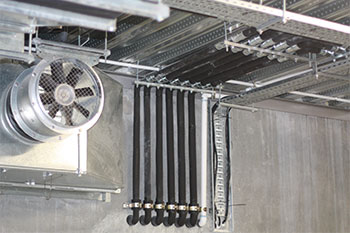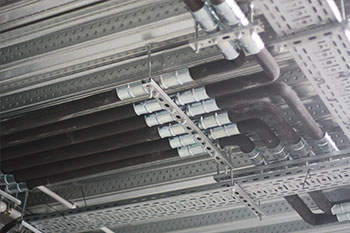 The high quality level of workmanship carries on throughout this project with the installation of mainly ducted and one way cassette type indoor units for a clever use of the limited outdoor unit space.
With the level of planning and care taken throughout the project it was no surprise that BDT commissioning was carried out without significant problem and in record time.
Downer Building Case Study
Located in Wiri, Auckland, the Downer Head Office building was completed in two stages – with Stage 1 commencing in 2011, and Stage 2 currently nearing completion.
Lossnay RVX range
Tuesday 1st of December 2015
Fresh air ventilation and indoor air quality have become more important than ever, and with this comes the need for high energy efficiency, maximum heat recovery potential and integration options with air quality monitoring systems. These requirements have been the driving force in the production of the Lossnay RVX range.
Lossnay's total heat exchange ventilation systems utilise a permeable core to maximize the heat recovery potential offering both sensible and latent heat exchange, as well as offering higher energy transfer than solid core heat exchangers.
The RVX range offers increased efficiency and optimises control and integration options compared to previous models:
Increased energy savings by the adoption of high efficiency DC fan motors

*Comparison between Fan speed 4 of RVX and Extra-High of RX5
Improved air volume range. The RXV is equipped with 4 primary fan speed settings -
25,50,75, and 100%, allowing much finer air volume control.

Increased Air volume control by CO² Sensor -
Staging the 4 fan speeds based on a 0-10Vdc signal from a third party CO² sensor, the RVX Lossnay offers simple integration to ensure optimal fresh air volumes are provided based on the CO² level incurred due to occupancy levels .This has the added benefit of reducing the fresh air load on the heating systems during periods of low occupancy.
New modern look backlit LCD Lossnay wall controller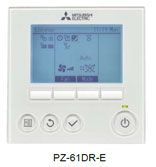 CITY MULTI Newsletter - Issue 9
Wednesday 9th of September 2015
In the last issue of the City Multi Newsletter we introduced the Quality Installation section to showcase the high standard of quality installation that was applied to our 2 pipe heat recovery VRF systems by AMT Mechanical. We had an incredible amount of feedback from various contractors nationwide agreeing with us that this was an incredible standard of workmanship. This month's quality installation has been witnessed at OPUS House Christchurch by Beattie Air.
Hybrid City Multi (HVRF) is our latest advancement in VRF technology and we are pleased to announce that the first system has now been sold into a Hamilton Primary School. Since HVRF was last showcased in the City Multi newsletter the product line-up has undergone some significant changes. This month's product spotlight will recap on the benefits of using HVRF, and demonstrate the expanded range that is now available.
We hope you find the information published informative, and please remember to send us your quality install photos so we can show the industry your workmanship.
Regards
Christopher Green
National Sales Manager
City Multi and Applied Products
Quality Installation - OPUS House in Christchurch
Wednesday 9th of September 2015
OPUS House Christchurch will soon be completed and will become the new offices for OPUS Consultants in Moorhouse Ave. This is a 5 story building that has been designed and built by Beattie Air utilising City Multi R2 Series air conditioning, and Lossnay heat recovery ventilators to maximise the buildings mechanical services efficiency.
Another example of high quality installation, (following on in the theme in our last City Multi Newsletter) is demonstrated by Beattie Air in an incredibly tidy install at OPUS House. Beattie Air is one of few companies nationwide that install refrigeration ball valves on every single BC port as standard practise. This gives them the ability to make a fit out change, or maintain indoor units without having to shut the system down, and re-pressure test and evacuate the entire system. A small additional cost up front can save days of downtime at a later date.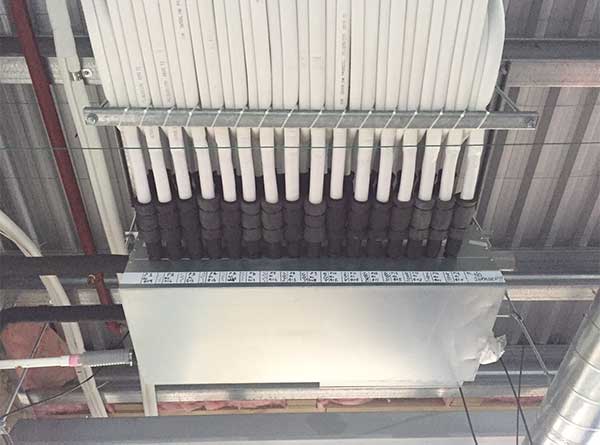 (BC controller piping to the indoor comes with refrigeration ball valves).
When installing the main pipework between the outdoor unit and the branch controller, Beattie Air installers colour code their pipework with electrical tape once it is insulated. This is due to our PURY-P550, 500, and 650YLM-A outdoor units all sharing common size high and low pressure pipe sizes.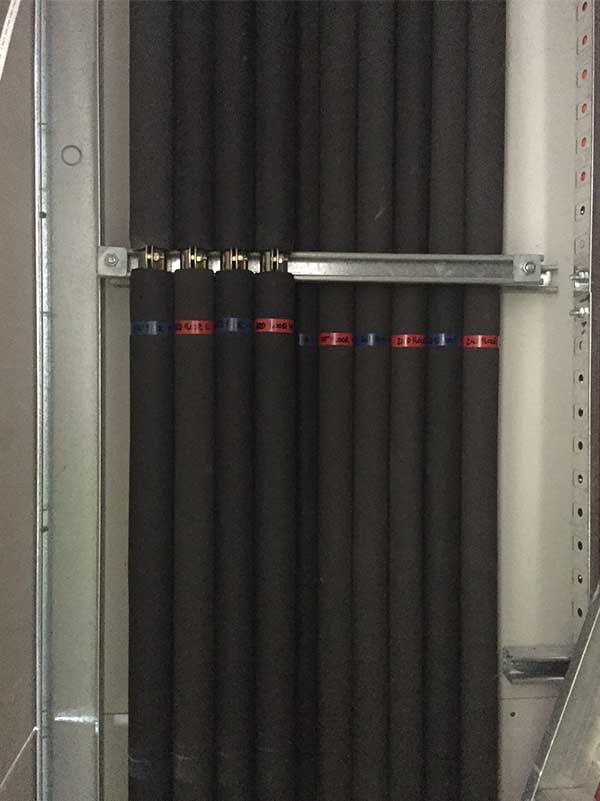 (Colour coded pipe work so the installers can identify the high and low pressure pipes)
We are incredibly pleased to see that Beattie Air has contributed to our quality installation section within our newsletter. Good Job!
Hybrid City Multi
Wednesday 9th of September 2015
Hybrid VRF (HVRF) is the latest advancement in City Multi product that has been uniquely developed by Mitsubishi Electric, as a permanent solution to critical concentration levels of refrigerant in confined spaces. By utilising HVRF over traditional VRF / VRV systems, you no longer need to install refrigerant monitoring devices and have these maintained on a yearly basis, or install additional or oversized supply or exhaust air fans within the space.

FEATURES AND BENEFITS
No refrigerant anywhere near the occupied spaces
Milder air off conditions compared with VRF
Faster defrosts; as it utilises the water within the loop to defrost
Faster return to heating mode after defrosting; as there is still sufficient heat in the water loop.
Faster installation due to segregation between refrigerant and water sides allowing independent pressure testing, and evacuation on the refrigerant side.
No refrigerant noise at the indoors as the water is isolated by the flow control valve during thermos-off and when the unit is switched off.
Utilising the same system architecture as our VRF City Multi, this still gives the flexibility of spare ports and for the contractor to fit isolation ball valves for future connections / maintenance to avoid completely shutting the system down.
EXPANDED HVRF RANGE
Hybrid City Multi now utilises the common R2 series outdoors of our standard VRF range:
- PURY-P YLM-A - Standard COP range
- PURY-EP YLM-A - High COP range c/w flat tube aluminium fin and tube heat exchangers
The outdoors used for Hybrid City Multi installations are now available in 7 sizes ranging from nominal cooling 22.4kW >> 56kW and PURY-EP200 >> EP500YLM-A
Japan has also confirmed that their intentions are to develop this outdoor range overtime right up the PURY-P900YLM-A series. BS coating can also be applied during factory assembly to offer additional protection where outdoors are within close proximity to the sea.
Hybrid Branch Controllers are now available in two sizes – an 8 port and a 16 port. Slave BC controllers have now also been added to the range also in 8 and 16 port arrangements. This gives you the flexibility to have up to 2 x master and 2 x slave HBC's per outdoor system giving even greater installation flexibility up to a maximum of 50 indoor units per outdoor.
The Hybrid indoor range now has 3 sizes of cassettes available. We are constantly asked when the mid static duct range will be expanded, and when a hi-wall option will be developed. Both of these requests are currently in development and we hope to make these available to you very soon.
Hybrid City Multi is an incredible product and is priced very competitively against our standard VRF system. We look forward to providing you with updates on the first system sold into a Hamilton primary school.
Aspire Health and Sports
Wednesday 9th of September 2015
Aspire Health and Sports a brand new two story multi-purpose gym/health centre challenges the City Multi team to provide an efficient air conditioning solution to a range of different spaces each with their own unique requirements located within the complex
CITY MULTI Newsletter - Issue 8
Friday 5th of June 2015
The last edition of the City Multi newsletter show cased our LOSSNAY heat recovery ventilators, which we have been successfully selling into multiple applications nationwide. This provides a perfect introduction into Mitsubishi Electric's range of outdoor air processing units, the GUF series that we are showcasing in this edition.
GUF units provide the benefits of a Lossnay unit, but have an added DX coil to provide space air conditioning as well. This makes the GUF perfect for applications that require large volumes of balanced supply and exhaust air, but also require space air conditioning.
We have also added in a new section to our newsletter, looking at excellent examples of how VRF should be installed. We encourage you to send installation photos through to your City Multi Sales Engineer where you feel excellent workmanship has been shown, and it may just end up in the next edition of our newsletter.
Thank you for taking the time to read the information we are providing. It's great to see such high reader rates each month.
Regards
Christopher Green
National Sales Manager
City Multi and Applied Products
Quality Installation - Cashel Square in Christchurch
Friday 5th of June 2015
This month's quality installation is from Cashel Square in Christchurch, where AMT have taken great pride in installing over 950kW of heat recovery City Multi product (R2 series).
The installation is immaculate, showcasing some of the tidiest branch controller (BC) pipe work that BDT staff have witnessed. AMT installers have taken the time to label all BC's with BECA consultants AC reference, pipe sizes, and length of pipe to the indoor unit. All refrigerant pipes are also labelled every few meters with the port number. This makes calculating additional refrigerant charges and commissioning these systems an absolute breeze.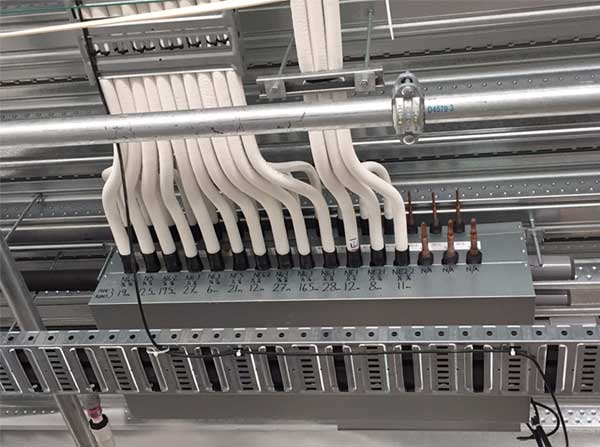 (Perfectly installed BC controller with AC reference, pipe size, and pipe lengths to the indoor)
All the pipe work is well supported and carefully laid out on cable trays before heading down its own path towards the indoor unit.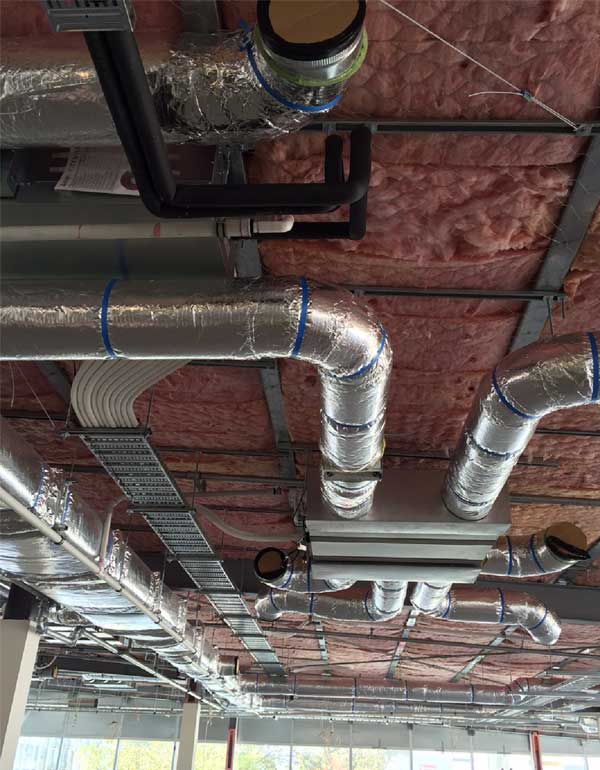 (All main runs of refrigerant pipework from the BC are supported on cable tray)
This is an impressive standard of installation that has become the norm for AMT installers that we now witness across all of their sites. In our opinion, it's a shame that this will soon be hidden by a suspended ceiling, but it will certainly make any future fit out changes very simple to complete.
GUF-RD4 – Outdoor Air Processing Units
Friday 5th of June 2015
The Mitsubishi Electric GUF-RD4 Outdoor Air Processing Units can be used with any of the extensive range of City Multi indoor units to provide ventilation, dust removal and heat recovery for a total air conditioning package with remarkable power.
The GUF OA Processing Unit creates an optimal indoor environment while providing substantial energy savings. Combining forced air ventilation, heat recovery, heating and cooling, and air purification, this total air conditioning system keeps indoor air fresh, contaminant-free and comfortable all year round. Inside the OA Processing Unit is the unique Lossnay core, a heat-exchange unit that transfers heat efficiently, cutting ventilation load by as much as 70%.
Along with Lossnay ventilation capabilities, the GUF OA Processing Unit is a unique combination of two functions in one: able to function as the main air conditioner when the load is light, and adding supplemental air conditioning when the load is heavy. Integrating ventilation and air conditioning in one saves space and minimises installation expense.
The air temperature in any room can be adjusted to the desired temperature of the occupants via the GUF OA Processing Unit, which can be used as the indoor unit of the City Multi air conditioning system. The heat recovery function maximises efficiency and saves energy, benefiting the environment while helping companies cut costs. It also reduces the refrigerant load and lowers the amount of horsepower required by the outdoor unit.
Mitsubishi Electric GUF OA Processing Units are available in two sizes:
GUF-50RD
GUF-100RD4
Cooling Capacity
5.46kW
11.17kW
Heating Capacity
6.18kW
12.5kW
A remarkable product unique to Mitsubishi Electric, this special combination of functionality and performance contained within a single unit ensures ample comfort, a healthier indoor environment, and energy savings.
New Zealand Defence Force – Ohakea Base – Pilot Training Building
Friday 5th of June 2015
The RNZAF Ohakea Base located 22km west of Palmerston North, is one of three Air Force bases on New Zealand. In the April of 2015 the new T-6C Texan simulator and classroom area were completed in the Pilot Training Centre at Ohakea and this is where BDT became involved.
GHD in Wellington were employed to design the HVAC systems for this new state of the art training facility. Not only did they specify the use of Mitsubishi Electric VRF systems for ultimate energy efficiency and comfort but they also specified Lossnay Ventilation units and a GUF total heat recovery ventilation and air conditioning unit.
The project called for two Mitsubishi Electric Heat Recovery VRF systems with a total heating capacity of 144.5kW's. A combination of medium and high static ducted and compact cassette indoor units have been utilised throughout the space. There are also three LGH-100RX5 Lossnay units that have been installed to provide energy recovery ventilation with the icing on the cake for this installation being the GUF-100RD3 unit that not only provides both energy recovery ventilation but also air conditioning.
The GUF-100RD3 unit has been tasked with recovering waste energy from the bathroom area, and transferring the recovered energy into fresh air that is destined for a training space, administrative offices and a foyer. In addition to the Lossnay type heat exchanger housed within the GUF unit, it also utilises a DX refrigerant coil which is coupled to one of the Heat Recovery VRF systems.
The tempered fresh air from the GUF unit is supplied directly to a ducted unit within the training space and a cassette unit within an administrative office. This tempered air is also used directly in two small offices and the foyer space. This set-up has allowed for a wall controller to be mounted within the space to ensure that the spaces served by the unit are always kept at a constant comfortable room temperature.
The total system used in this project is controlled by the famous Mitsubishi Electric AG-150 Central Controller with scheduling and monitoring functions via Bacnet BMS.
The initial feedback that has been received by Whiteout Building Services, the mechanical contractor for the project has been nothing but positive, especially as the ambient conditions on the base can often be less then comfortable.
Contractor – Whiteout Building Services Wanganui
Consultant – GHD Wellington
CITY MULTI Newsletter - Issue 7
Friday 20th of March 2015
Well it's hard to believe we are already at the end of the 3rd month for 2015... Commercial activity is certainly still increasing throughout the entire country which is incredibly pleasing for us all.
Looking back on last year's City Multi Newsletter reader rates we were pleased to see that on average 75% of you were taking the time to read through the information we presented. Based on this, we have decided to continue with this newsletter every 2 months throughout 2015.
This month the newsletter focuses on Commercial LOSSNAY which is widely used throughout commercial buildings as an energy efficient heat recovery ventilation solution. We will also be showcasing our new Controller Manual for interfaces and adaptors.
We hope you find this information informative, and please remember we are always open to suggestions about content that you wish to learn more about.
Regards
Christopher Green
National Sales Manager
City Multi and Applied Products
Controller, Interface and Adaptor Manual
Friday 20th of March 2015
In 2014 our Technical Service Department compiled together a Controller Manual that focused on the entire Mitsubishi Electric range of local wall controllers, centralised controllers, interfaces, and adaptors, that are available to purchase from Black Diamond Technologies.
It was evident to the Service Department that there was a misunderstanding of what controllers were available, so they felt it was best to write a manual that showcased the full range available, but also provide technical information to allow our customers and consultants to select the best control solution for your application.
The manual goes into a great level of detail about what functions are available and also the common wiring diagrams for the interfaces and adaptors to ensure you wire the correct remote operations such as on / off, fault, run etc.
Since the initial circulation of this manual, the general consensus is that the calls coming through our Technical Service Department have decreased and customers are referring to the manual when requesting further information.
These manuals are available from your local sales engineers / representatives.